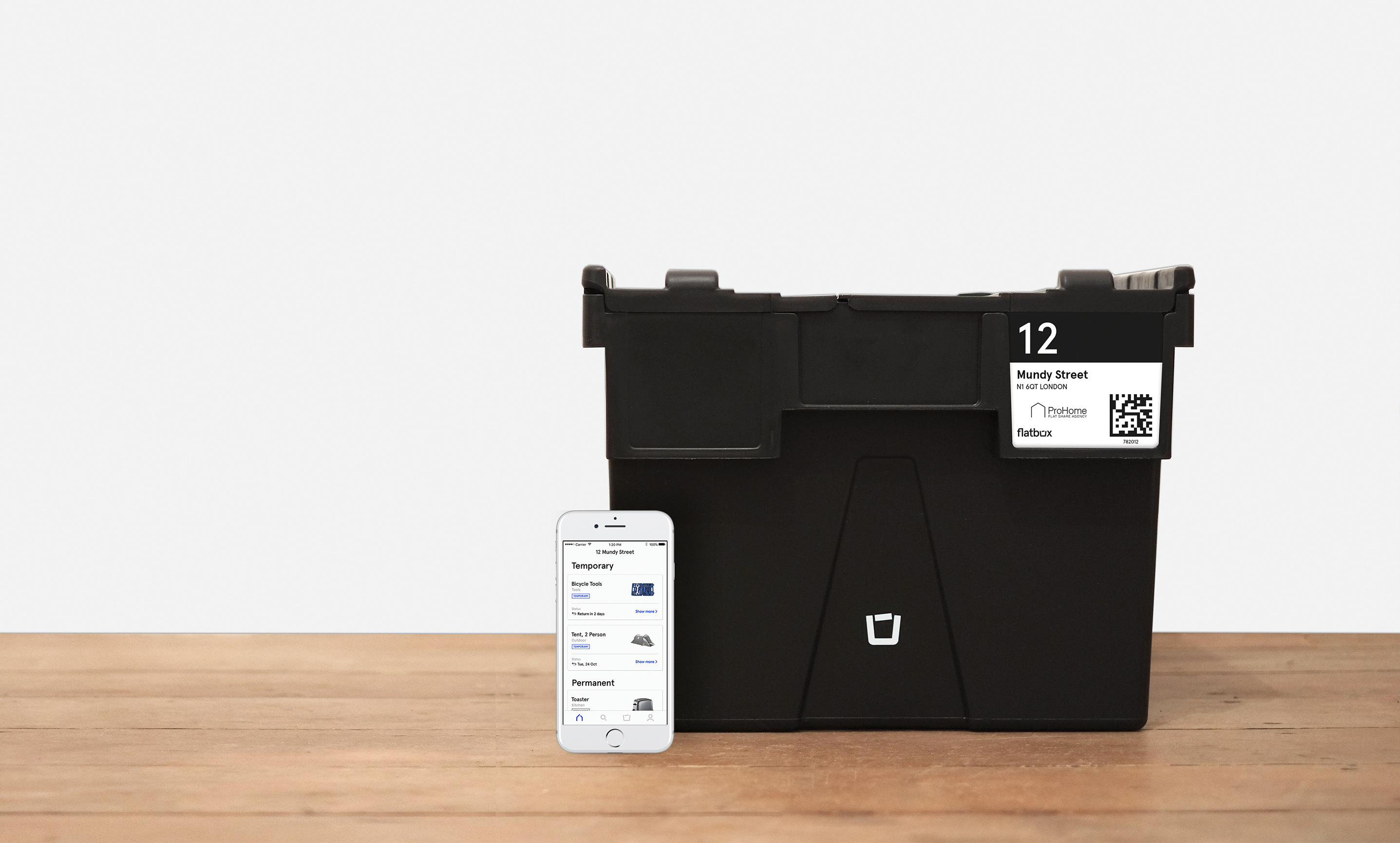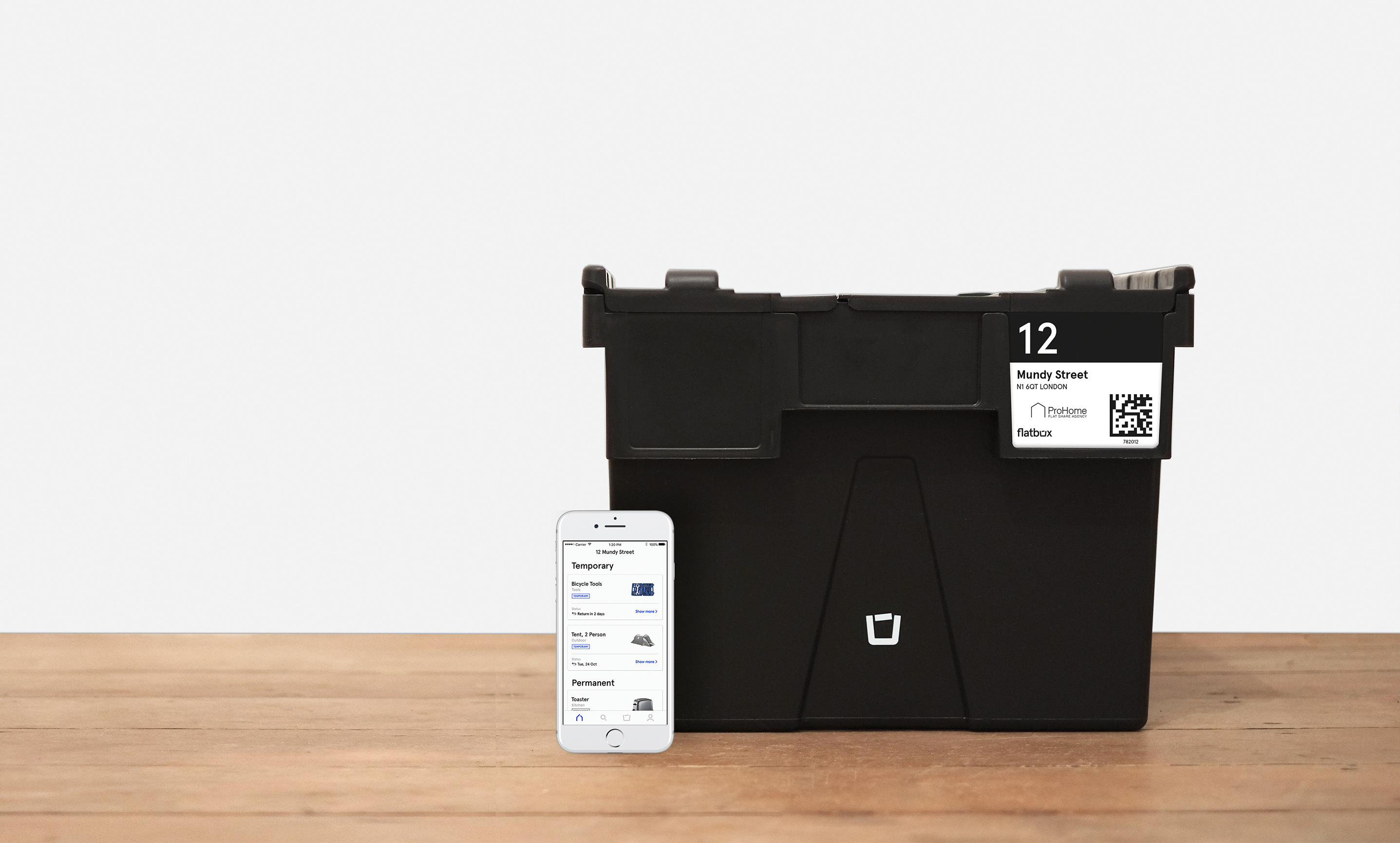 A better co-living experience, based on principles of a circular economy.
The project explores opportunities around a more sustainable and efficient way of consumption in central London. Research has been investigated by following a human centred design methodology, in the area around urban consumption, the circular economy model, fast moving consumer goods and co-living.
Type
Service Design
Major Project
Role
User Research
UX Design
Design Brief
»How to Design a Service for Fast Moving Consumer Goods Based on Principles of a Circular Economy?«
Research & Design Methodology
The design process is oriented at the Double Diamond model and was divided into five major phases. Each phase was build on insights from previous activities, which created an interlinked design process. For each stage, participatory design activities with users were included to uncover hidden insights about drivers, barriers, needs and values.
The project used an user-centred design approach with participatory design methods and tools to gain insights about user behaviours towards their daily consumption.
Field of Study & Opportunities
The shift to a circular economy can be overwhelming due to complex system wide changes. Following parameters were set, which helped to definine the field of study.
The project focuses on the first and second design model from the Action and Research Centre at the RSA (2013) , which concern the relationship between consumer and retailer (brand/companies) in terms of new business models, lifecycle of products, end-of-life strategy, consumer behaviour and attitudes (RSA, 2013).
Fast Moving Consumer Goods
Research was conducted around the sector of Fast Moving Consumer Goods (FMCGs), which is "responsible for the vast majority (75%) of municipal solid waste" in the US ­(Ellen MacArthur Foundation, 2013). During the present project, ­FMCGs were defined as products with characteristics of quick sales, low-prices and short life cycles. The intention was, to divide products not into categories but instead into the characteristics of their consumption.
The research of the project takes place in London, where the user groups of Millennials and Low-Income were identified as frequent consumers of fast moving consumer goods. The characteristics of these two user groups have overlaps in sectors of a low budget and their uncertainty about the future, which have influence on the way of consumption.
The interface between consumer and retailer (brand/company) will be important for the shift to a circular economy. The project will question how products will be sold, used and re-used for a more efficient way of using resources and also how the user behaviour towards a more conscious consumption can be improved in the future.
The project focuses on the primary stakeholder groups of consumers and retailers (brand/company), who were identified as key players in the consumption process.
During desk research, following topics were discovered in-depth to understand the broad picture and its context.
How can we move away from disposable lifestyles?
Abundance: Have we reached peak stuff?
A need for more flexibility
Companies and projects which implemented principles of a circular economy
The initial field research started with observations to immerse into everyday life experiences of people, discover new perspectives and explore different practices around urban consumpition.
First observations around recycling and remanufacturing were conducted at Seoul's Resource Centre (SR) and Upcycling Plaza (SUP). Around London, the Islington Reuse and Recycling Centre and several waste containers were observed.
Discount shops were identified as main touchpoint of the user group for the consumption of daily household products. Observations and interviews were conducted around stores like Flying Tiger Copenhagen, Argos, Muji, Poundland and other pound shops.
The Machines Room and Library of Things were identified as early adopters of new technologies and services. The places were visited to learn from their daily practices and past experiences.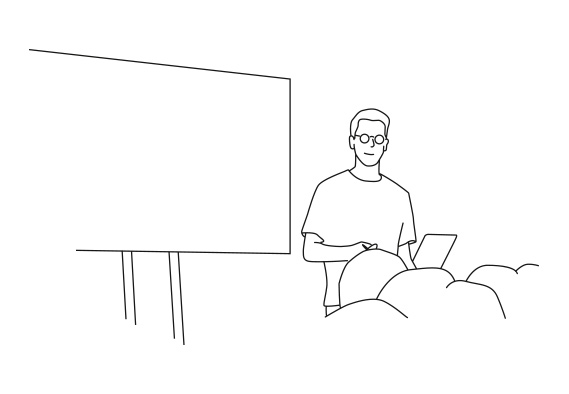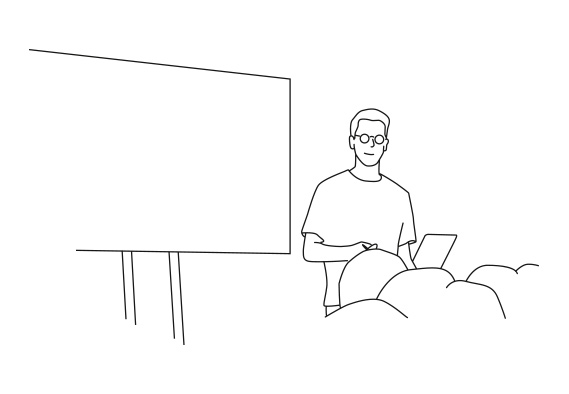 New perspectives and opportunities were discovered during different talks and conferences like the London Design Festival 2017 and a SPACE 10 pop-up.
The field research started with methods and tools from ethnographic practices. Observations in four different fields were conducted to explore and discover new perspectives. Insights of users everyday experiences were gained in different fields around urban consumption, material recycling, adoption of new technologies and future trends.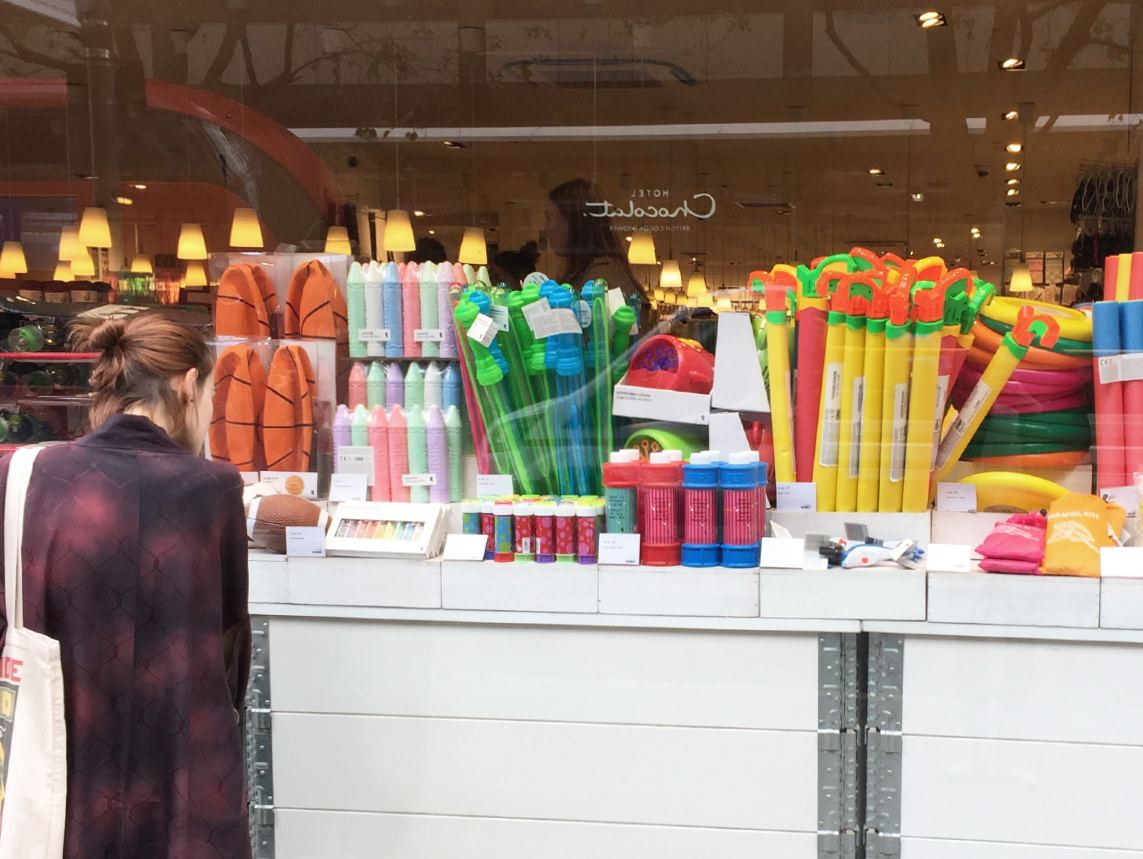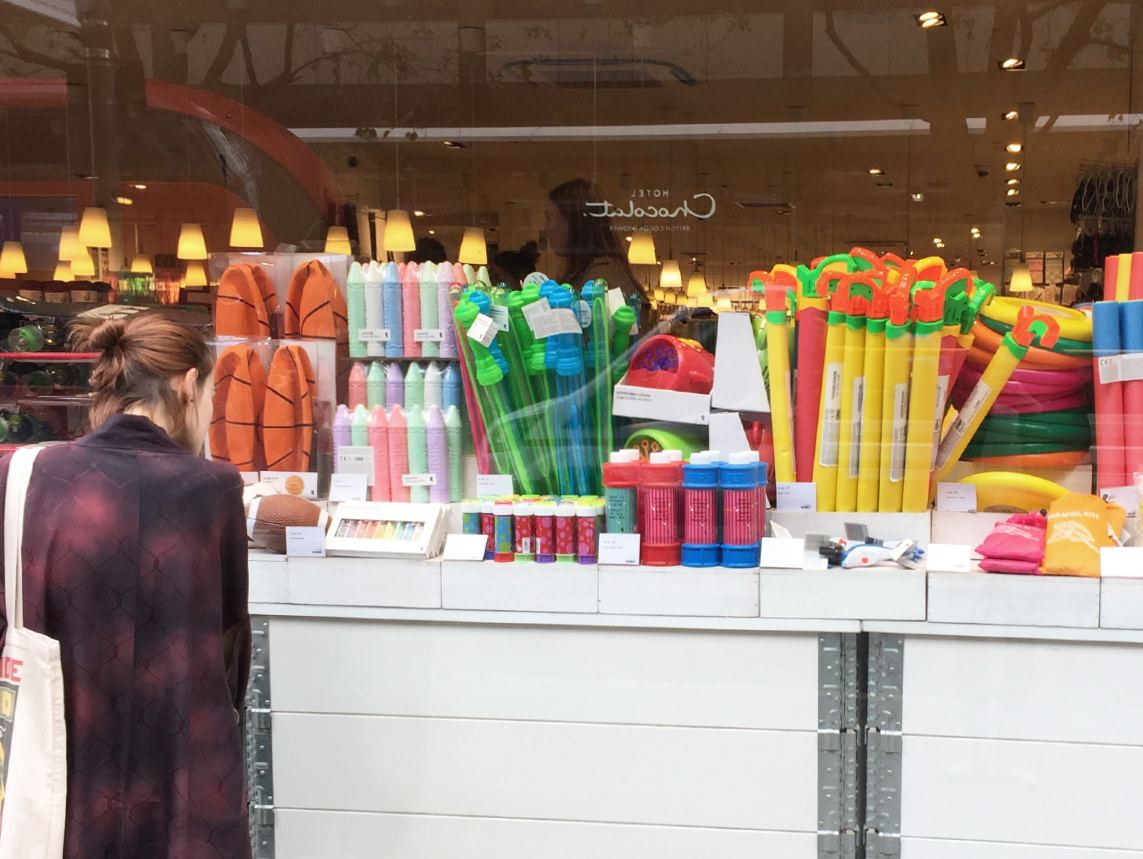 Co-discovery activities were conducted in early stages of the project to involve users in the process. By creating something tangible, it was possible to gain useful insights right from the start.
A hands-on co-discovery activity were set up to understand people's overall attitude towards consumption, their behaviour, product life cycles and usage. The findings resulted in the identification of consumption patterns.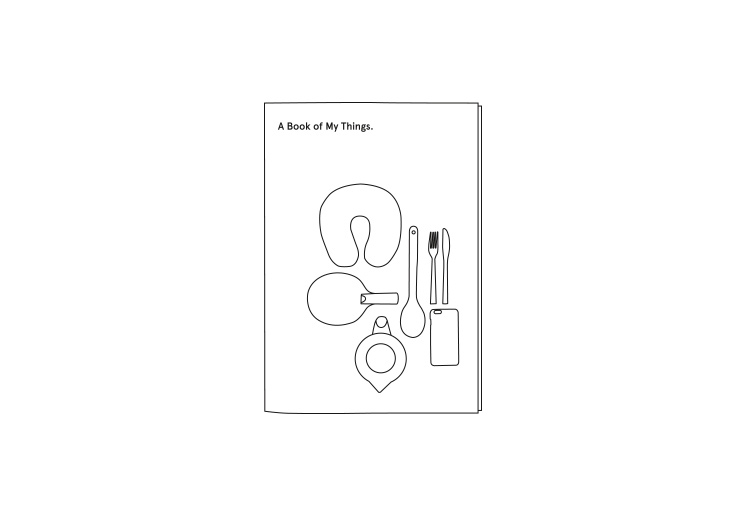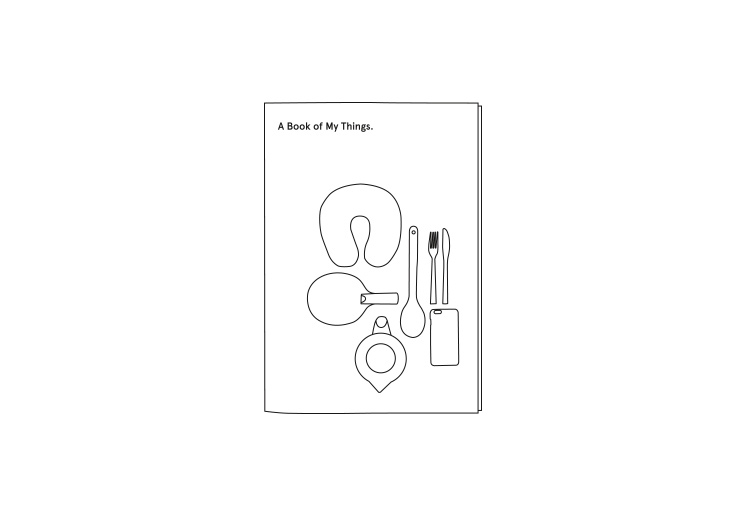 A diary was designed to understand people's (daily) consumption to identify patterns, learn about their behaviour and relationships to retailers and products.
To gain tacit knowledge about the consumption behaviour of the user group, a tool needs to be created, which engages the user with something tangible. A hands-on market stall at Hoxton St Market was designed, to get in contact with users in an natural environment.
The co-discovery tool 'A Book of My Things' is a consumption diary to gain insights about people's overall consumption behaviour and how they use products on a daily basis. The aim was to gain insights about consumption patterns, drivers and barriers, their lifestyles and values to define the motivation of consumers.
To understand the consumption behaviour and motivation of the user group of low-income and Millennials, insights of their daily life behaviours were needed. Three different types of interviews were conducted to generate a range of different views and also use the various settings to validate my previous findings.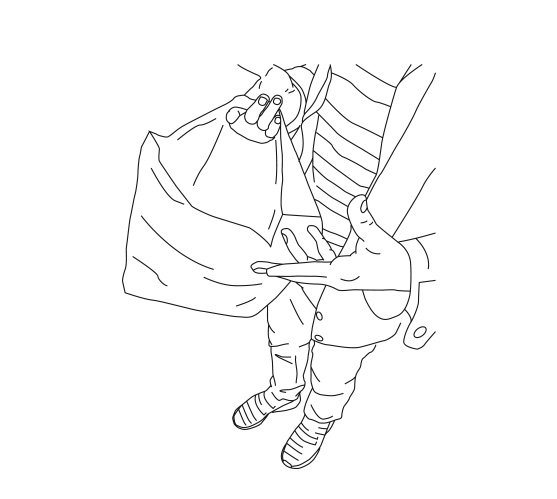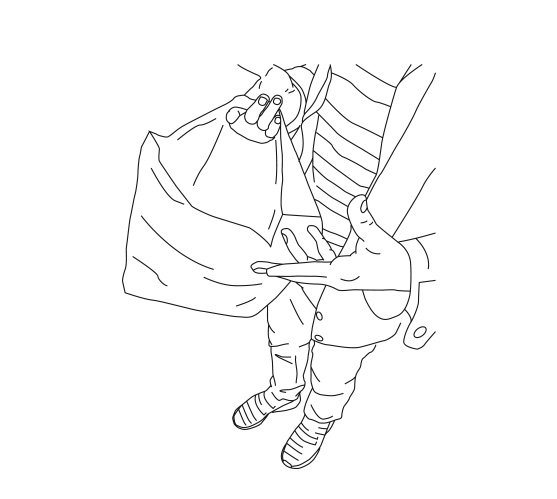 To gain insights of every day practices, contextual interviews were conducted in front of the discount stores Argos, Flying Tiger, Poundland and other pound shops in central, east and north London. In this natural environment it was able to gain insights about people's immediate purchases.
Gained insights from contextual interviews and the co-discoveries, lead to the creation of a card sorting tool for in-depth interviews with students. The cards point out critical points of the purchase situation to spark the conversation.
Expert interviews with early adopters of new technologies and business models were conducted to gain insights of daily practices and learn from past experiences. Interviews with one of the co-directors of the 'Library of Things', a member of the 'Machines Room' and an architect from MINIWIZ (Trashpresso) were held.
The mapping of customer goals and touchpoints along the user journey paired with emotions, leads to identify gaps and opportunities.
The findings from the discovery stage have allowed to map out user journeys. In this process, it was not only important to map out the whole journey with user goals and actions but especially also the emotions and shifting value of products over time, to identify users relationships and motivations.
Insight Mapping & Synthesising
The validation of findings from previous research activities leads to main insights which have defined the problem space and helped to create a first research question.
In each stage of the discovery phase, it was able to validate findings to reveal following six insights, which were synthesised and clustered with the help of affinity mapping.
How might a service for Fast Moving Consumer Goods based on principles of a Circular Economy enables a more ­flexible and efficient way of consumption which suits the needs and values of people's ­liquid lives in urban environments?
The fist part of the research question addresses the issue around the shift to a circular economy and sustainability. Oriented on the principles around reduce, reuse and recycle, a system is needed that is oriented on cycles and networks to keep the products at the highest value at all time.
Rooted in the insight that sustainability alone can not lead to a behaviour change, the second part of the research question deals with the problems of shifting needs and values of people 'liquid lives'. The temporary living conditions of Millennials causes new demands of a more flexible way of consumption which challenges the idea of individual ownership.
After the problem space has been defined, customer segmentation maps helped to cluster insights and the creation of four different personas. All personas are based on insights of people which were met during the research, but divided and clustered by their specific needs and values.
Several user journeys helped to identify gaps and opportunities to define the design space.
The design space sets the parameters for the next step of the project. It defines crucial criteria to help address the problems which were identified in previous stages.
The develop stage started with defining the design space and setting up a design brief. Design criteria and values as well as drivers and barriers were generated through a short affinity mapping and clustering of the problem space. To avoid the narrowing of the project outcome in this stage, the criteria were held very open to left space for inspiration and creativity.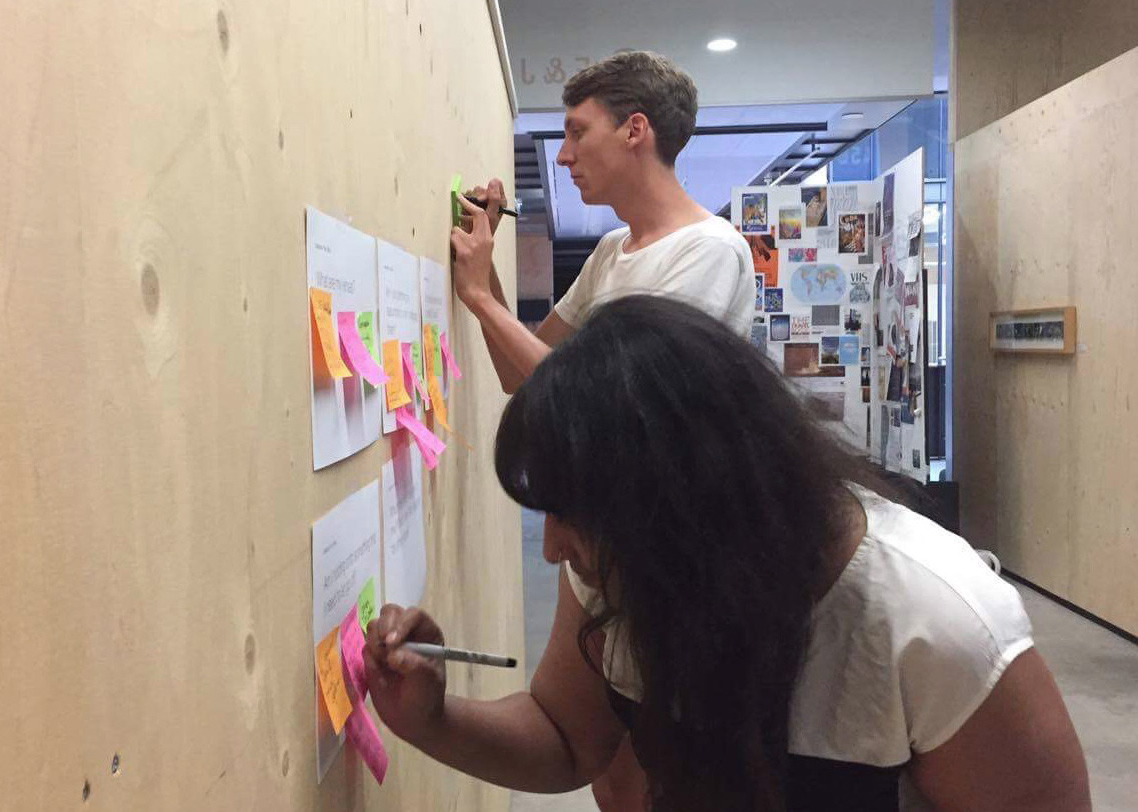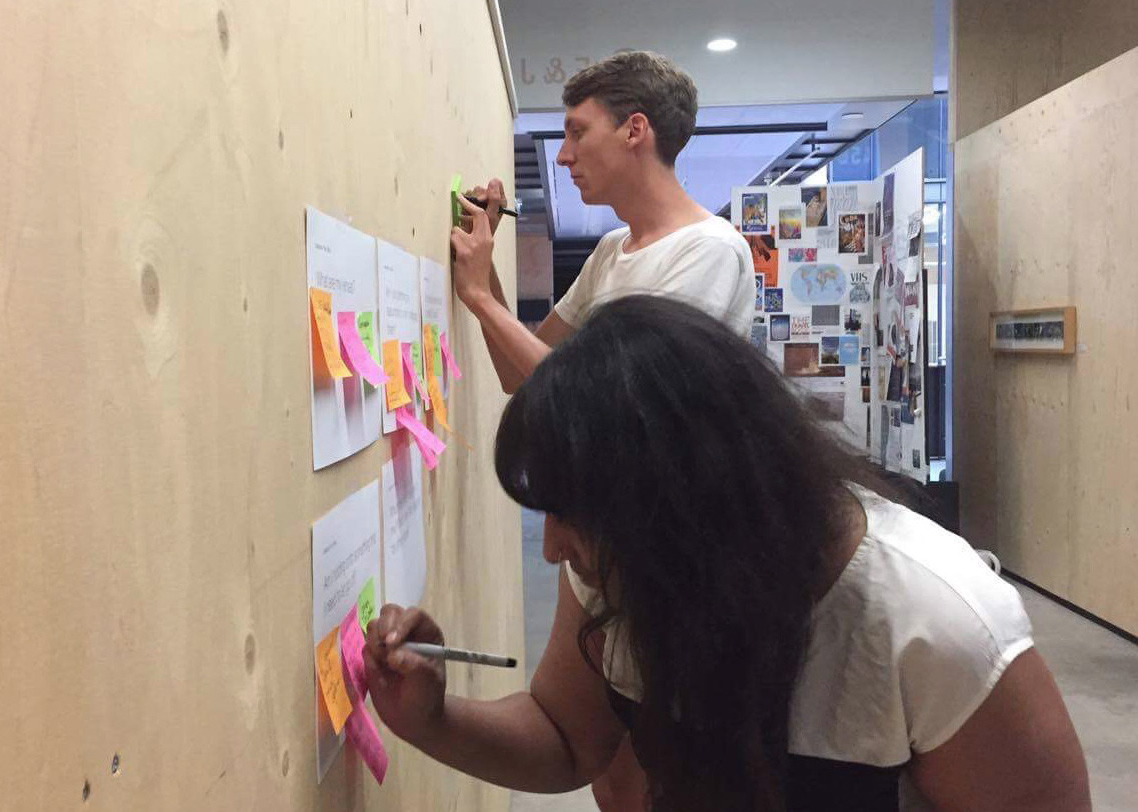 Research findings were clustered and condensed into methods cards, which were used for the creation of future scenarios and stories.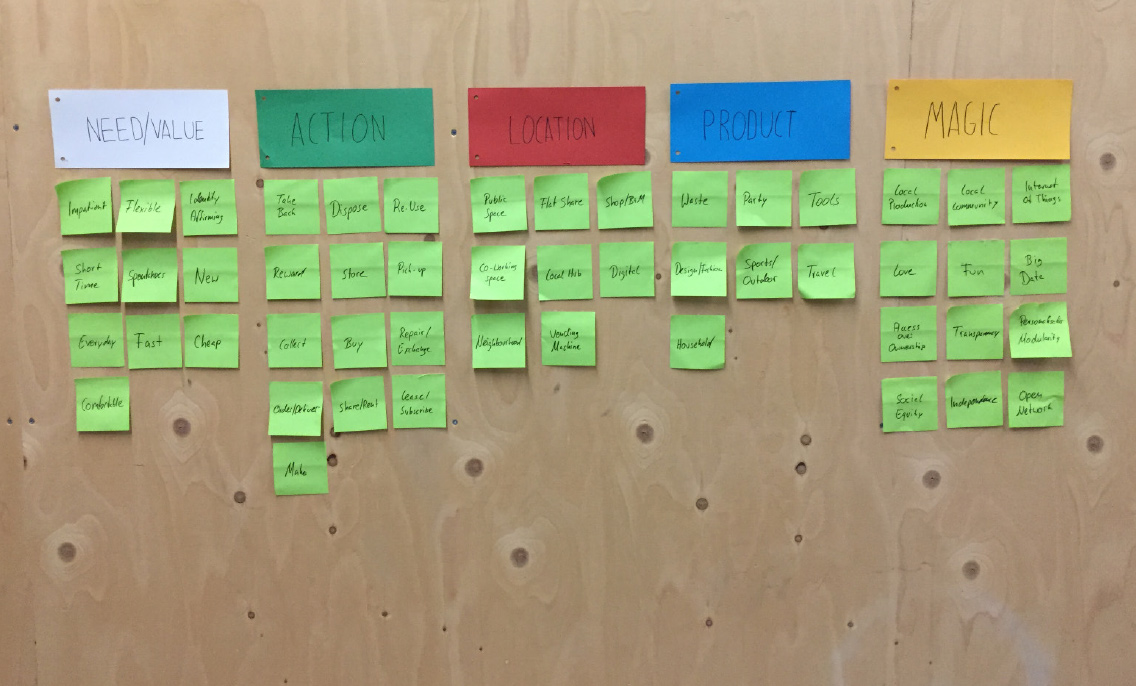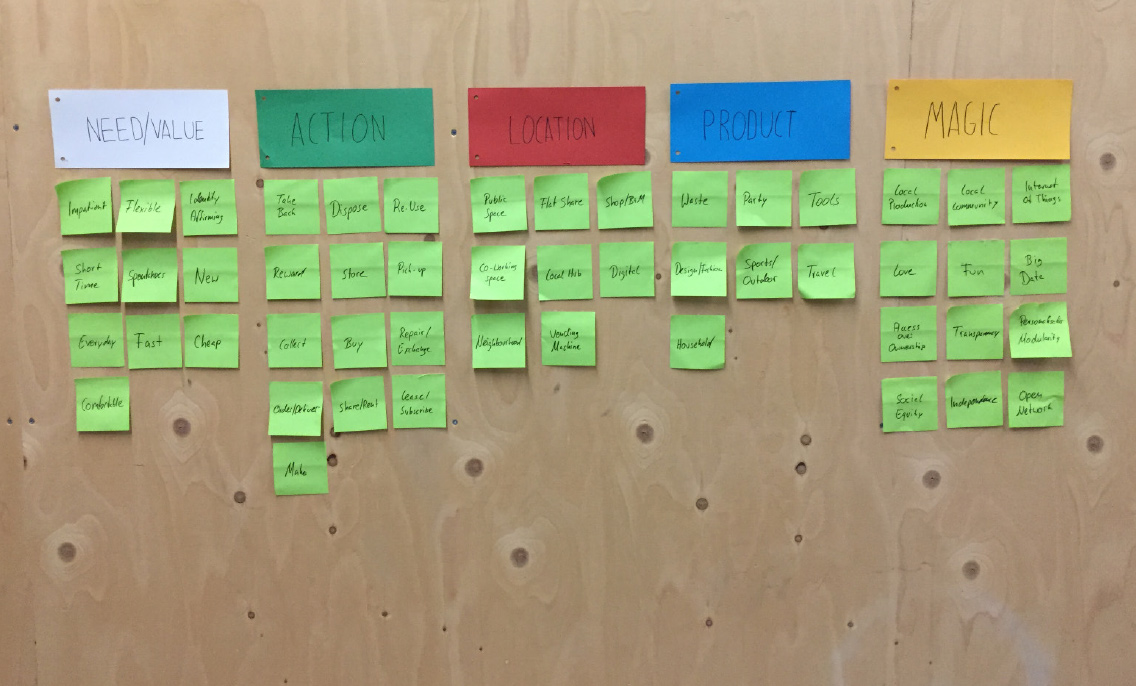 To spark inspiration for the creation of future scenarios during the co-design workshop, the following method cards were created. The cards represent crucial findings from past research. With the help of a 'What if…' story template, the cards can be combined by participants in different ways to create diverse stories and scenarios.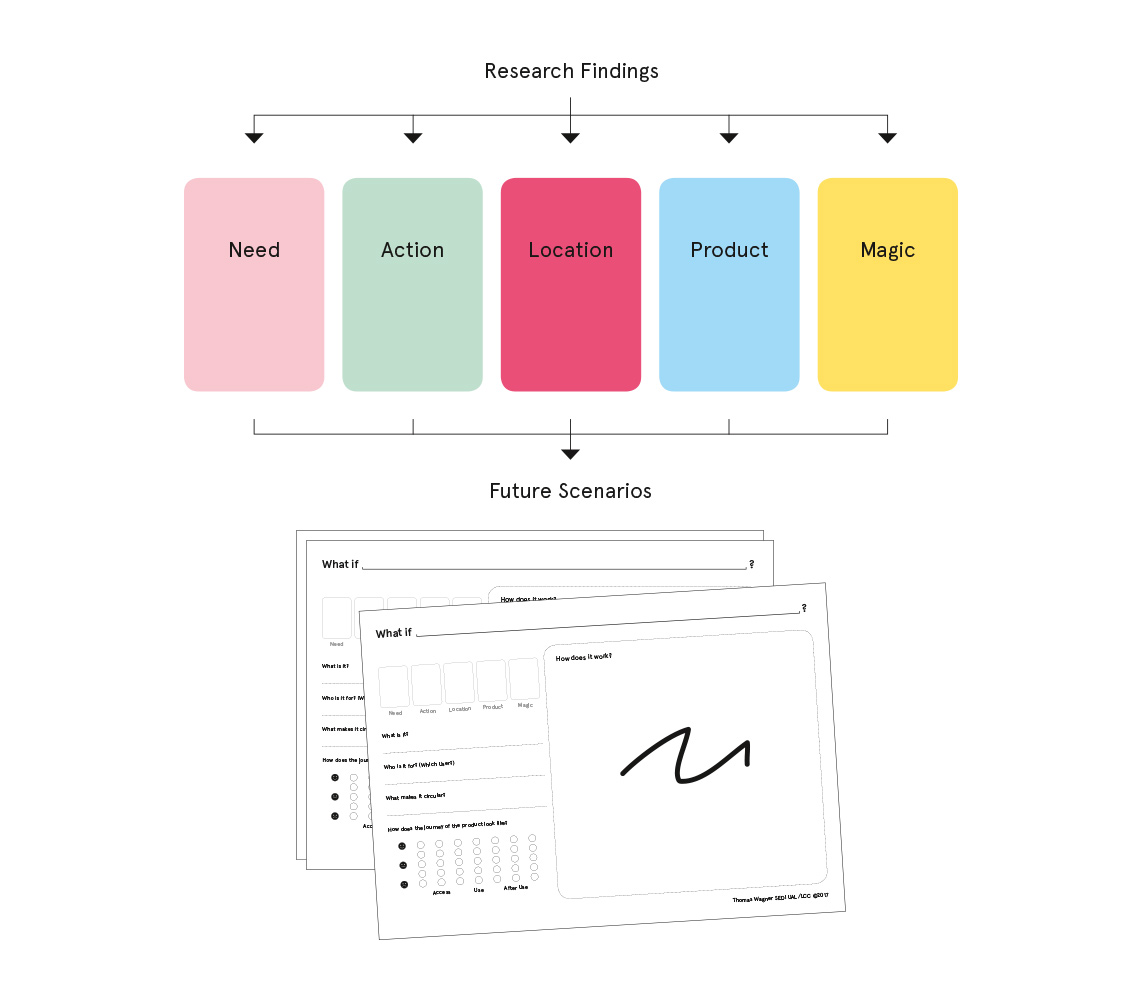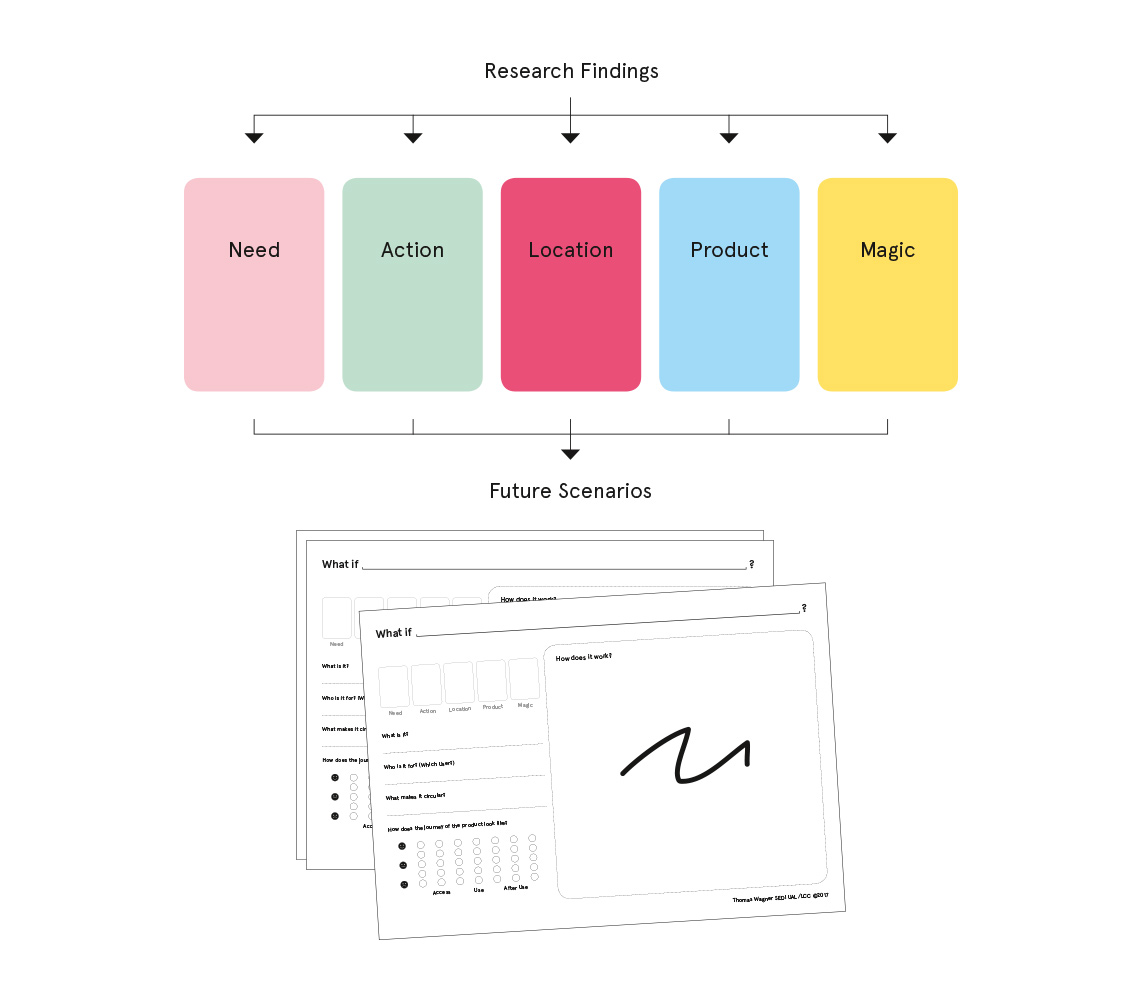 Frameworks were created to keep track of all ideas and help to map different concept elements to identify gaps and opportunities. It also helped participants to engange with other ideas and fuled a creative exchange.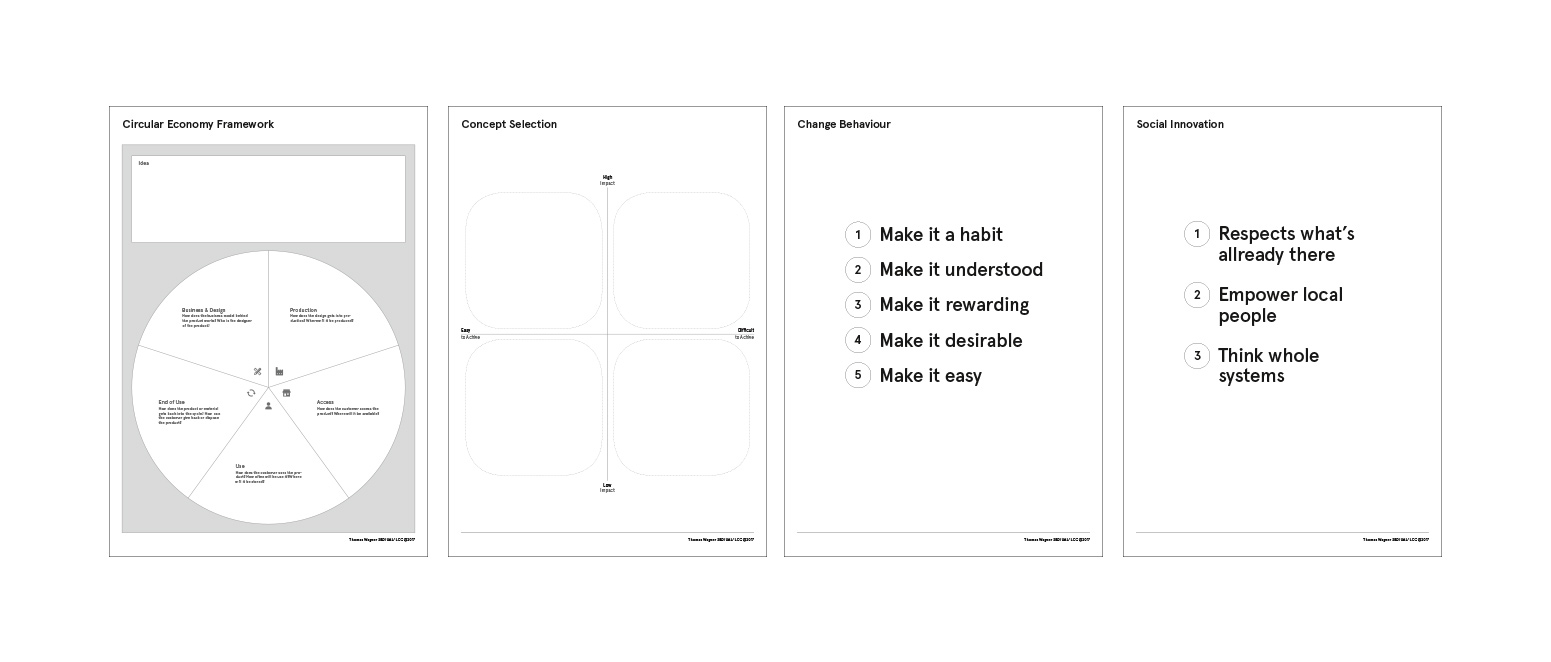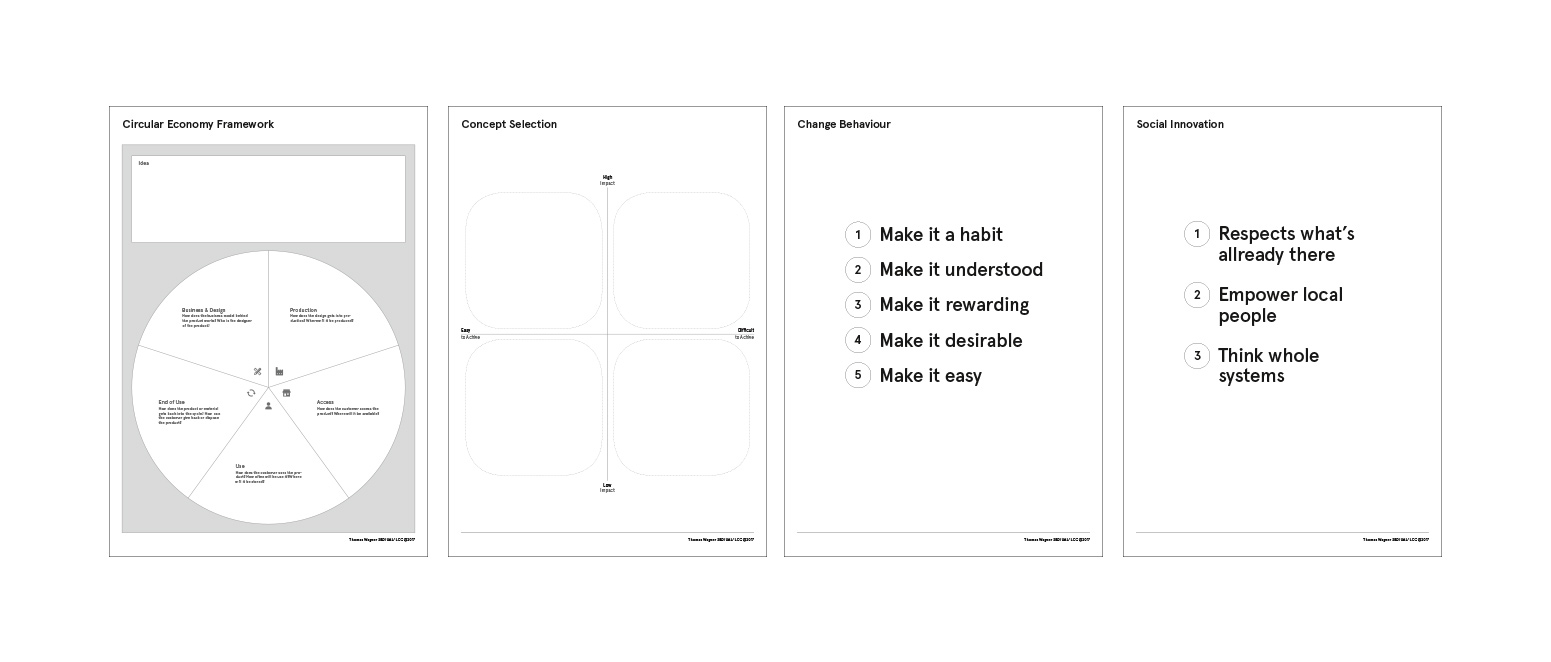 A co-design workshop together with designers and future users was conducted to create ideas and identify potential future scenarios.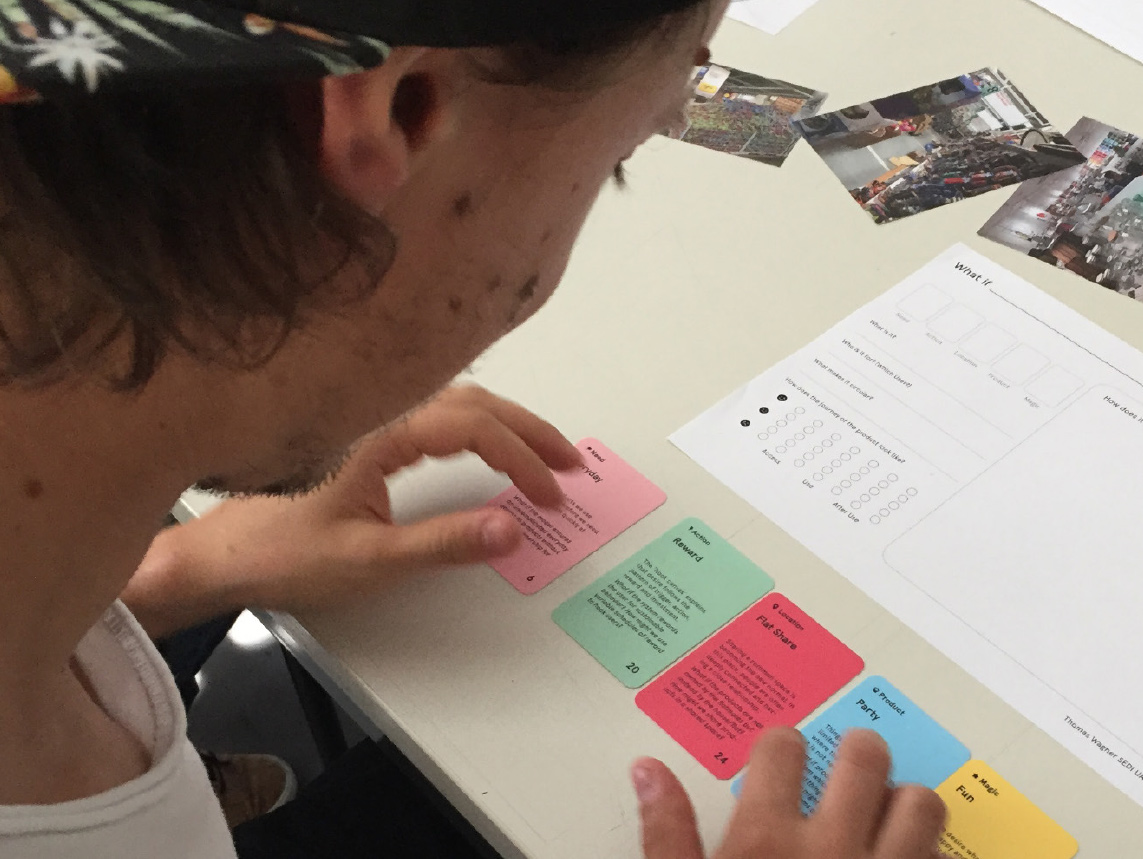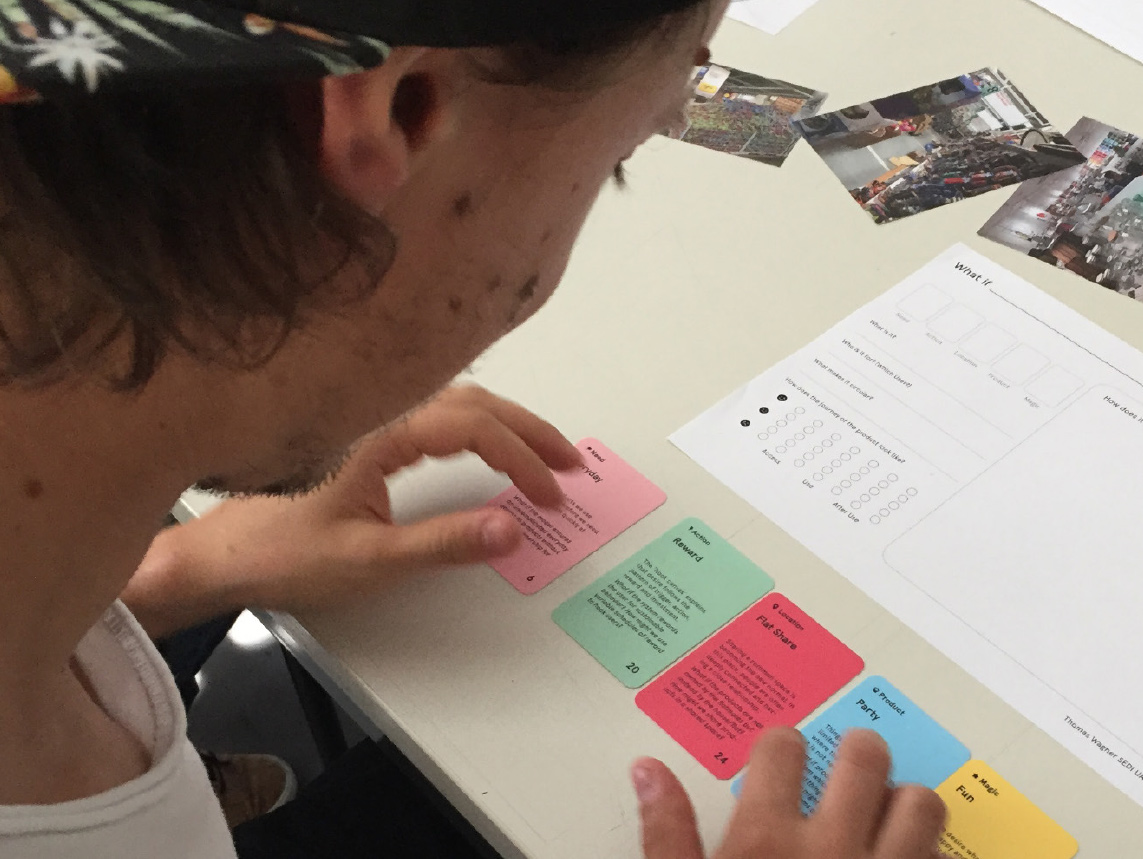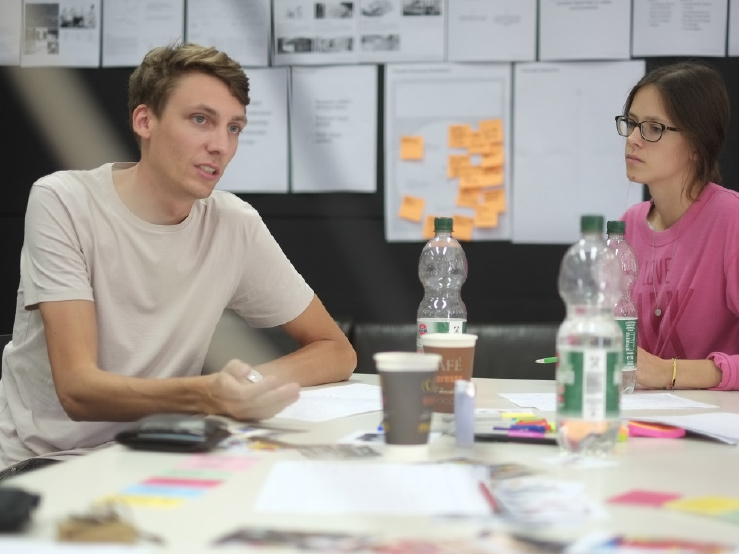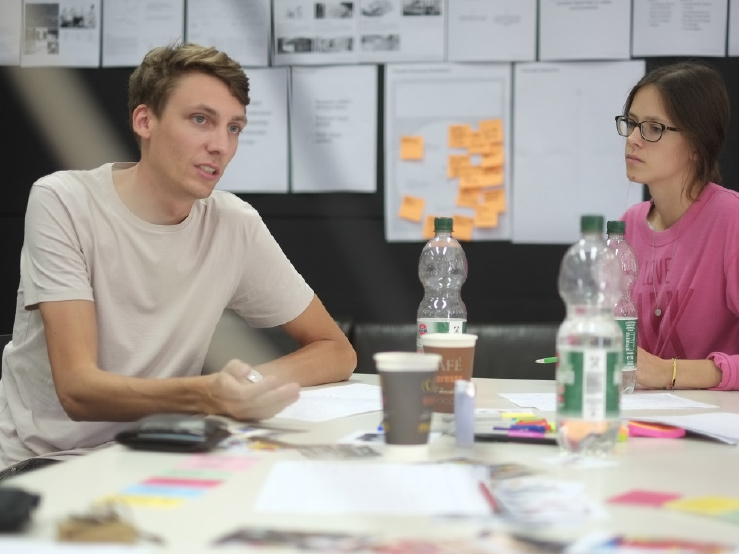 All participants have chosen together four ideas to develop further. Groups were divided into four teams to develop each idea. The result were four different ideas and concepts which were prototyped in form of a scribble and a short story.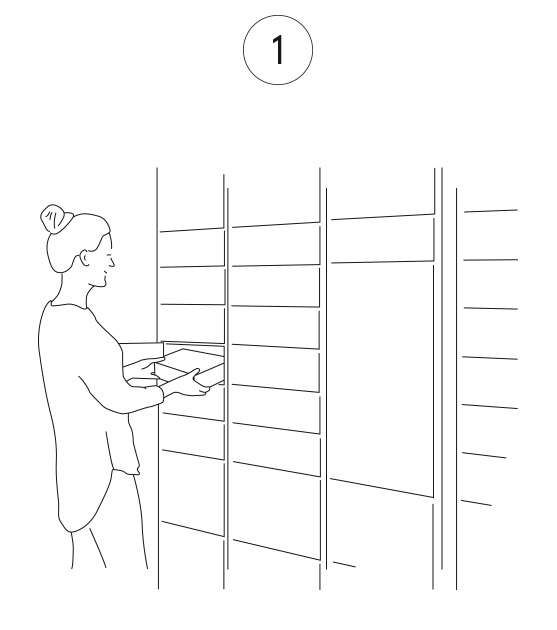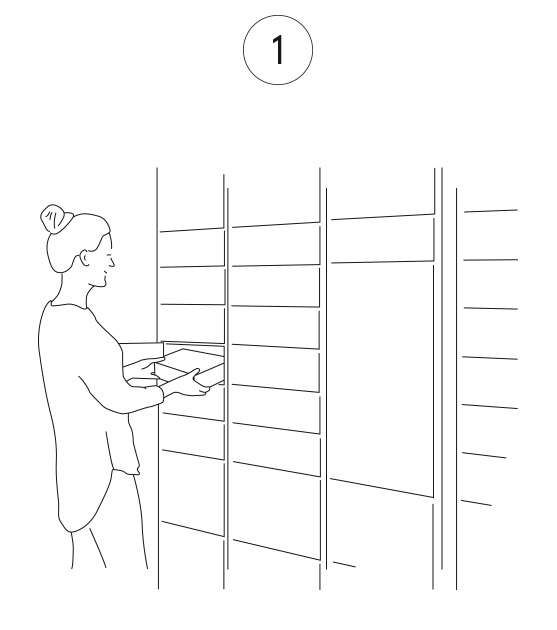 What if products you use in your flat share belongs to the building and can be shared within the community?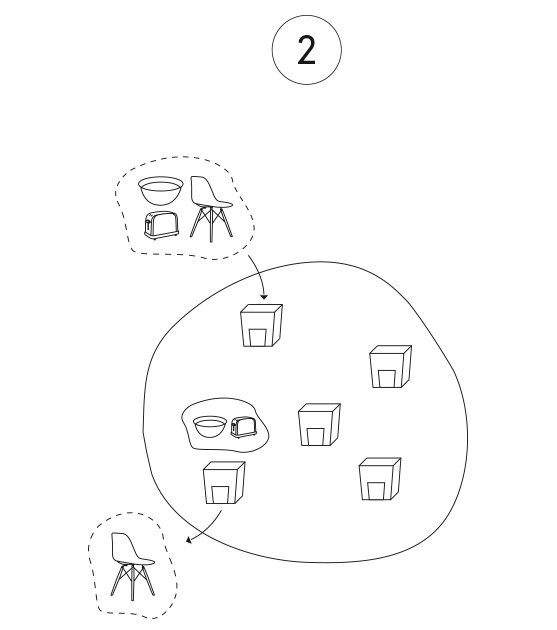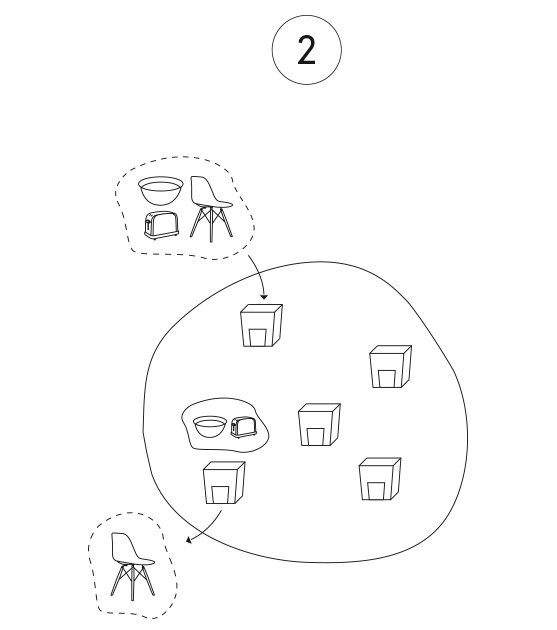 What if you can store your stuff in the 'cloud'?
What if you can 3D print and re­cycle products in a local hub?
What if products circulate between stores in the city?
The created ideas were abstracted and clustered into their core directions. The areas can be divided into co-living, access over ownership, local production and sharing. The aspect around co-living and the way how people live, seems to be a main driving force behind their consumption behaviour. This direction leads to further desk research and a mapping of interlinked issues.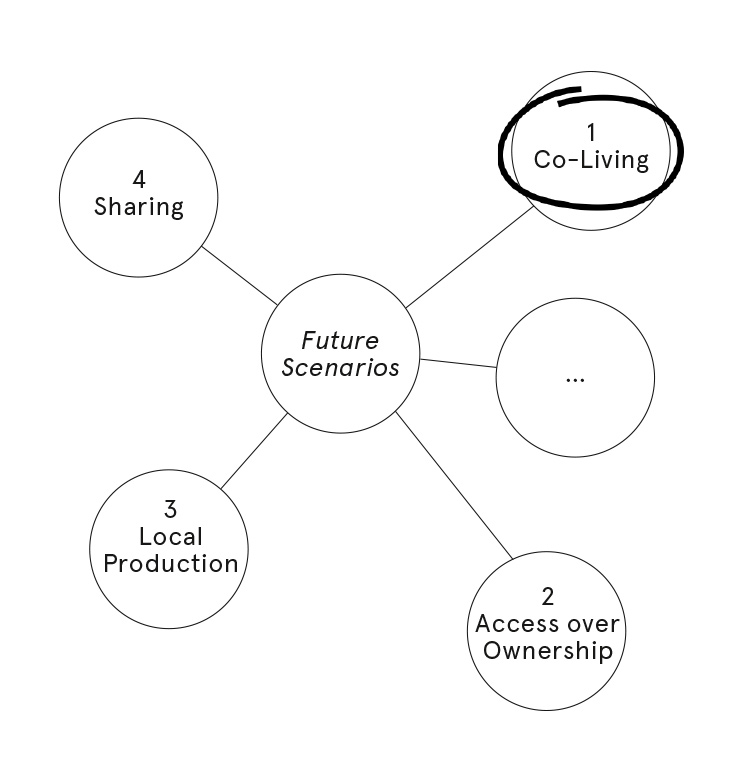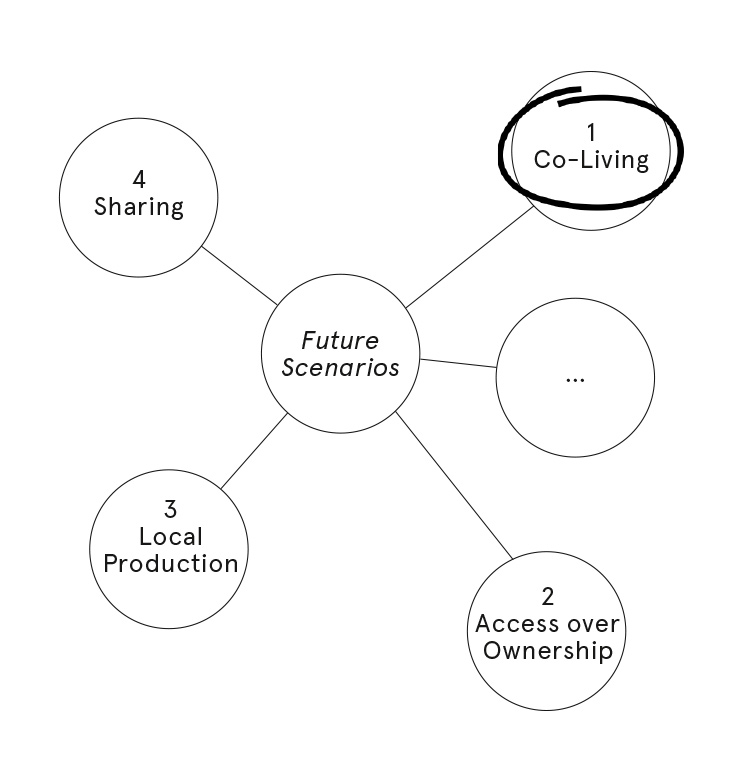 Concepts which were developed in the co-design workshop were mapped, to find out which would best fit the users needs. A general finding was, that the most valuable output of the co-design workshop was not the developed ideas themselves, but more the directions in that people have thought.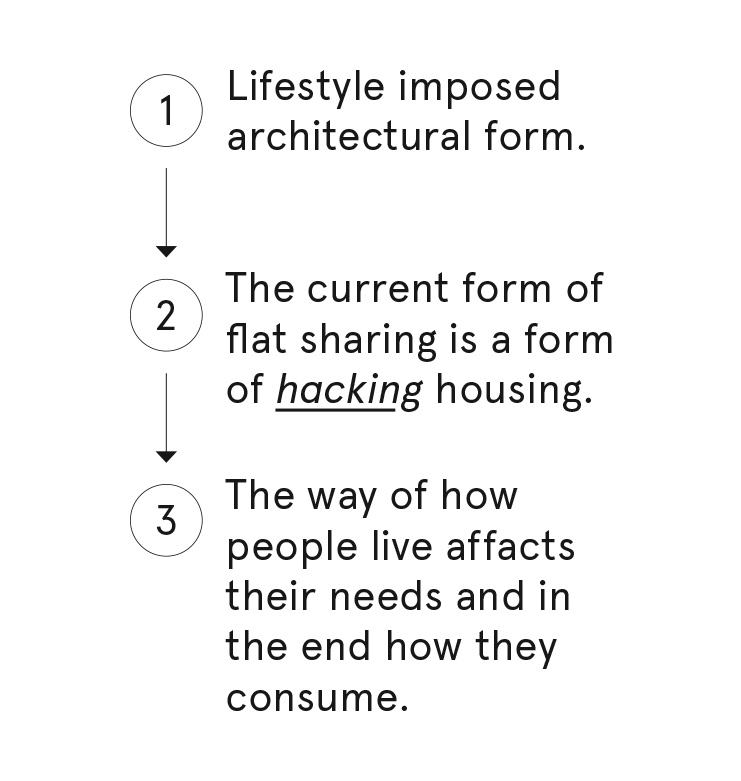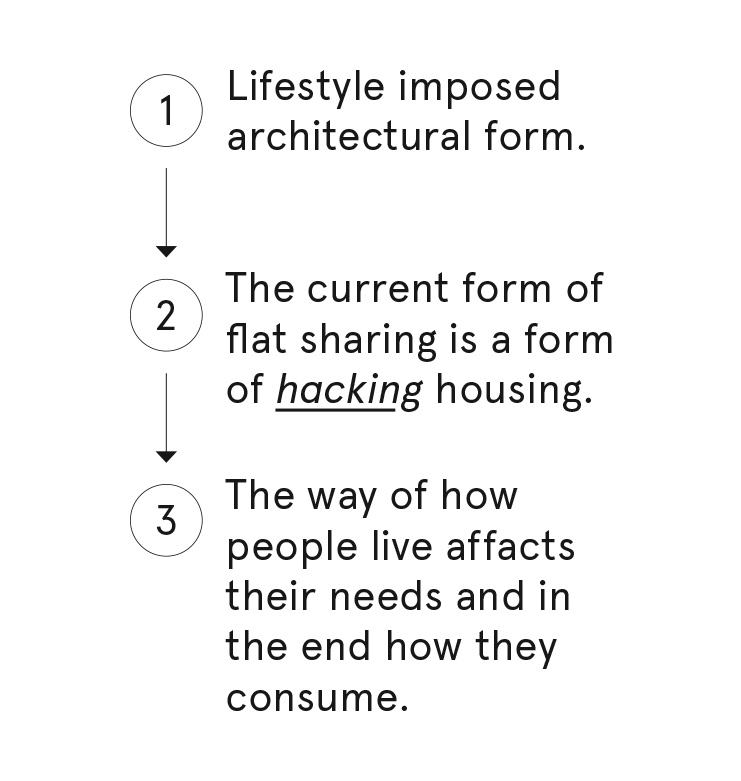 The findings from the co-design workshop and mapping of concepts lead to new insights, which had influences on the first research question and therefore the further design process of the project. With this new input it was able to define a second, more precised and tailored research question.
How might a service contribute to a better co-living experience for Millennials who stay temporarily in London?
After the concept has been defined, different scenarios have been prototyped to test with users and stakeholders, to refine the concept.
What if products you use on a daily basis are owned by the flat you are living in, which is connected to the manufactures to provide a `closed loop´ service?
To bring the scenario to life, different user journeys were sketched out, which helped to map out all relevant touchpoints for creating a first lo-fi prototype. Testing sessions with a flat share agency, student housing and users were conducted.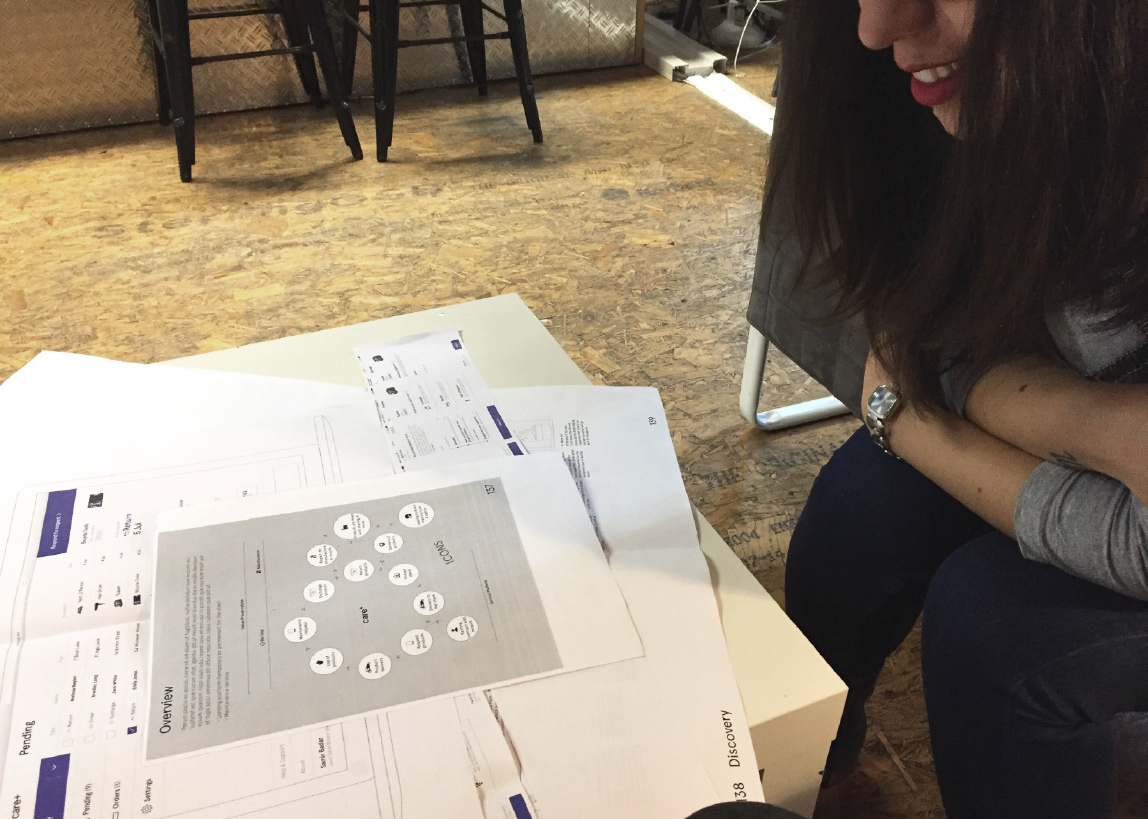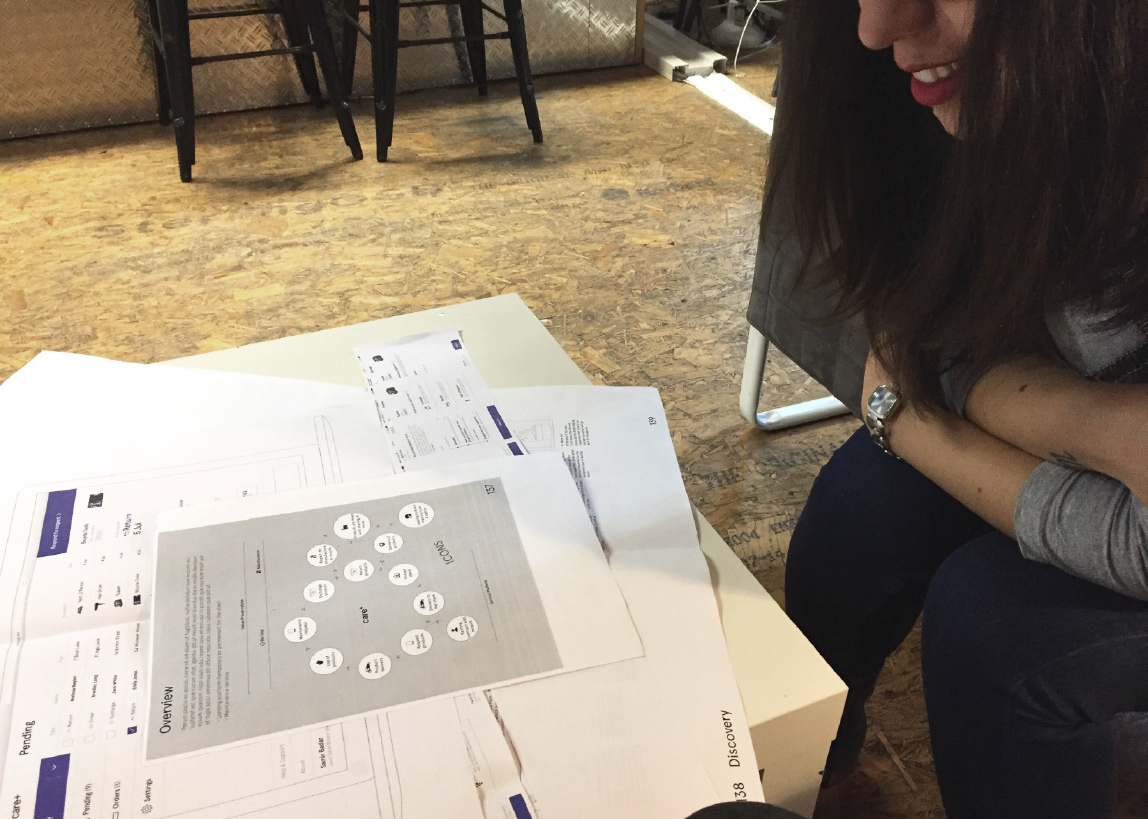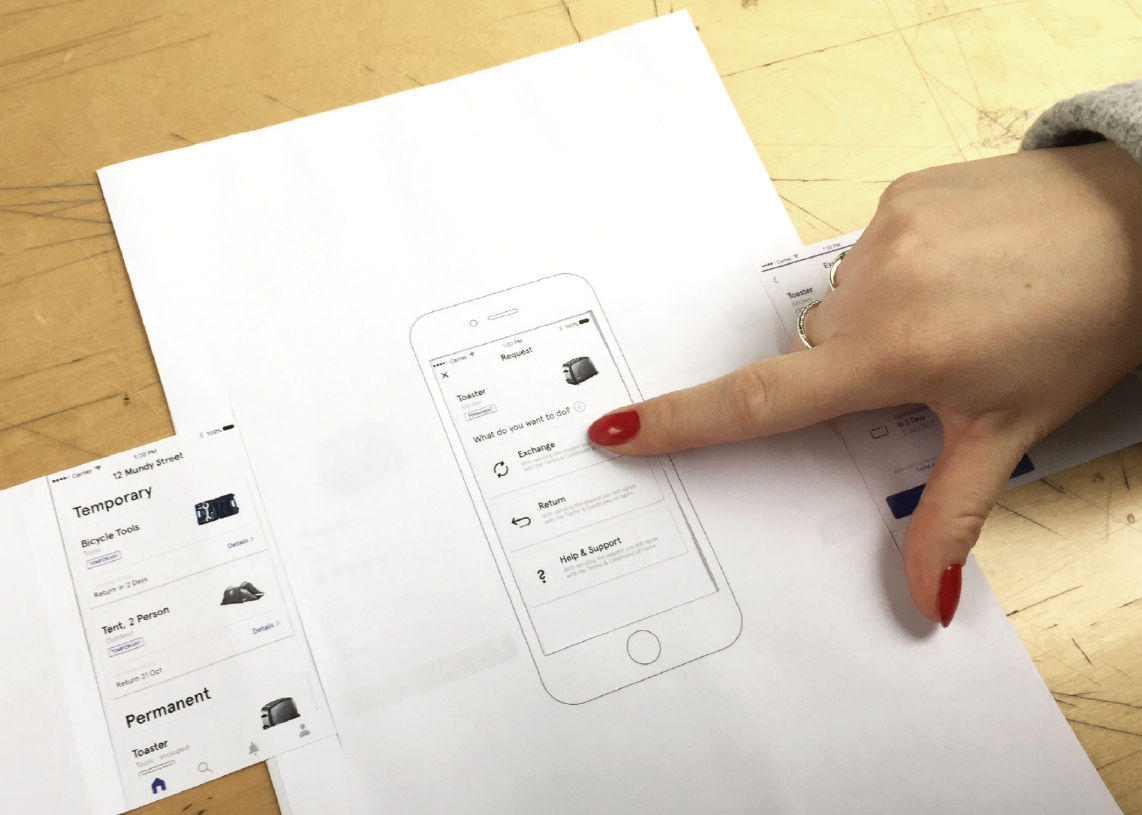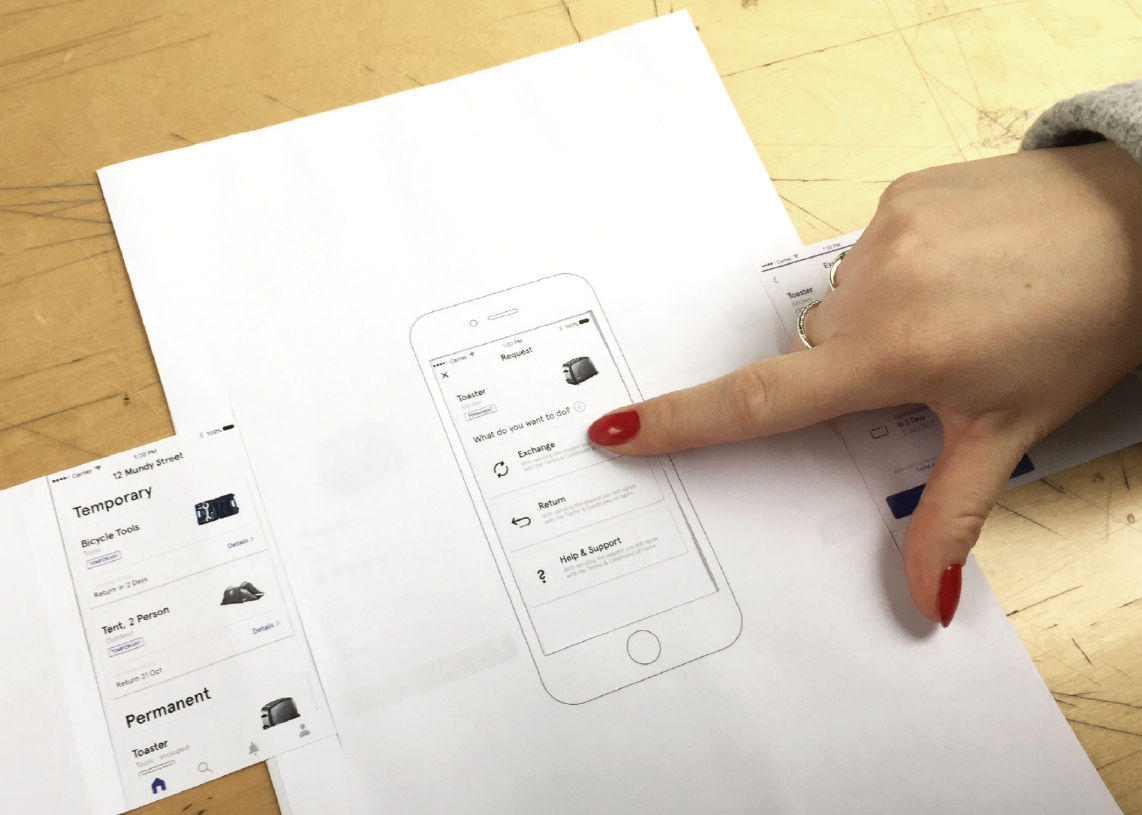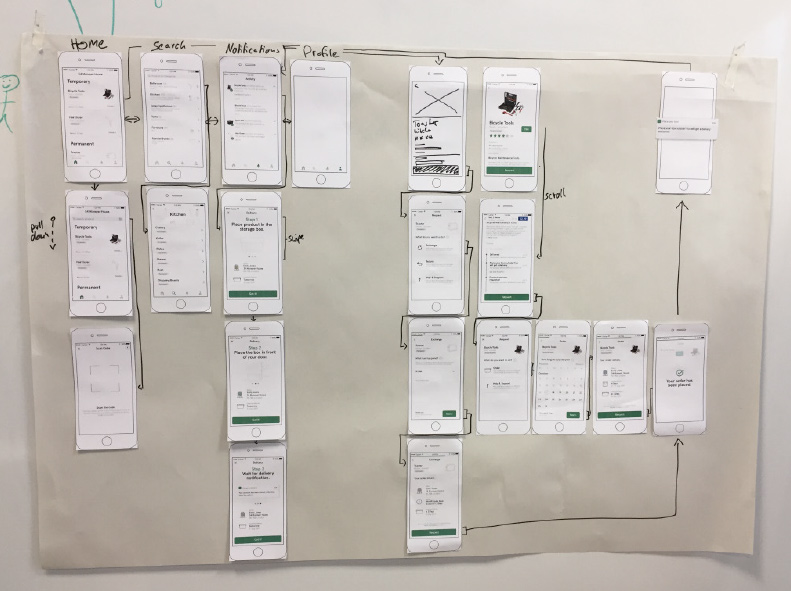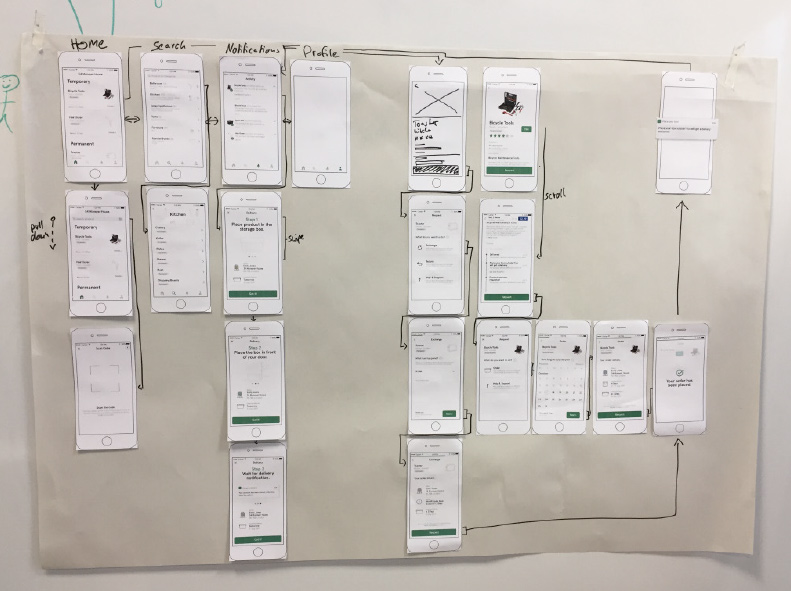 In the deliver stage, the service concept has been defined. Service processes will explain how the service works along the user journey. Touchpoints were designed to show how the service works for the end user on a daily basis.
Flatbox is a sharing platform that can be implemented into all kind of rented properties. Especially made for flat sharing, flatbox is a service that provides products permanently or temporary to tenants. Flat share agencies and landlords lease products directly from manufacturers. With an app and digital management platform, products can be ordered by tenants and maintenance requested. Products circulate within storage boxes between tenants, suppliers and manufacturers to provide a 'closed loop' service.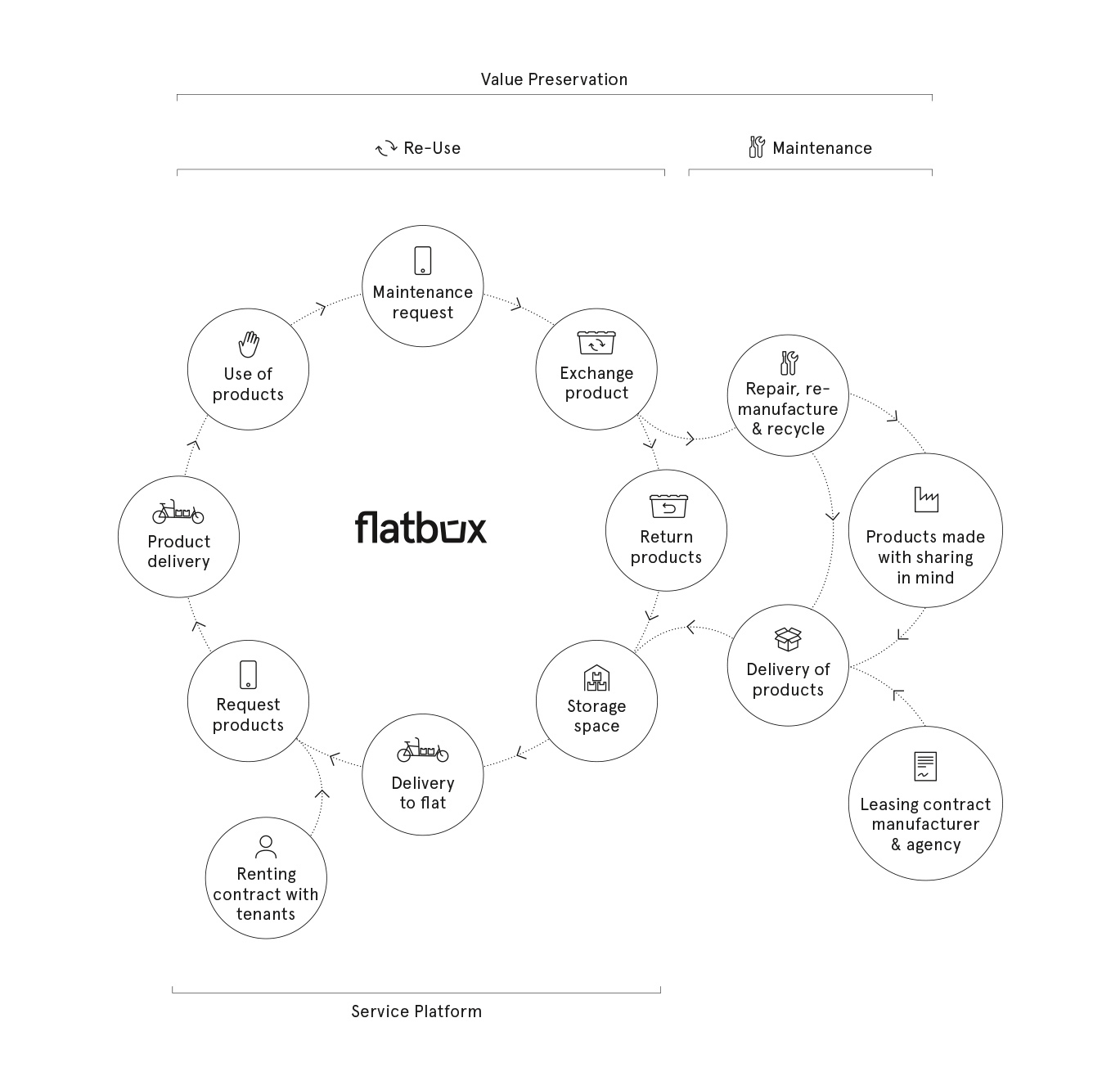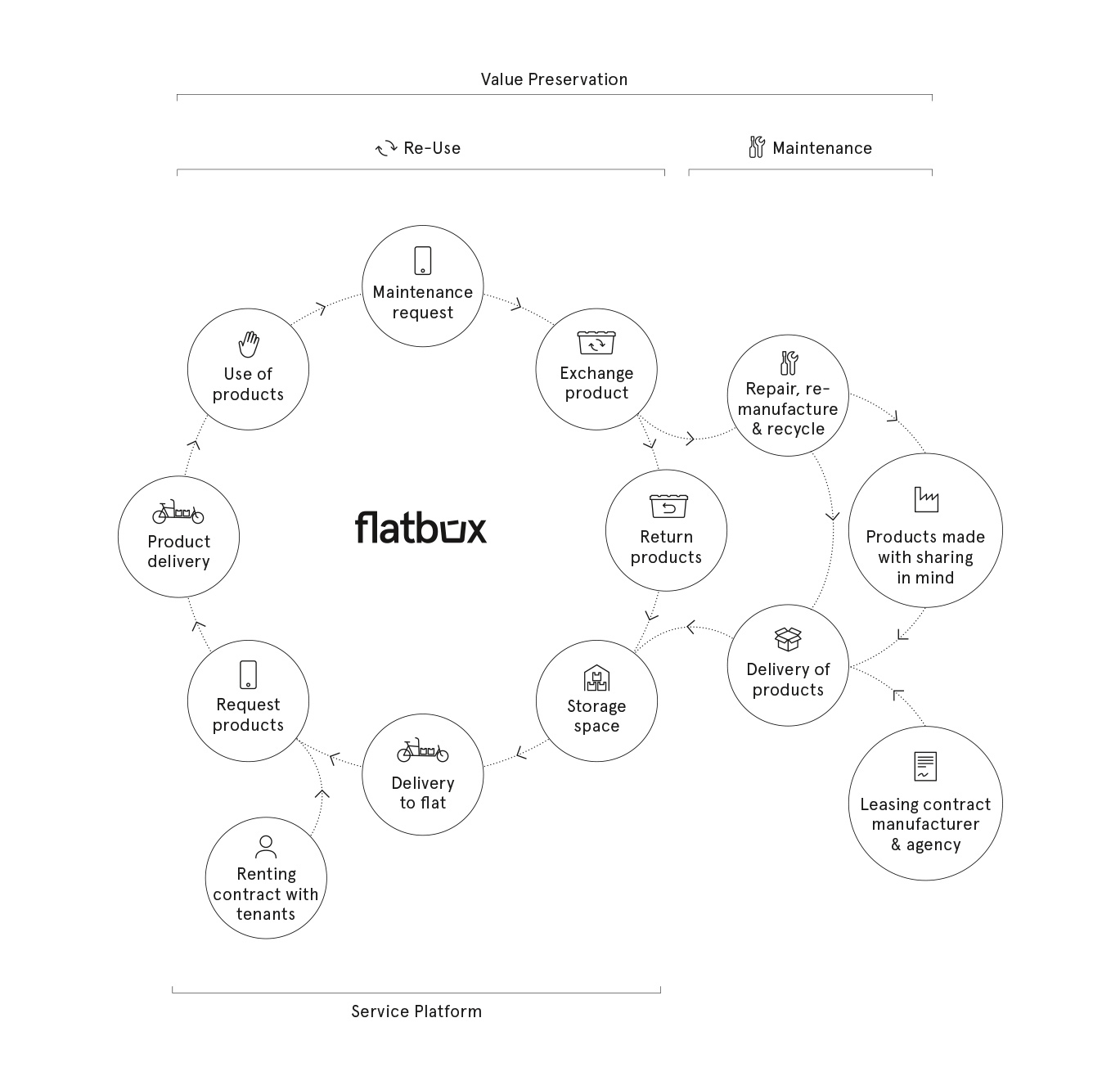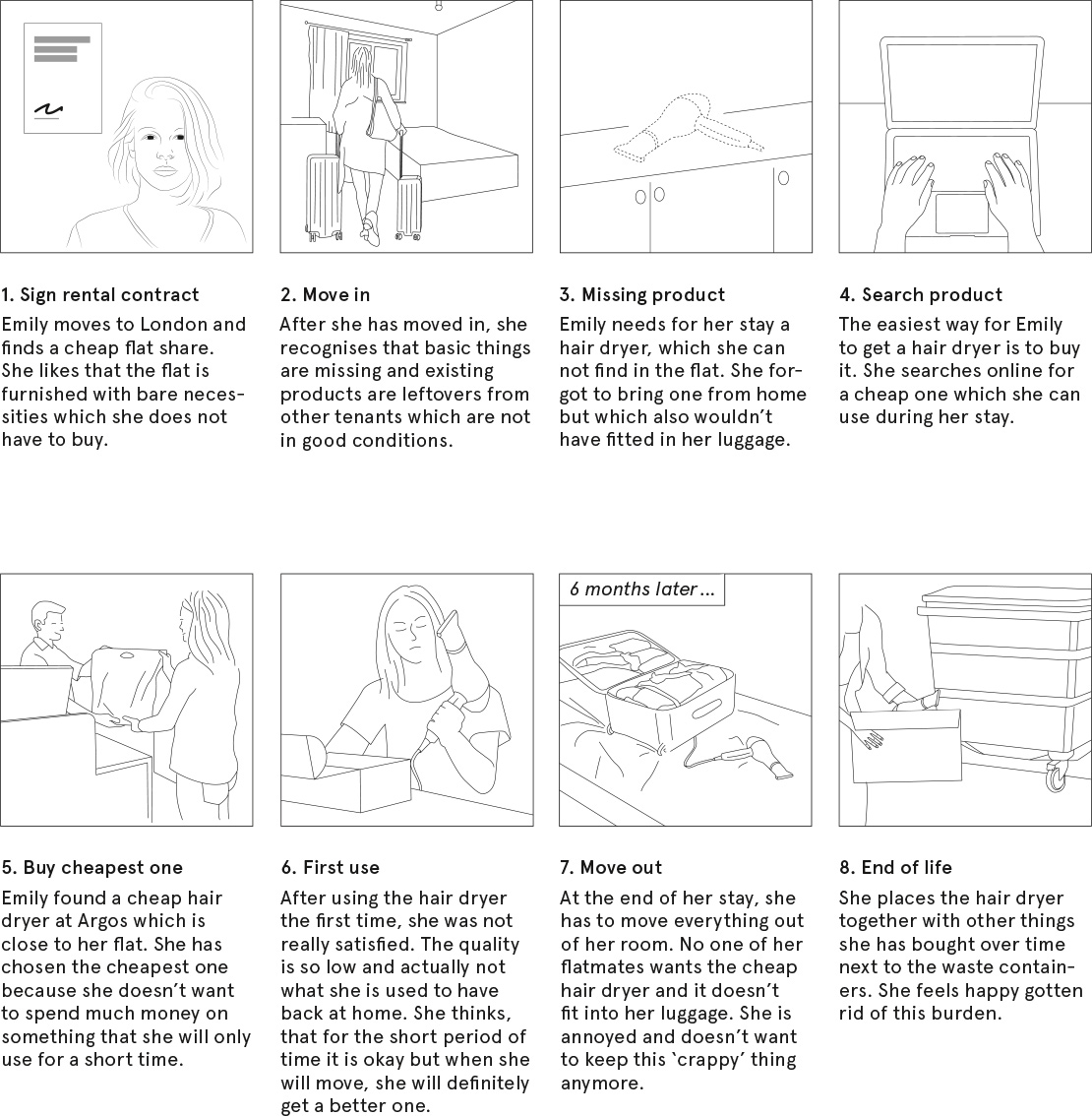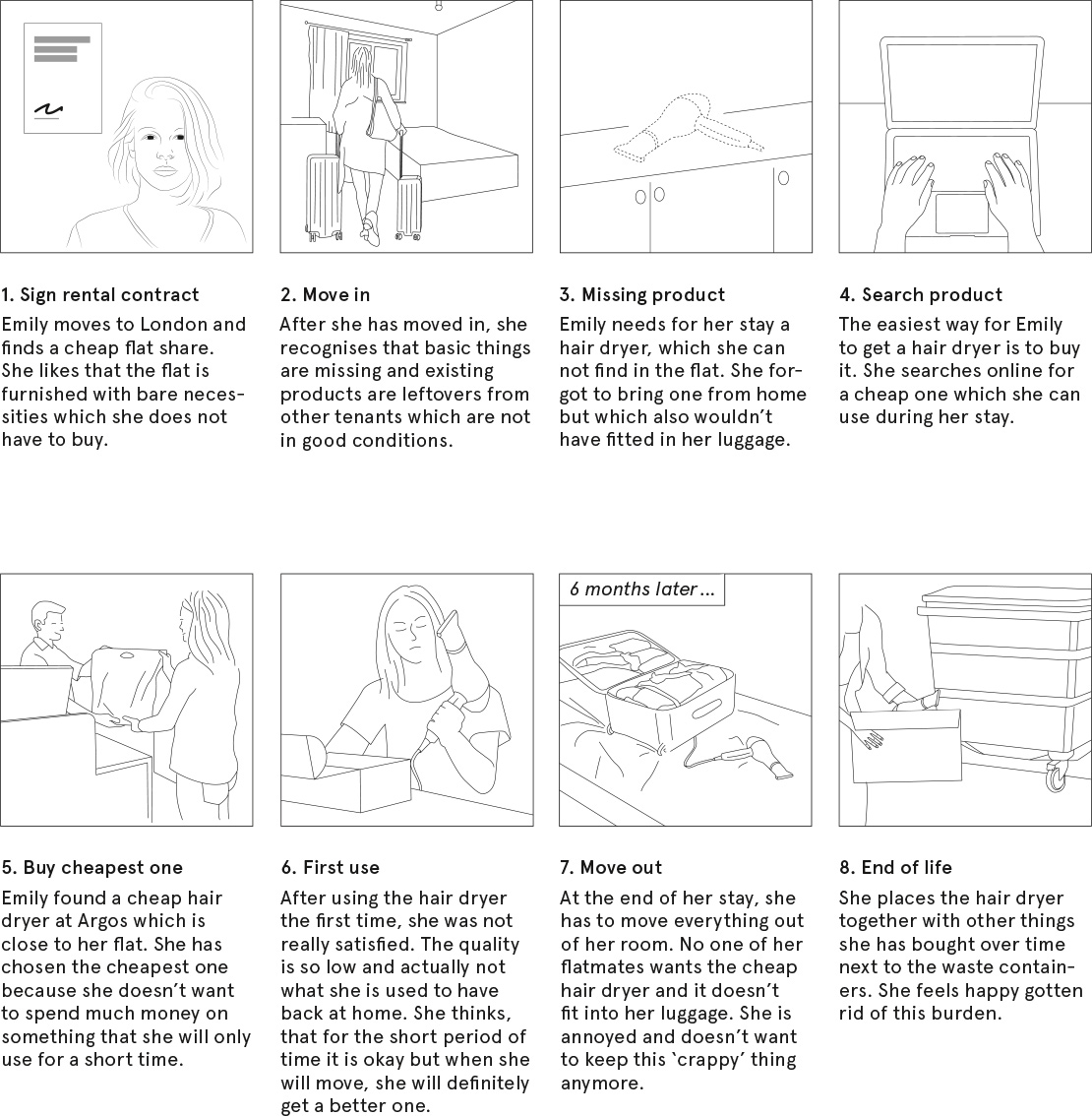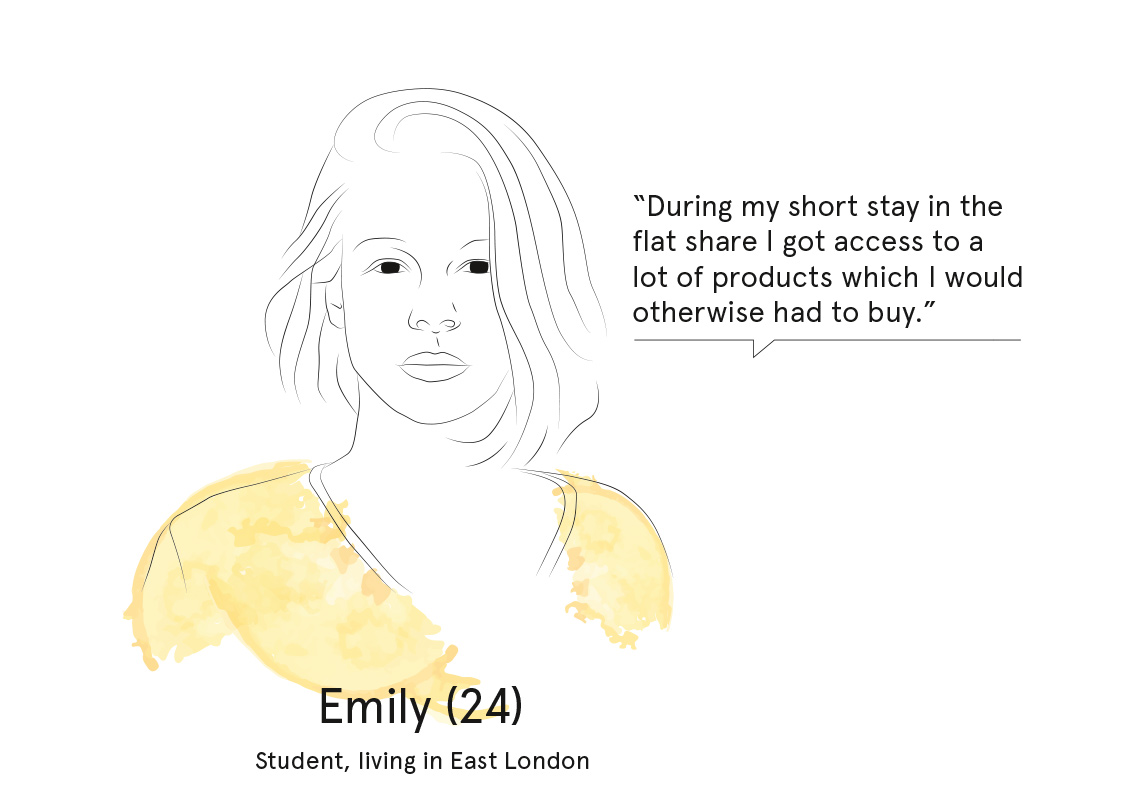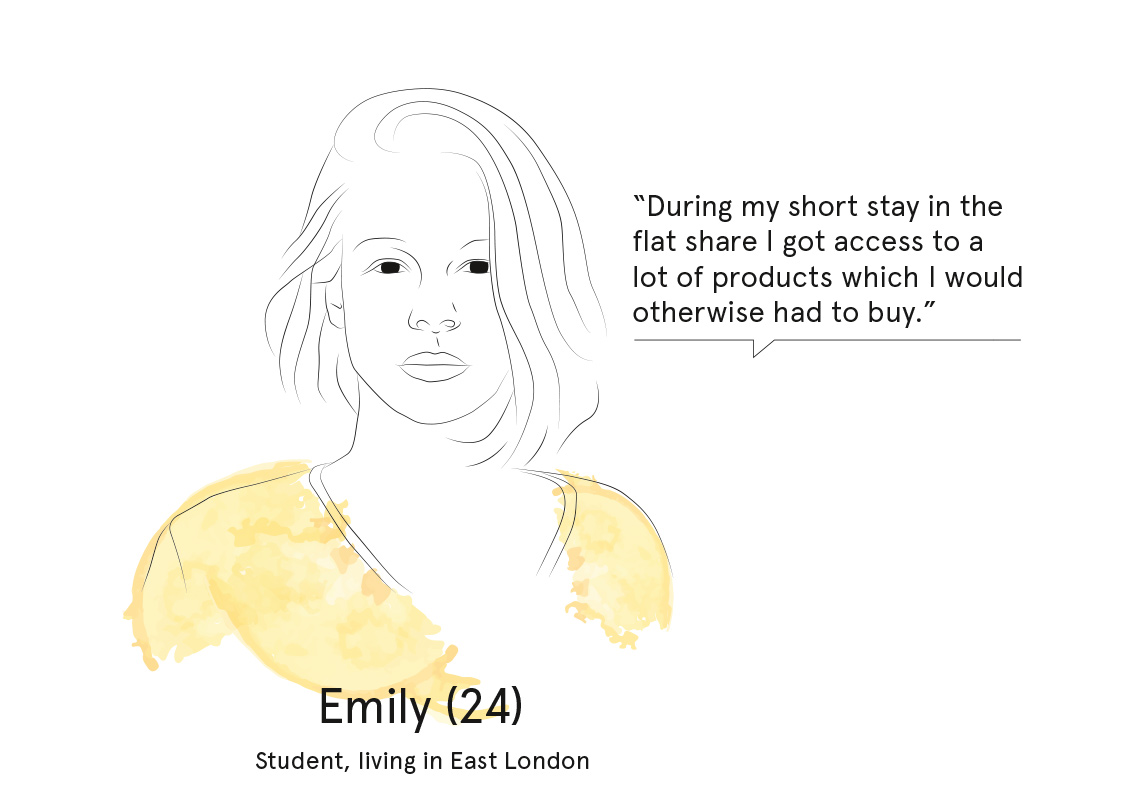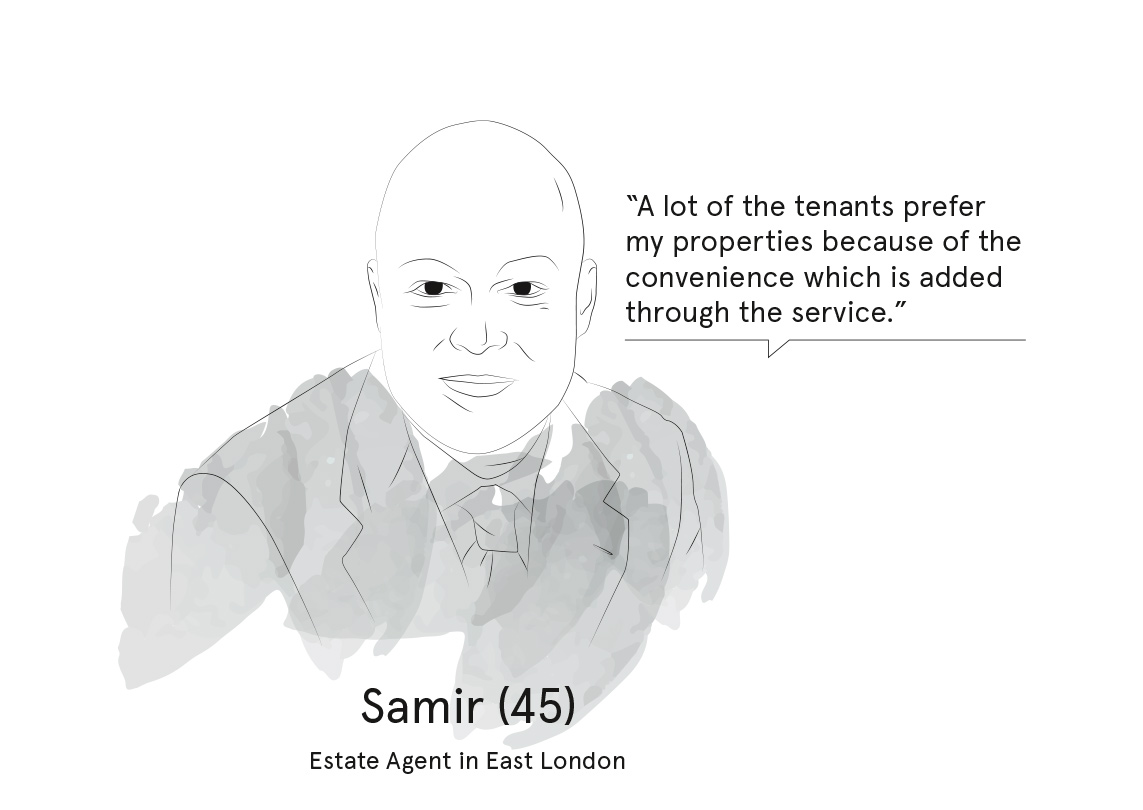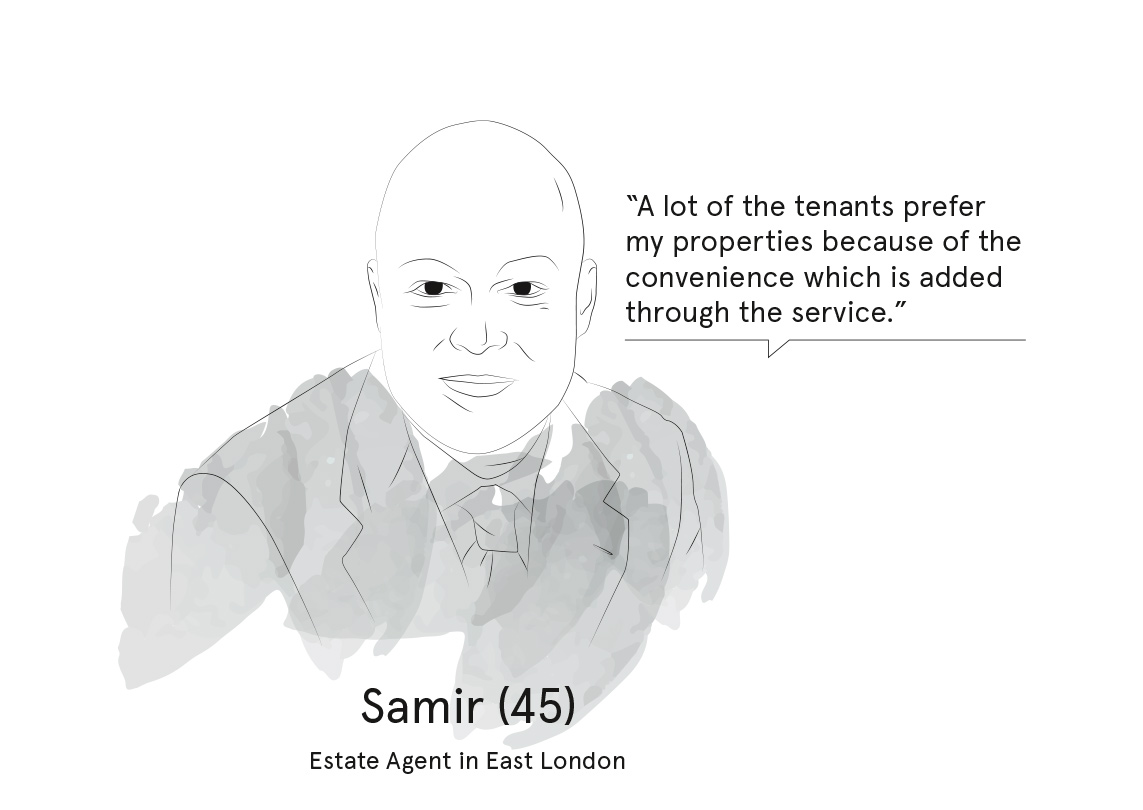 The relationship map gives an overview about how different stakeholders are interlinked.
The service benefits all involved stakeholders in different kind of ways. The end user gets access to a range of products without the need of spending money on products which will only be needed for a short time.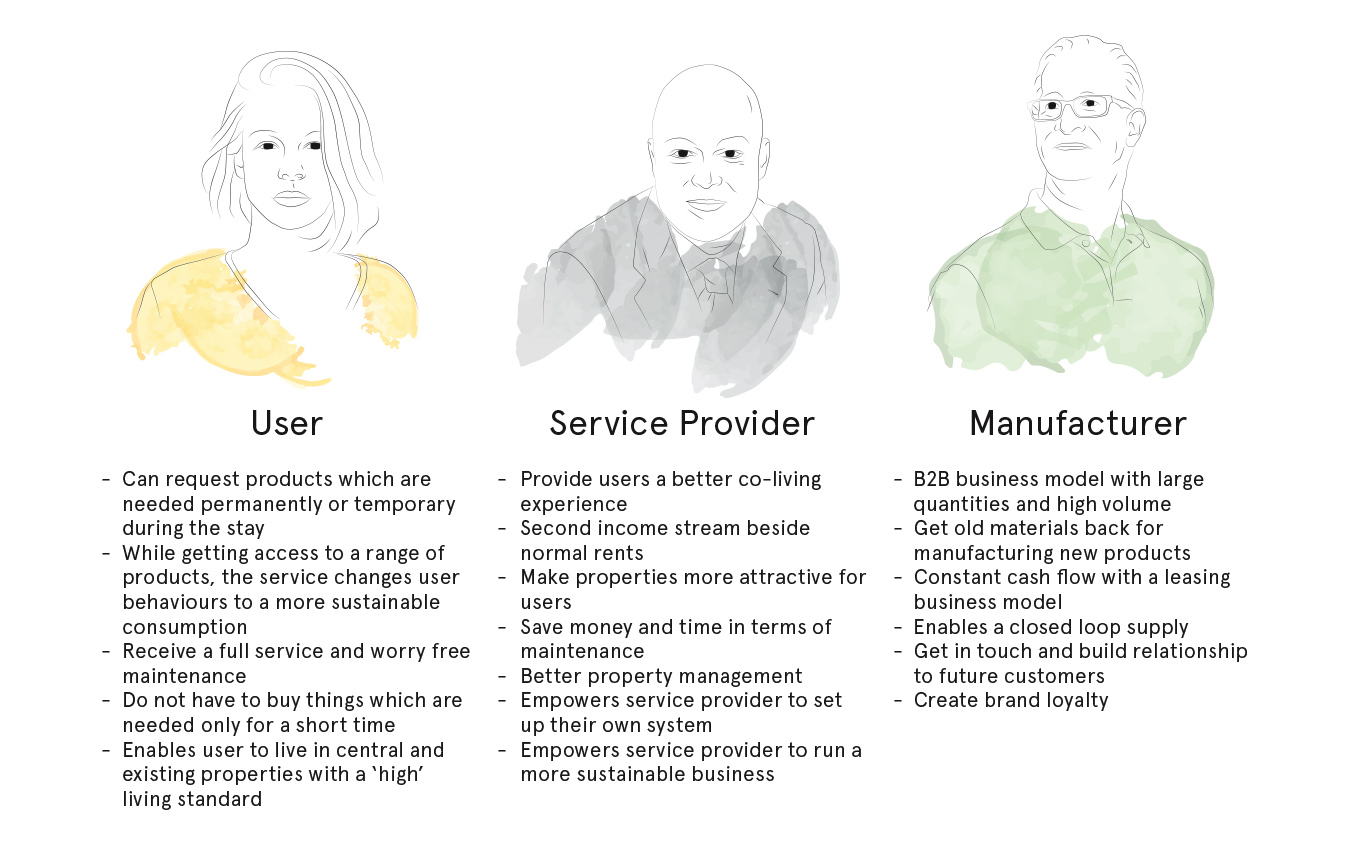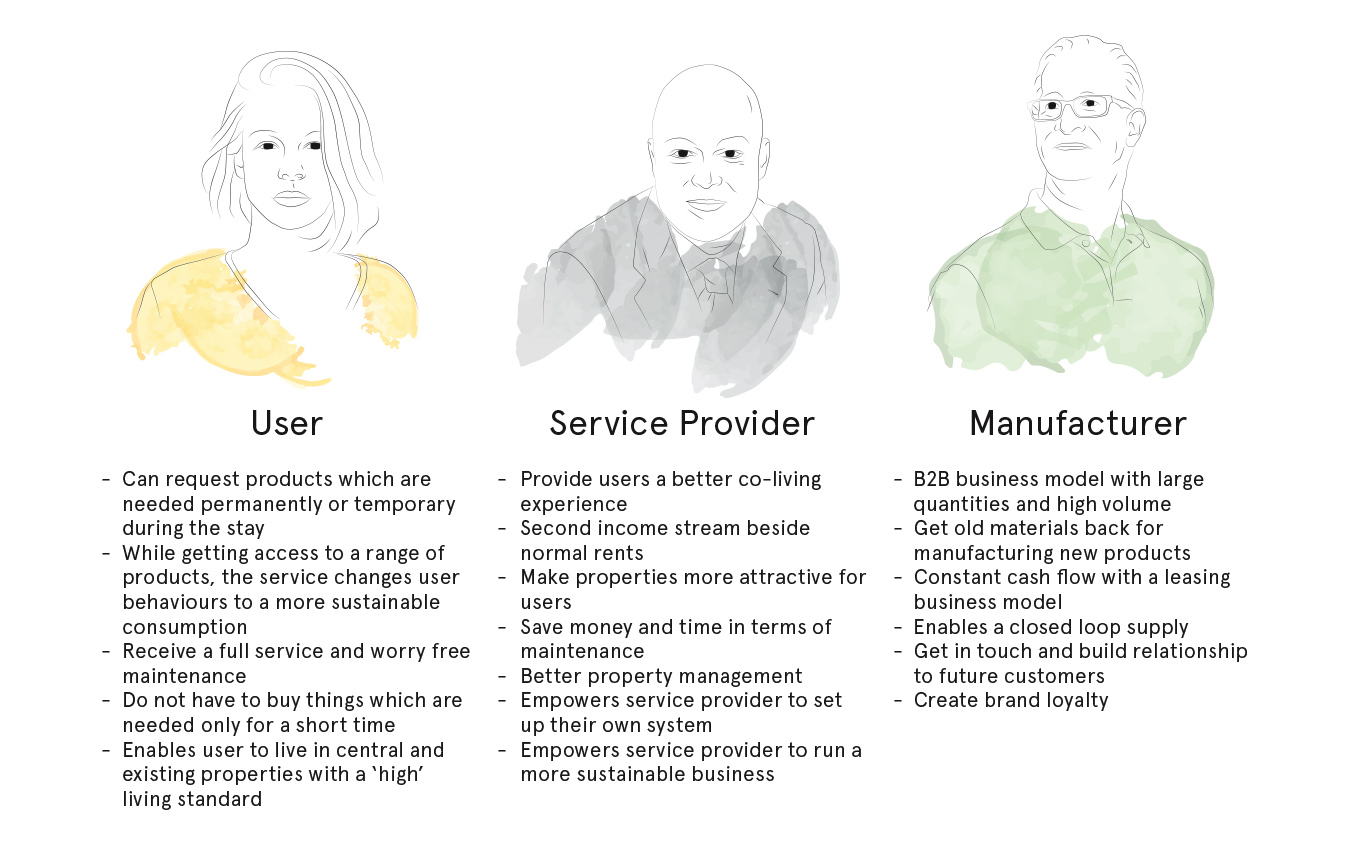 Service Process & Frameworks
To see how the service works not only for the end user but also the service ­provider and all involved stakeholders, different maps will show how the process works along the user ­journey.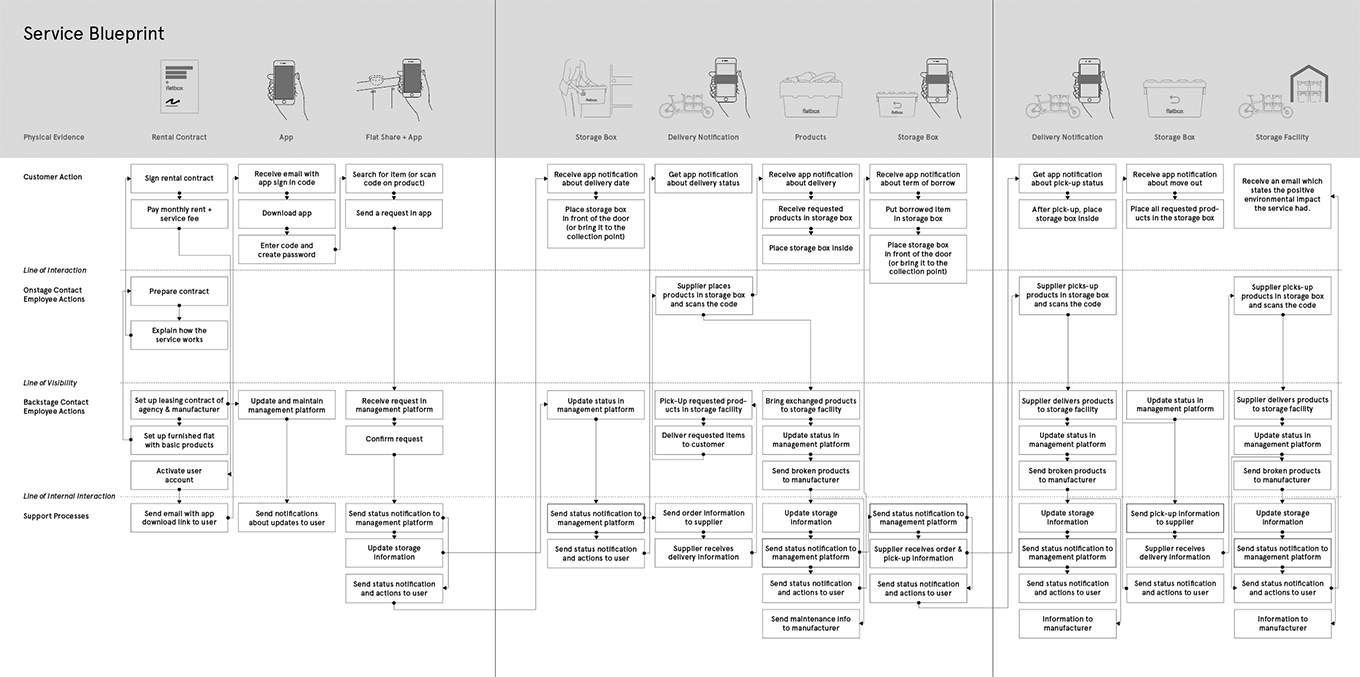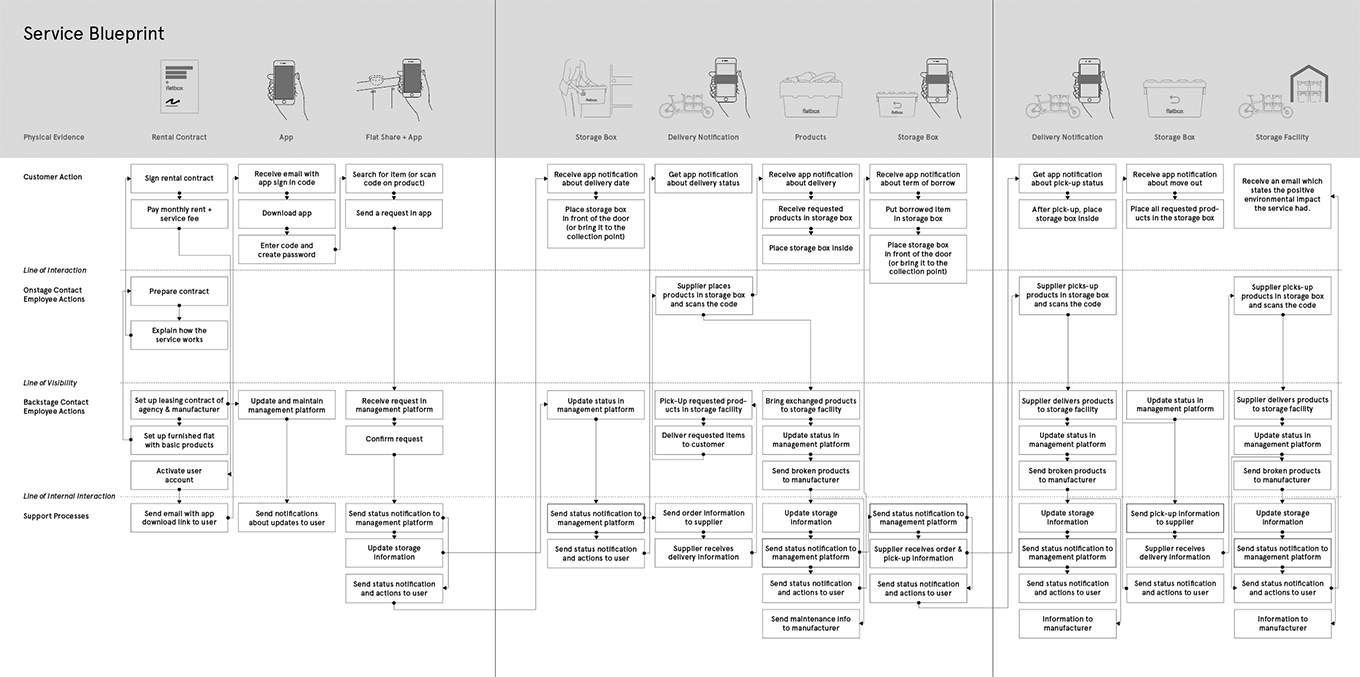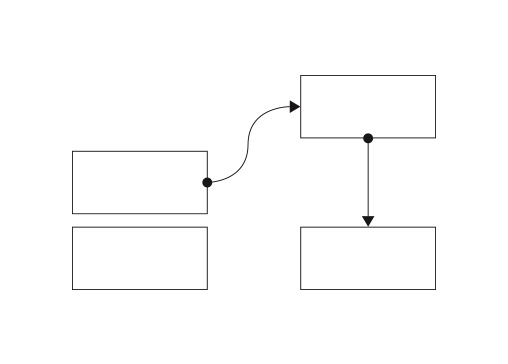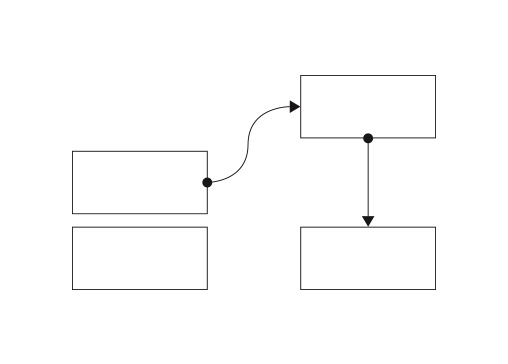 The service blueprint gives a detailed overview about the process of how the service works along the journey. Needed actions for both user and service provider are explained and interlinked to create a seamless user experience.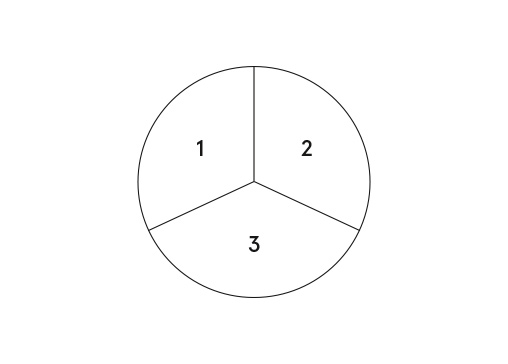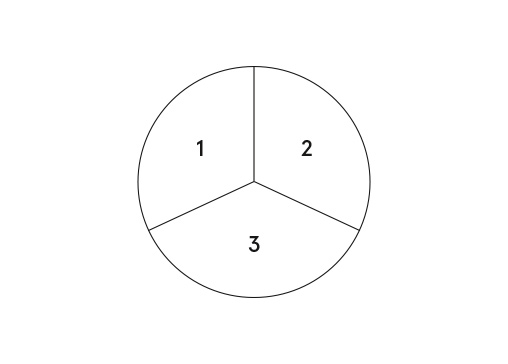 The service wheel shows how the system works in all three different stages pre, during and post service, to create a seamless experience.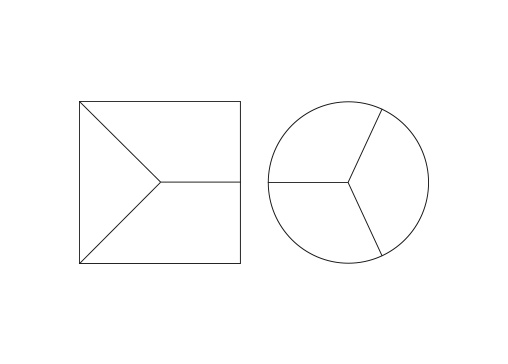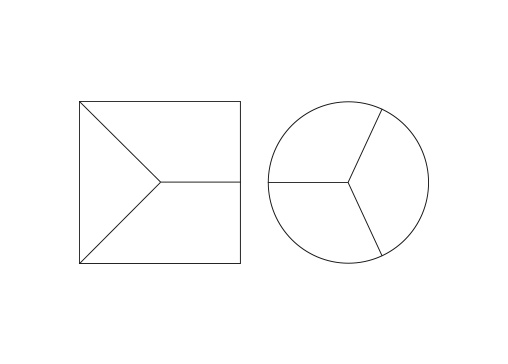 The value proposition canvaes gives an overview about customers needs and the provided services and products.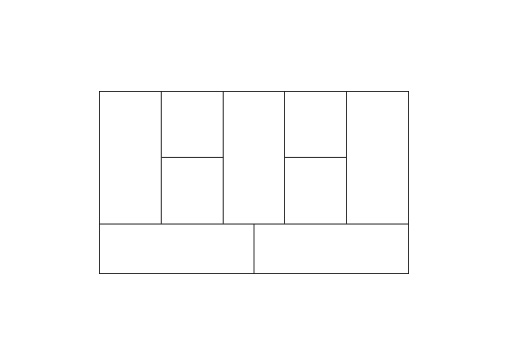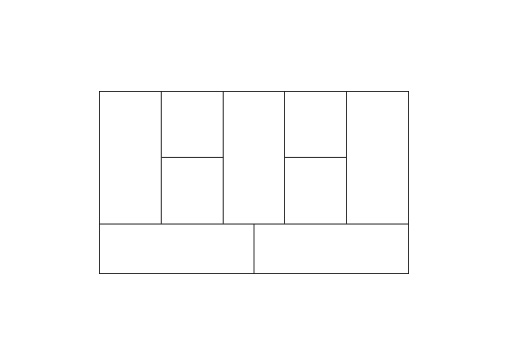 The business model canvas by Alexander Osterwalder (et.al. 2014) shows how the business model behind the service works and gives insights into revenue streams and cost structure.
The identified touchpoints along the user journey will carry out the service and ensure a seamless user experience.
A digital app will be the main touchpoint for the user to operate the service. Within the app, user can manage everything around orders, replacements and returns of products. It allows a seamless and efficient communication between user, service provider and supplier.
Storage boxes will be used for the delivery and replacement of products. The box will be made available in each flat. During their stay, tenants can use the box to receive orders and return products, even if they are not at home.
Each product will be labeled with a barcode. This makes it easier for stock management and delivery. To keep the maintenance and remanufacturing simple and efficient, products have to be designed for disassembling.
The digital desktop management platform allows service providers to manage the service efficiently. It gives an overview about requests, orders, flats and stock. The system allows a seamless communication between user, service provider, supplier and manufacturer.
The mobile app is the main interface between users and service providers. Users get an overview about all the products which are in their flat and available for borrowing on a temporary or permanent basis.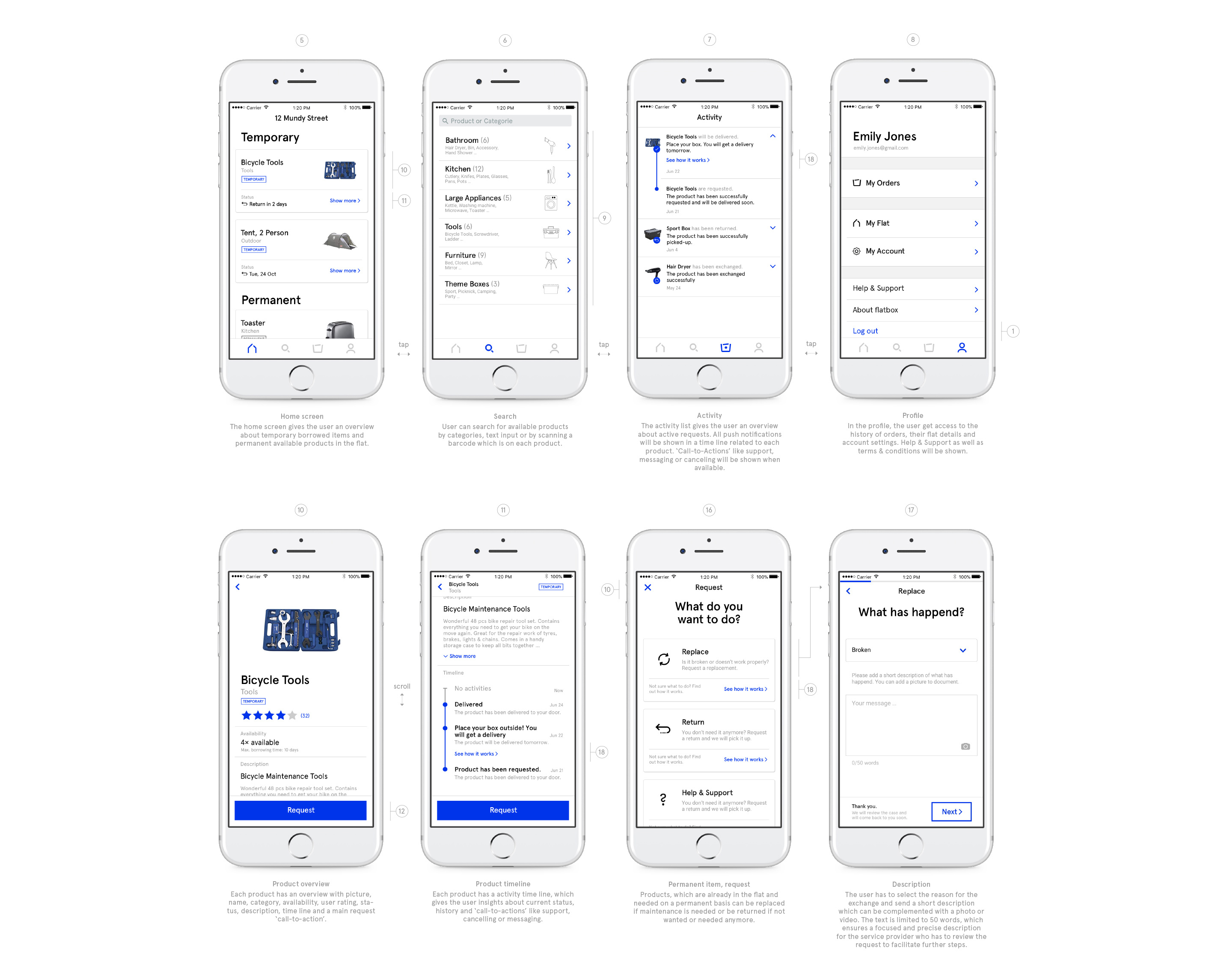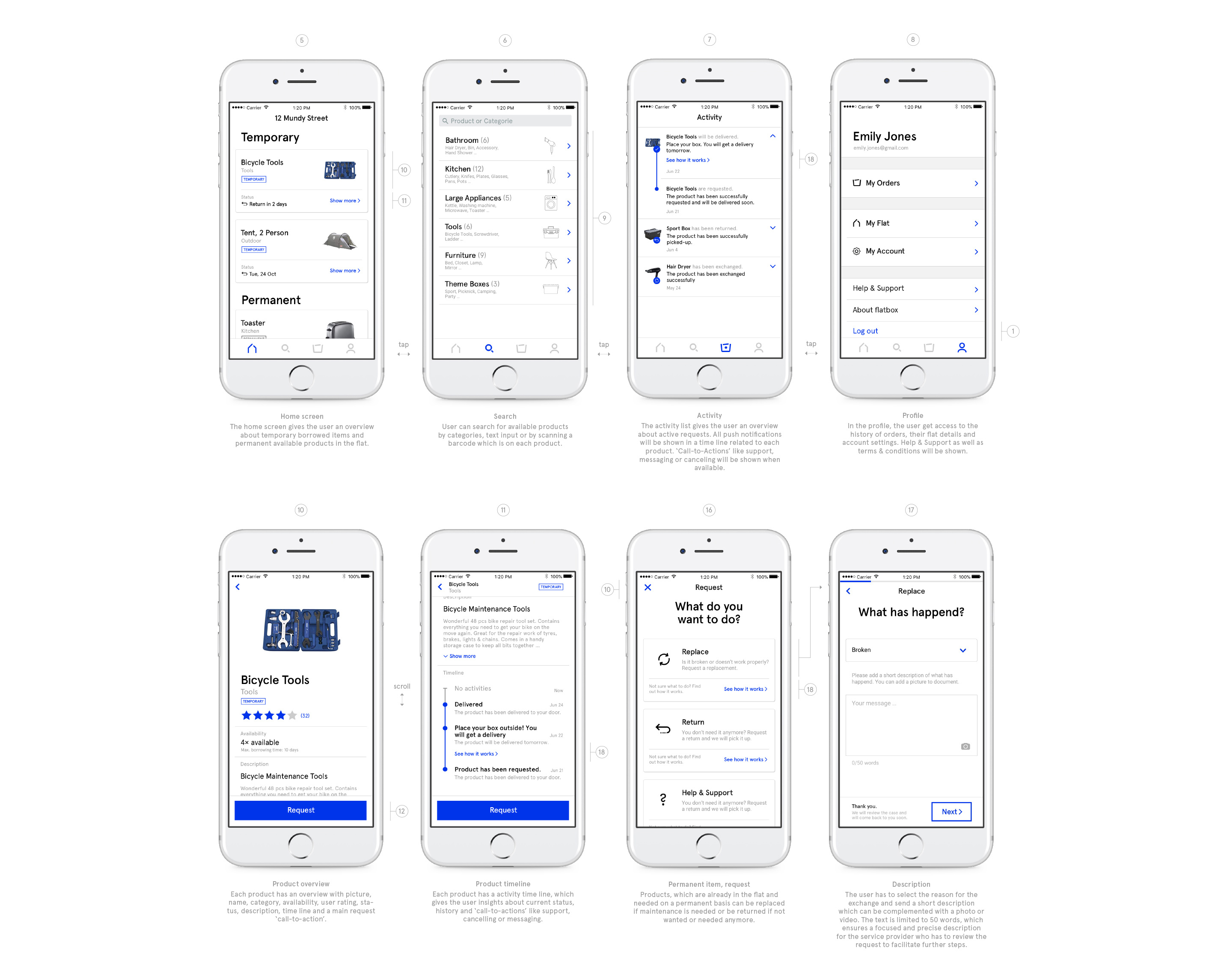 The storage boxes will be available in each flat. Tenants can place the box in front of their door to receive orders, exchange products for maintenance or return borrowed items. If it is not possible to leave the box outside the door, tenants can bring the box to a near by collection point (e.g. a kiosk or local business).


To reach the aim of a regenerative economy where old products become the material input for new ones, for the proposed service concept products have to be designed with sharing in mind, to create an efficient reverse cycle. Design for disassembly, maintenance, remanufacturing, reuse and recycling were identified as important parameters for products.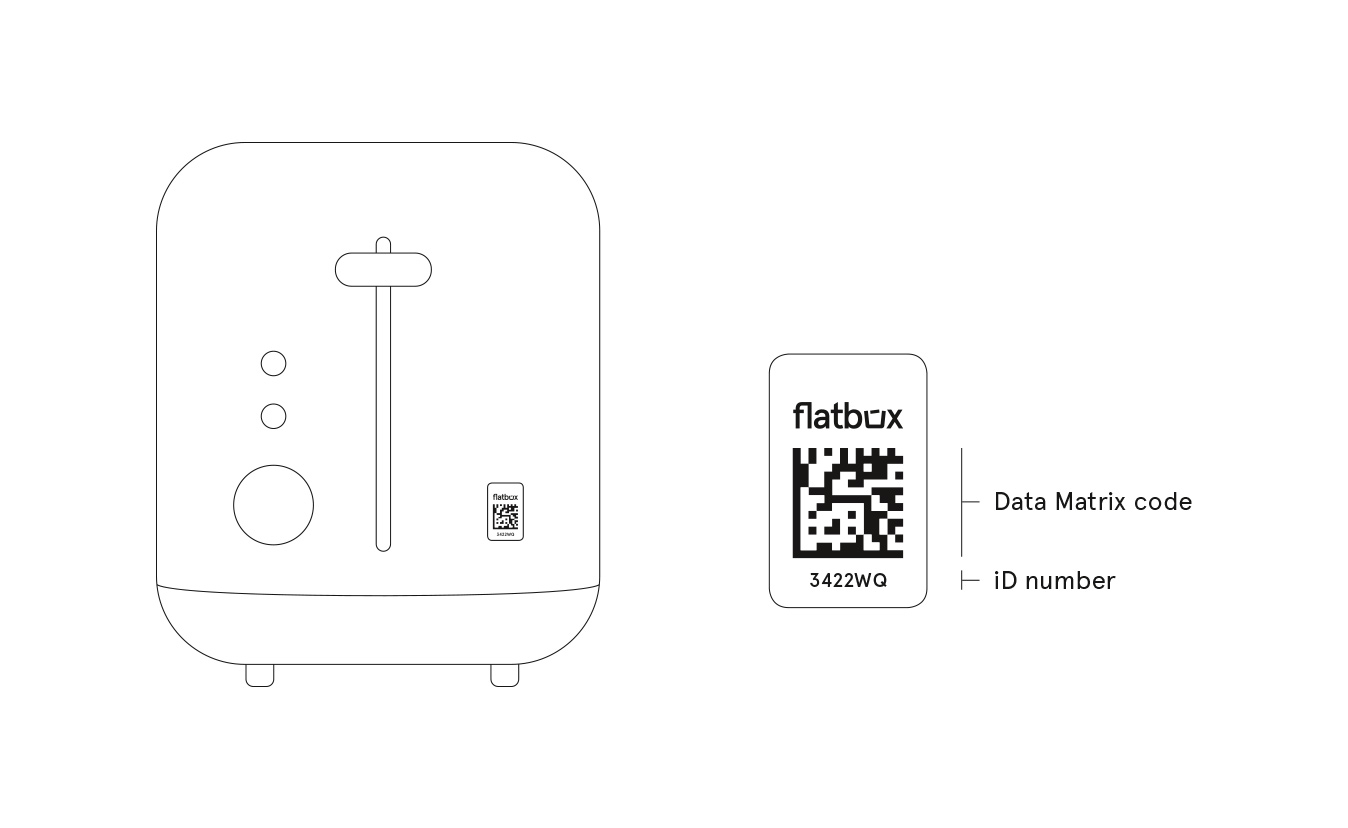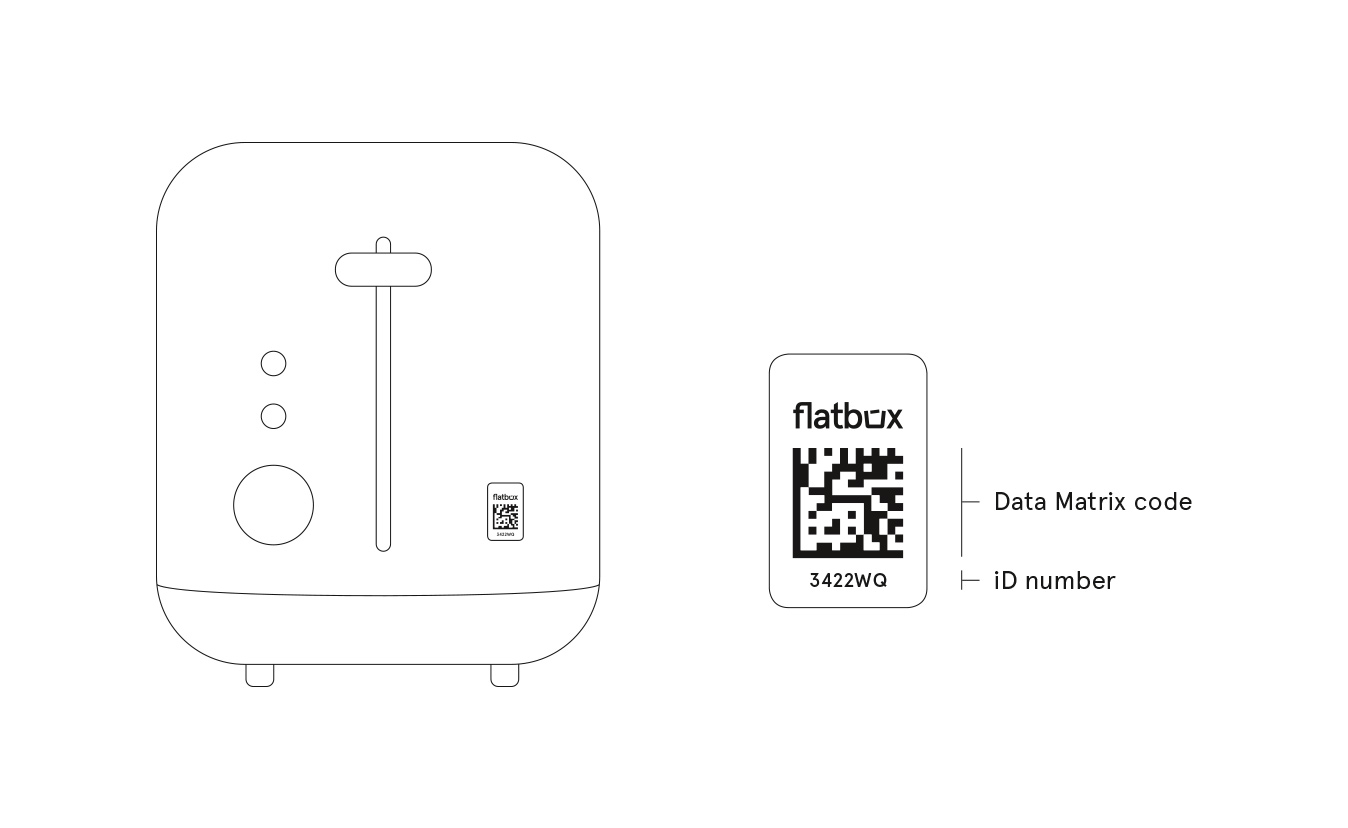 The digital desktop management platform allows service providers to manage the service efficiently. It gives an overview about requests, orders, stock and flats. Connected with the app, the system allows a seamless communication between user, service provider, supplier and manufacturer.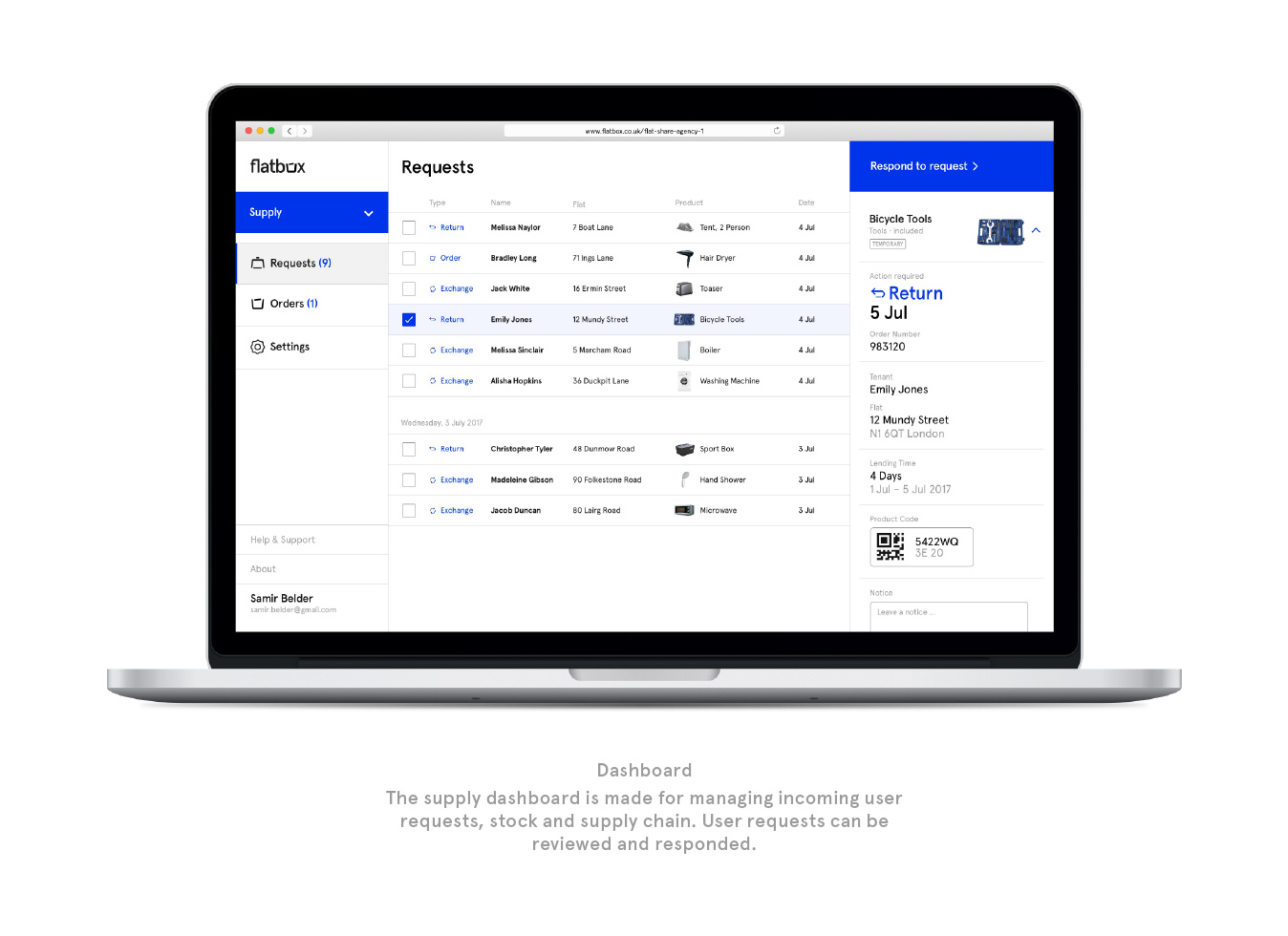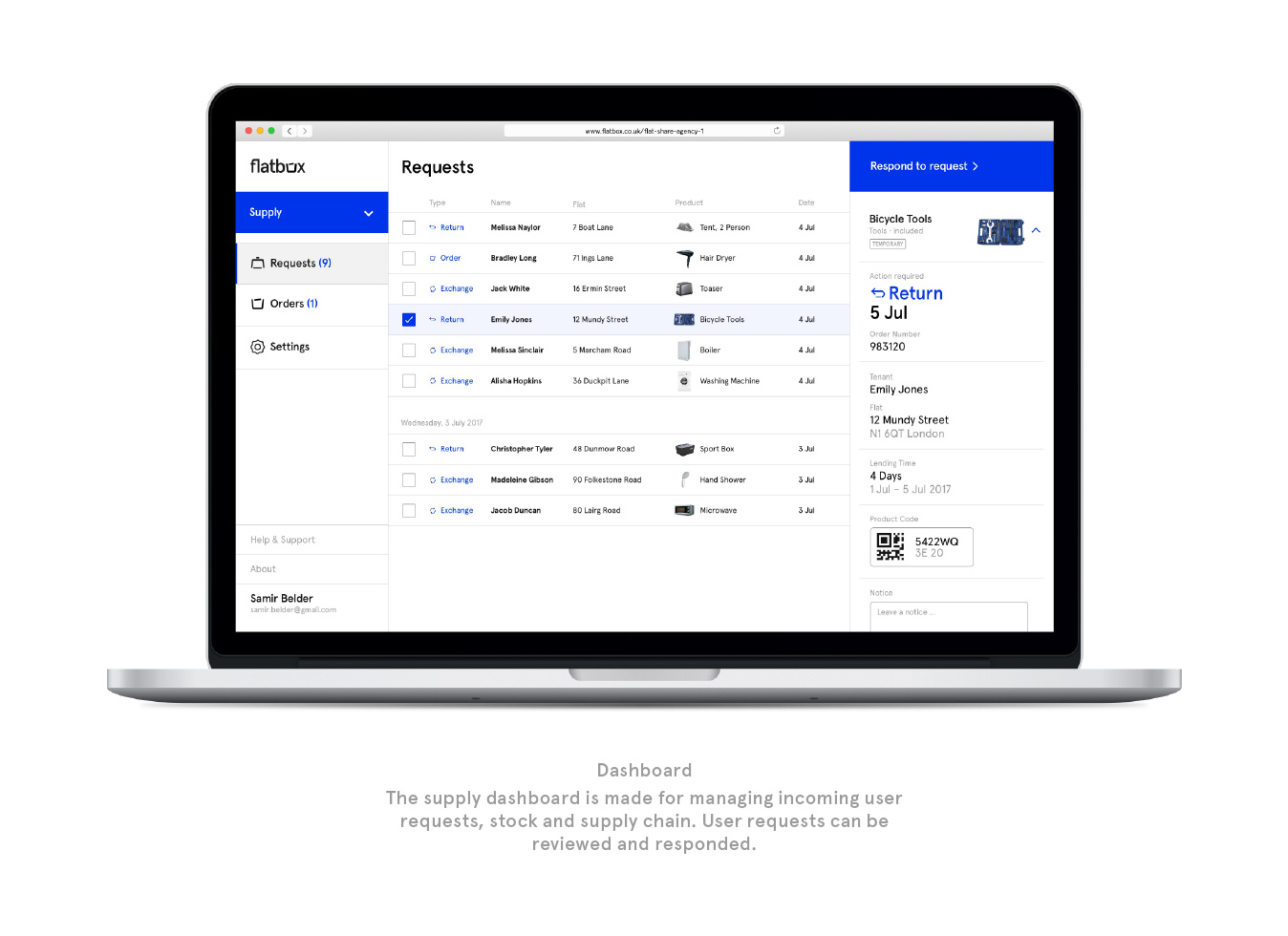 With the app, the delivery of products will be made easy for suppliers. It is connected with the management platform and provides information about current orders and activities. The supplier gets information about receiver and address, type of request (order, exchange or return), ordering number and product.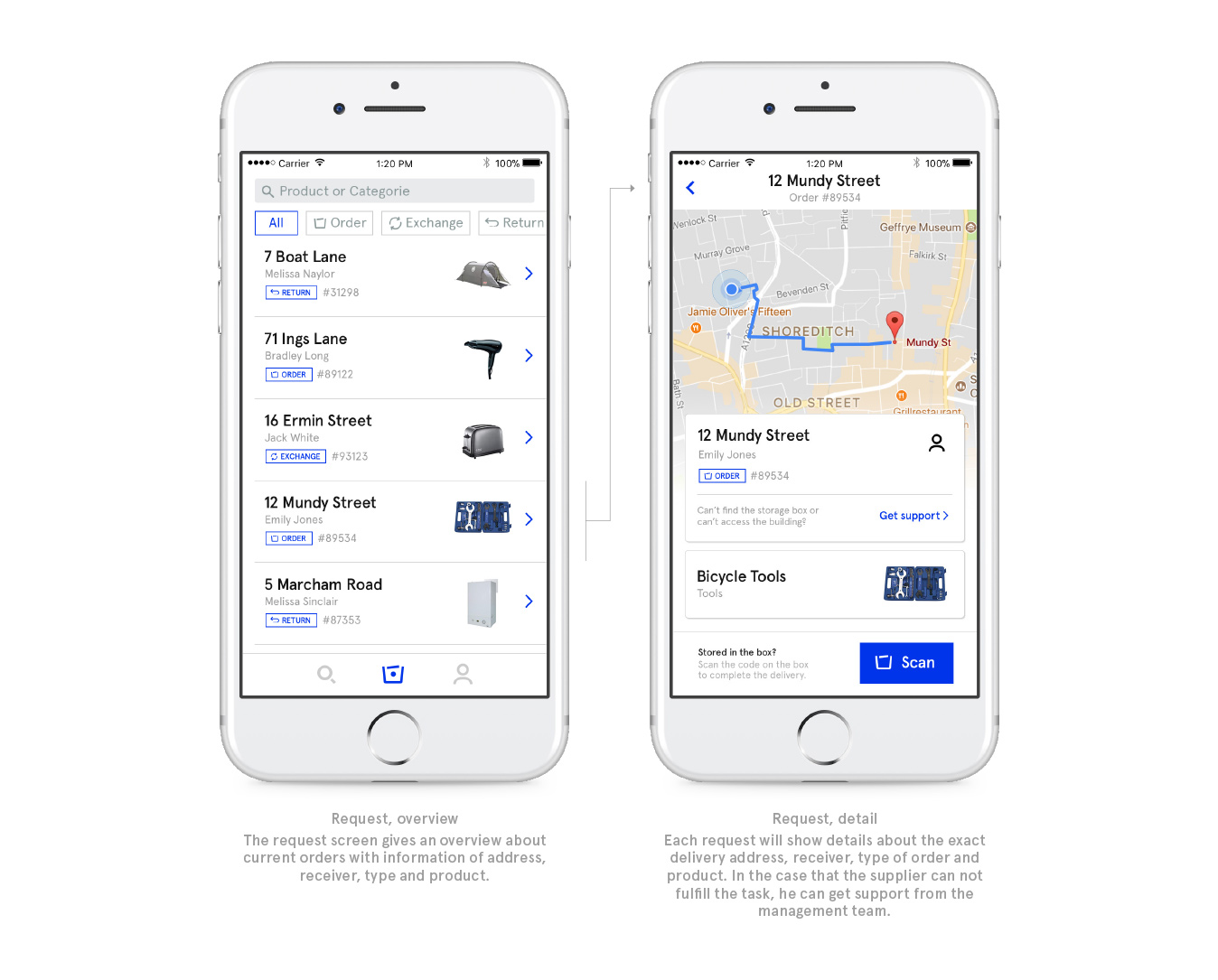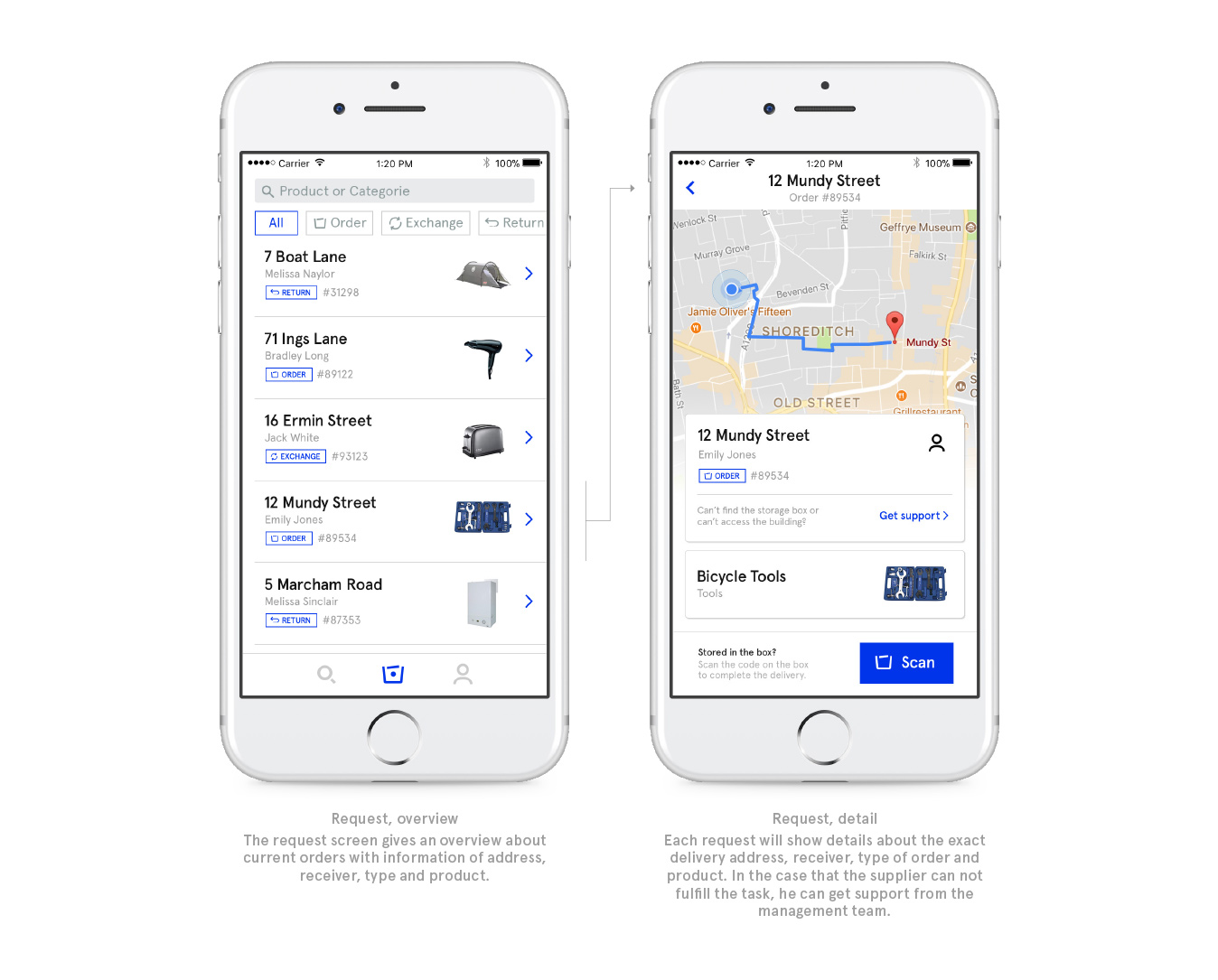 Previous main touchpoints will be mostly used by the user and service provider during the service. For pre- and post-service stages, additional touchpoints were needed to onboard user.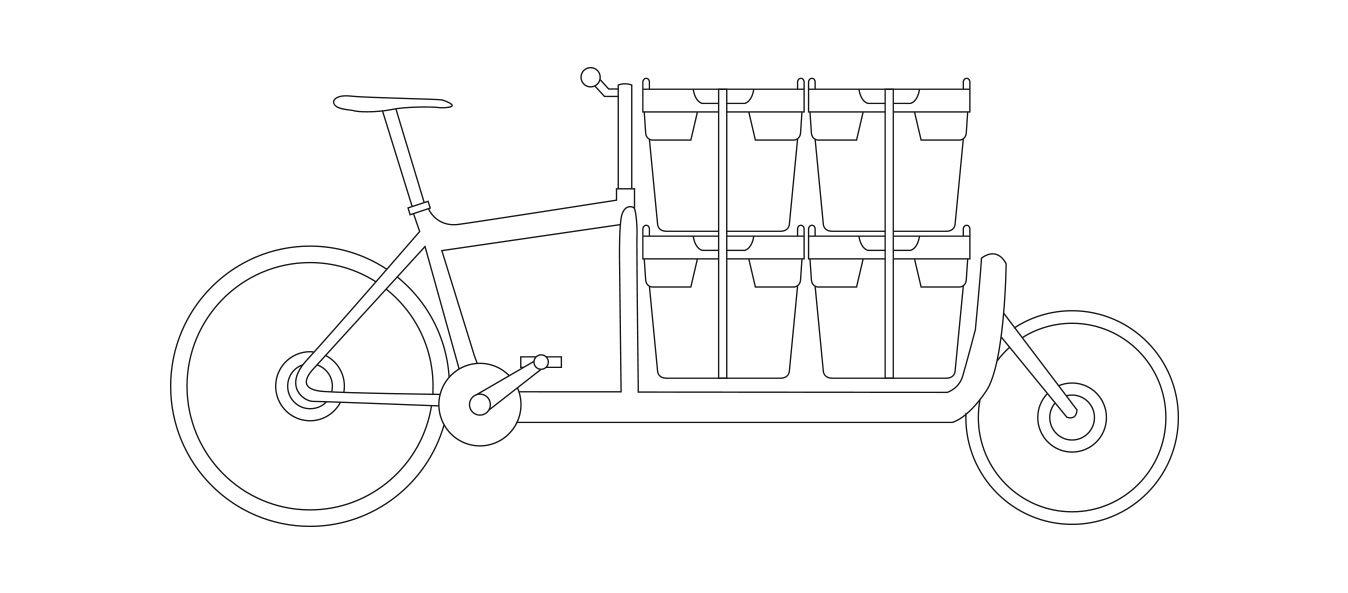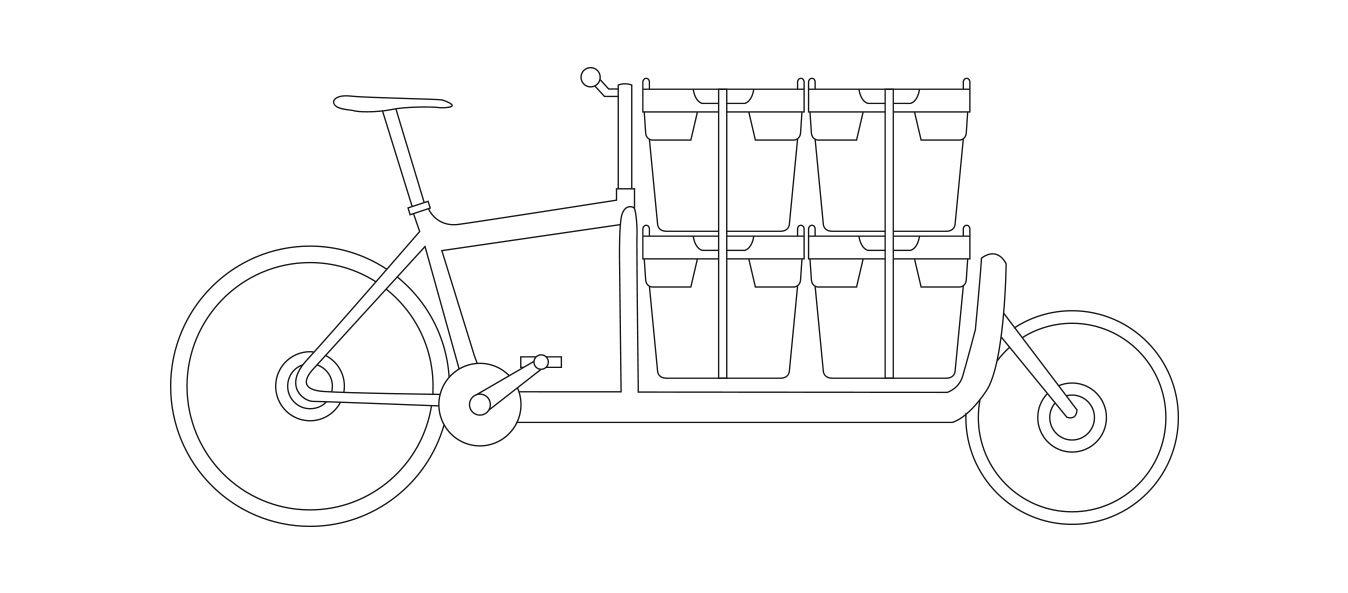 To communicate the service clearly to a broad audience, a strong brand is needed. The name flatbox was chosen to put the storage box in the centre of the service which will function as a metaphor, to create a clear picture of what the service is about.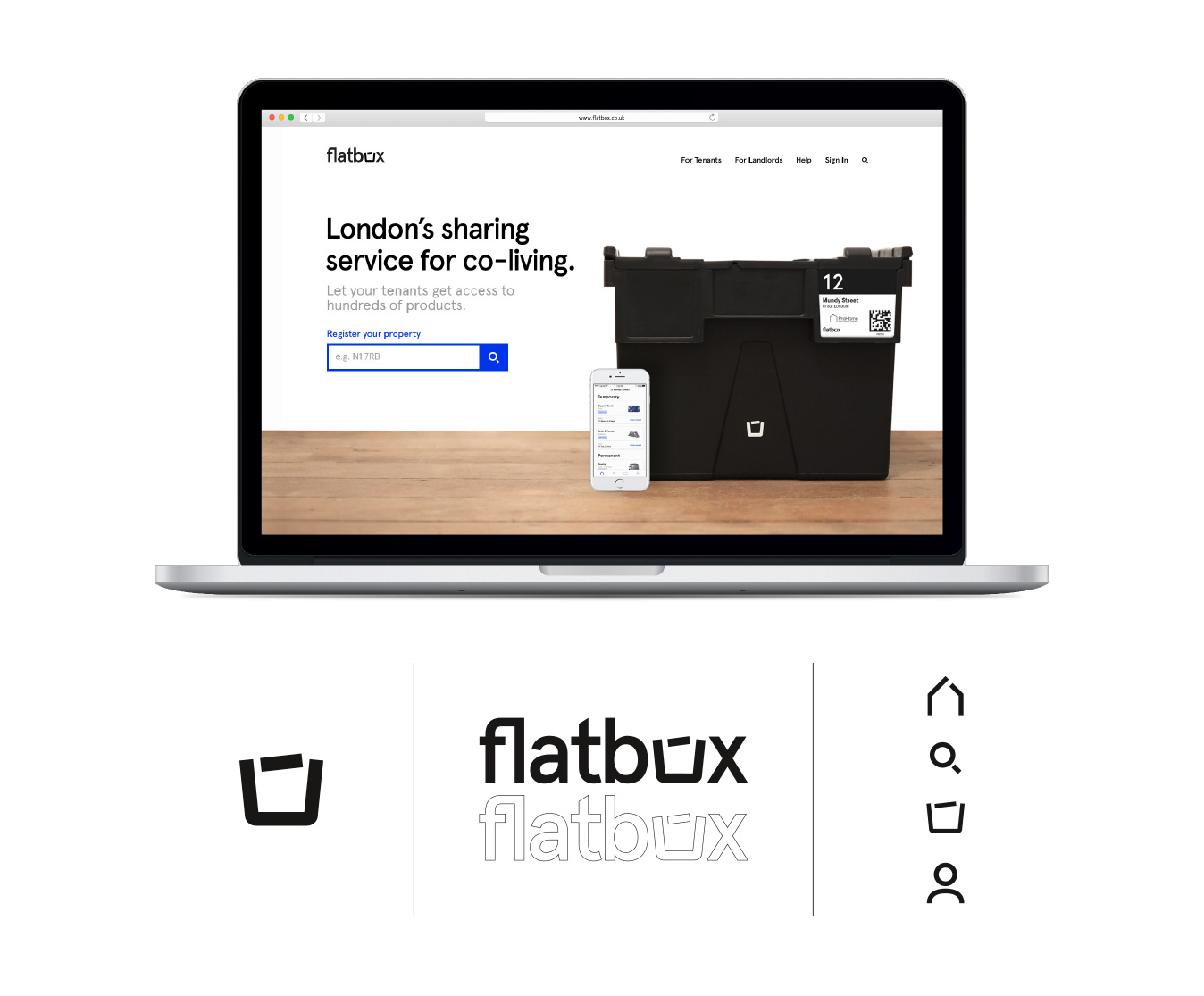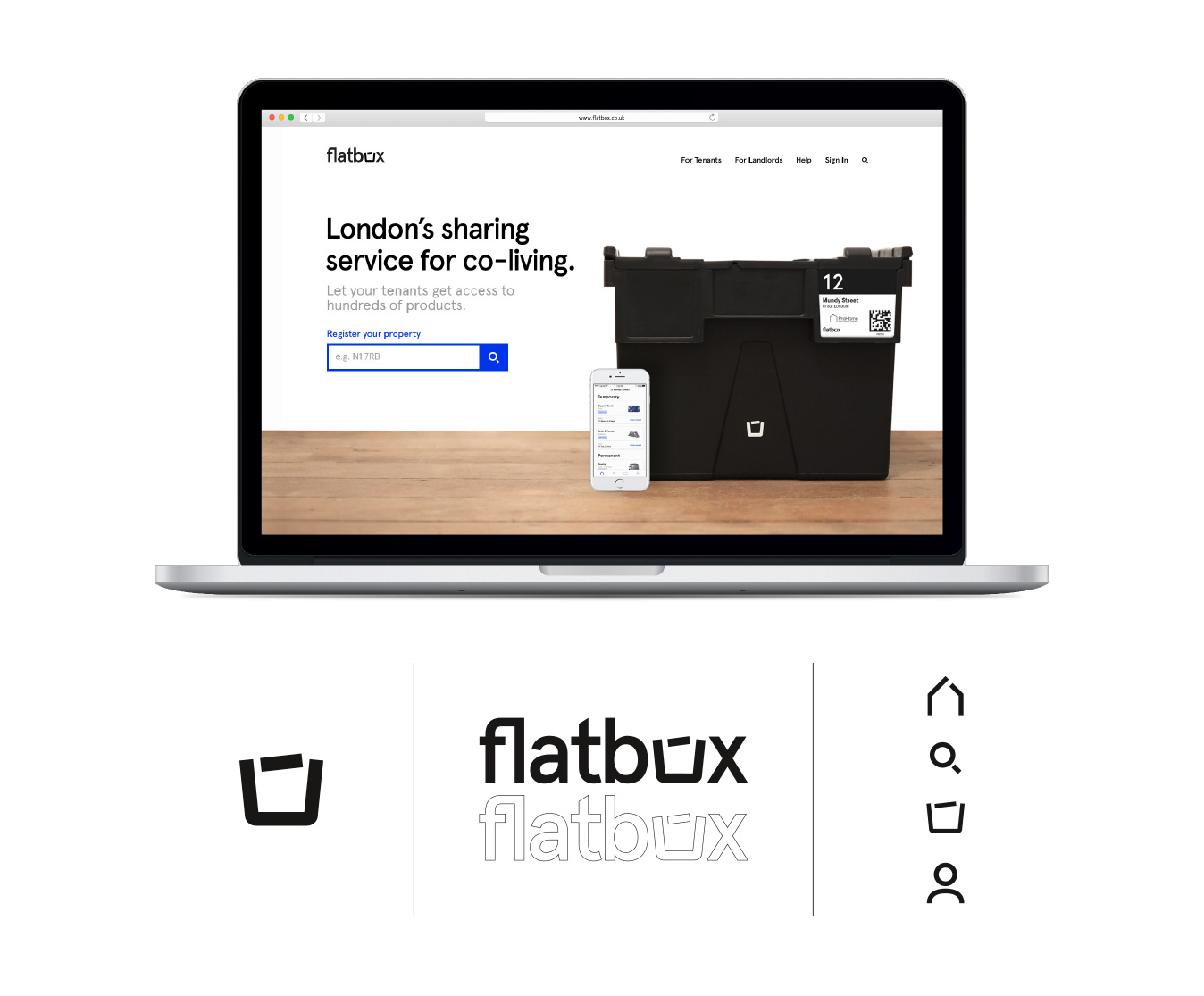 The open and non-linear research ­process allowed shifting between ­different interlinked fields which leads to a project outcome that ­addresses user needs and global challenges.
Related to the insight that sustainability alone can not lead to a needed behaviour change, the proposed service concept addresses user needs around an increase in flexibility and convenience of urban living, whereas sustainability can be seen as a driver for involved service providers and manufacturers.
The shift to a circular economy can be overwhelming. To carry out a needed ­behaviour change, models have to be redesigned around consumers and existing systems. We have to see products as a part of a system.
The shift to a circular economy can be overwhelming. Conducted research around consumption, questions how might the relationship between consumer, product and retailer might change within a circular economy. To carry out a needed behaviour change of consumers, it was necessary to reveal the roots of consumption. Traced back to changing needs and values of Millennials and their temporary living conditions, traditional linear consumption patterns with the mindset of ownership are inefficient and wasteful. The research reveals, that co-living and flat sharing can be seen as systems, where products are part of. With principles of a circular economy, these existing and functioning systems can be used for integrating products to not only 'close the loop' but also lead to a better co-living experience.
Seeing products as a part of a system ('products-as-a-service') and focusing on systems solutions will be the most profitable and resource efficient way for a circular economy business model. (Stahel, 2012) It was also identified, that the value of sustainability alone will not lead to a behaviour change of the consumer. It was therefore crucial, that the proposed service concept focuses also on values like flexibility and convenience to meet the needs of the users.
The service solution should be seen as a small part of a bigger picture, following the paradigm of "Think globally, act locally." (Geddes, 1915) It pictures, how a circular economy might work for the end user on a daily basis. During the research it was also identified, that the proposed sharing concept alone will not enable the shift to a regenerative economy. The products have to be designed with its shared use in mind, which requires, that they are made for reuse, remanufacturing and recycling. This will be one of the major challenges for manufacturers, beside other issues around policies and profitability (European Commission, 2015; see also World Economic Forum, 2016; Ellen MacArthur Foundation, 2013) to a more sustainable way of doing business.
"The next big opportunity is bringing the consumer in. Without consumers, the circular economy can't work: We need people not only to buy, but to bring back."
To overcome global challenges (World Economic Forum, 2016) it will be inevitable to rethink the way our economy functions today. Systems have to be designed around people – not products. Therefore, the shift to a circular economy might only happen if we redesign the system by following a human centric approach.
The final report contains all the research materials and the service concept details. If you are interested to find out more, please contact me: mail@wagnerthomas.org
Printed Report
190x260mm
210 Pages