Creating Shared Value in Brixton.
Young Lambeth Coop (YLC) and University of the Arts London (UAL) worked on a collaborative project to review and improve the ­relationship amongst service providers for Lambeth's youth services.
Type
Service Design
Public Sector Innovation
Role
User Research
UX Design
Design Brief
»How can the youth and play voluntary and community sector in Lambeth become better integrated?«
Research & Design Methodology.
The process was constituted by a range of different research and design methods and tools, all aiming to inform the process and the final solution. The process was rooted in design thinking and the double diamond model – moving from disvovering and defining the core problem, to developing and delivering a final solution.
We conducted more than 16 extensive interviews representing different stakeholders; we did more than 16 miles of walk-abouts; and we visited around 30 venues. The map illustrates the field research conducted.
Observations were conducted primarily in the beginning of the project; this helped us get a sense of the people and the context we worked within and for. We sought to approach the context with an open mindset, to get a feeling of the Brixton culture, and what it may feel like to be a young person within this area.
A range of people were interviewed throughout the project; representing different stakeholders - from client representatives to direct and indirect users. The interviews varied from being very spontaneous and informal, to semi-structured and planned in advance. We tried to meet all interview participants with an open and patient approach, to make them feel comfortable around sharing their perspectives and views.
»Since 1990 I can't count all the kids that have been killed [...] They have created another world.«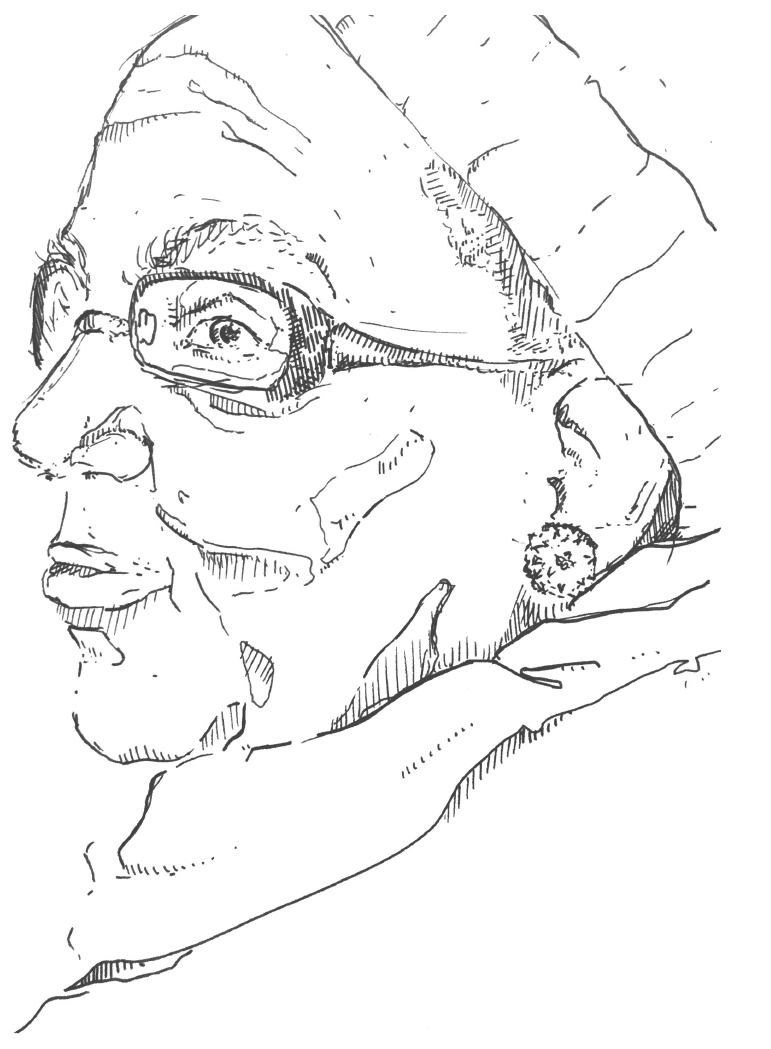 »There is no such thing as Young Lambeth Cooperative [...] they lock up a lot of things [...] it doesn't work, nothing is working in Lambeth.«
Female Community Activist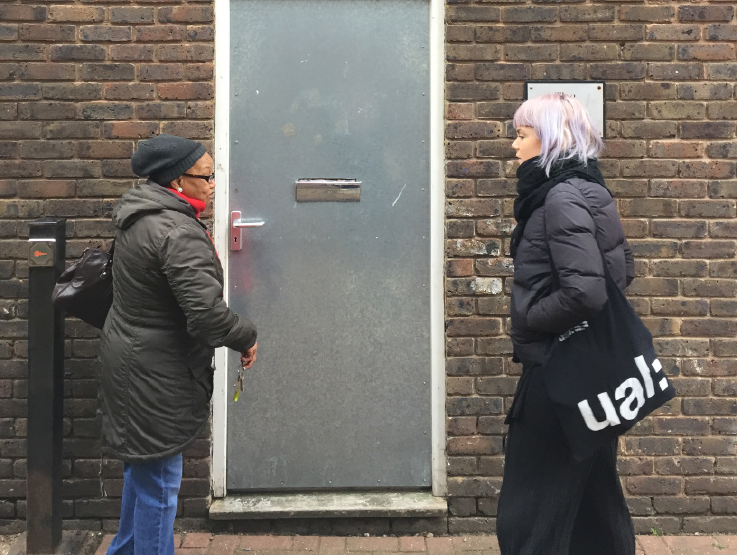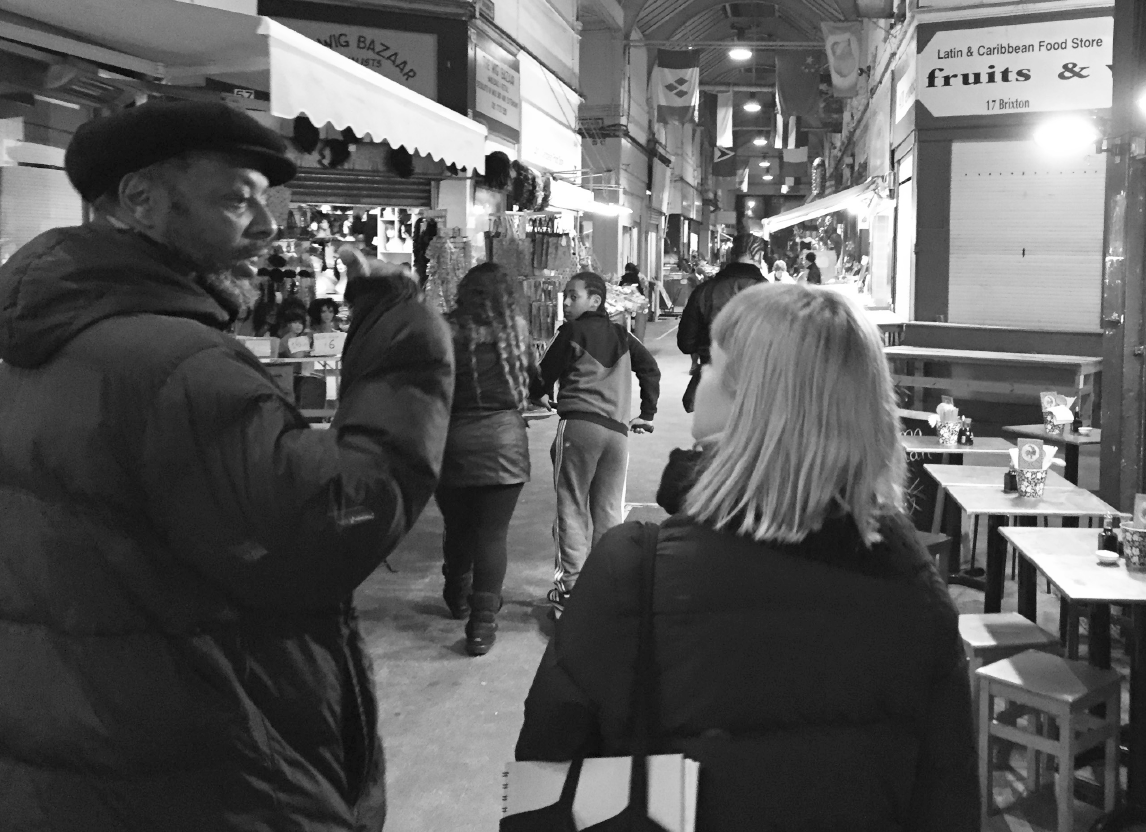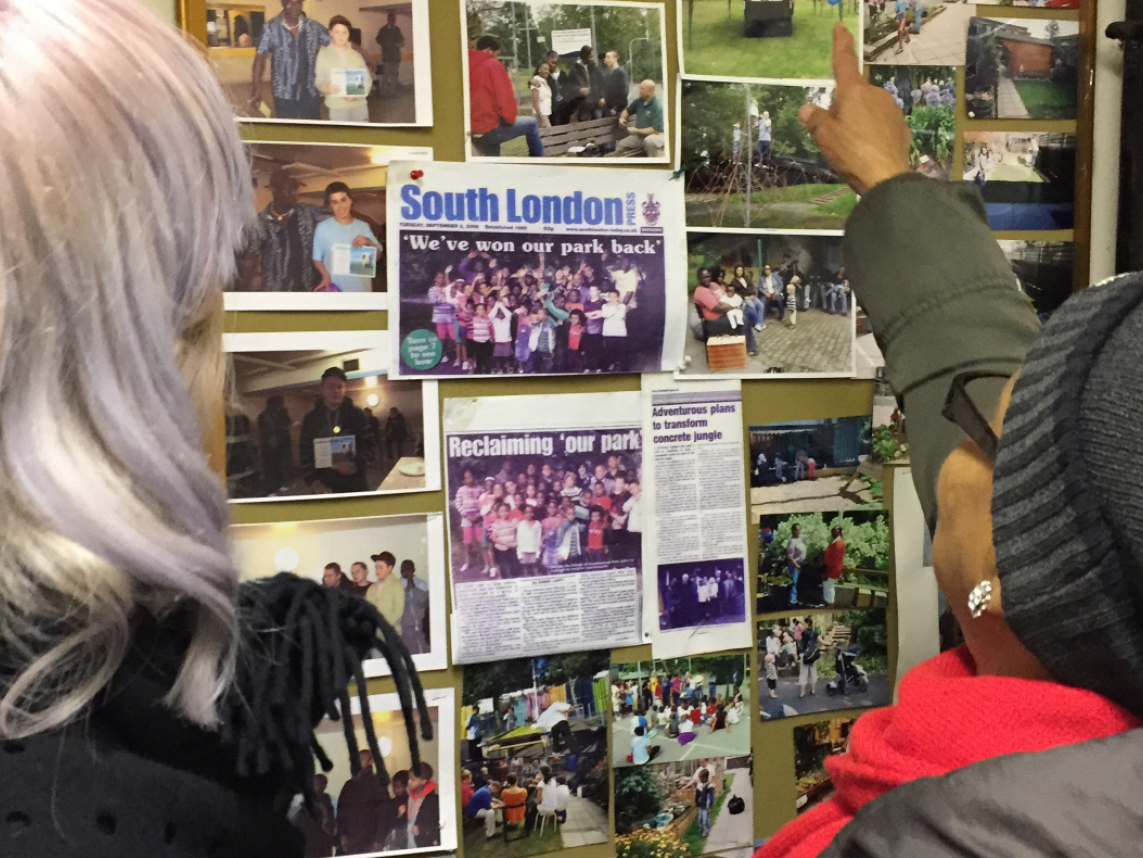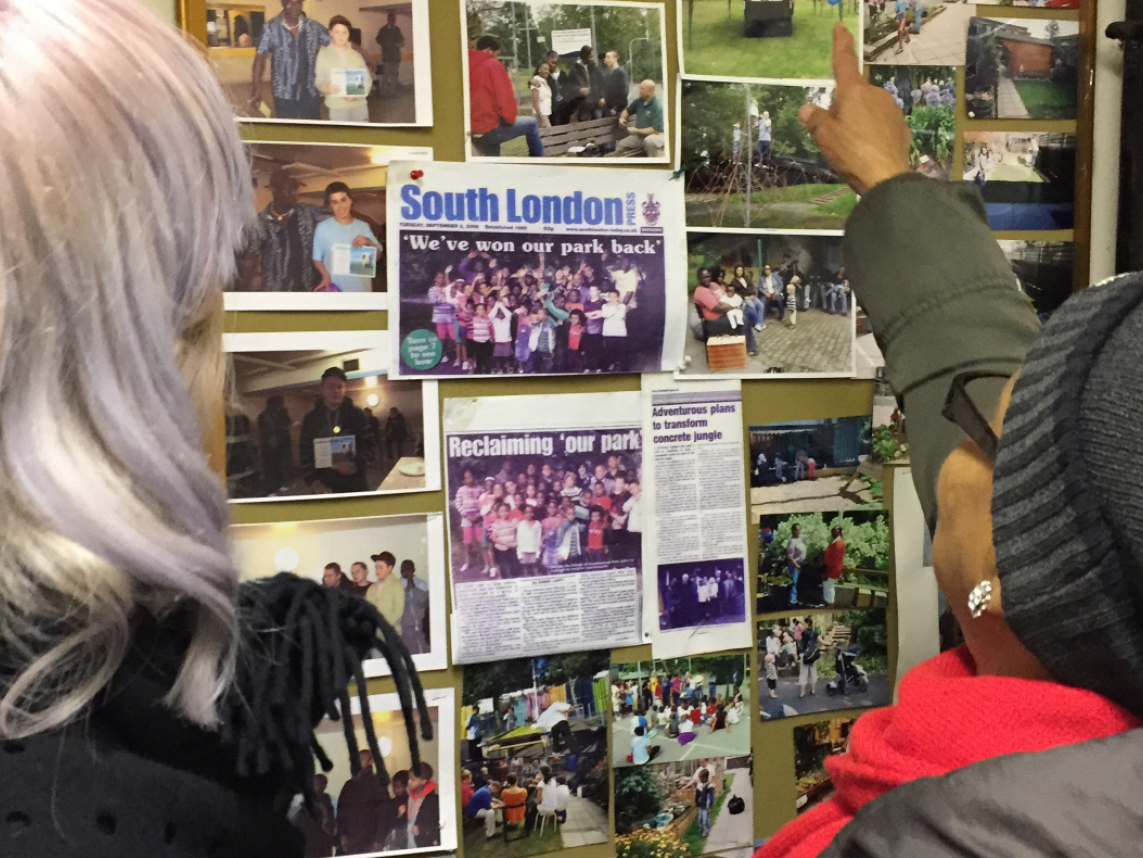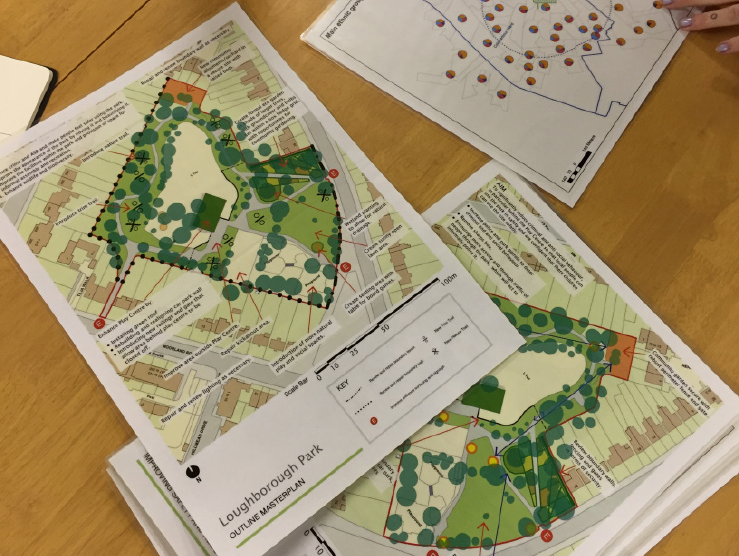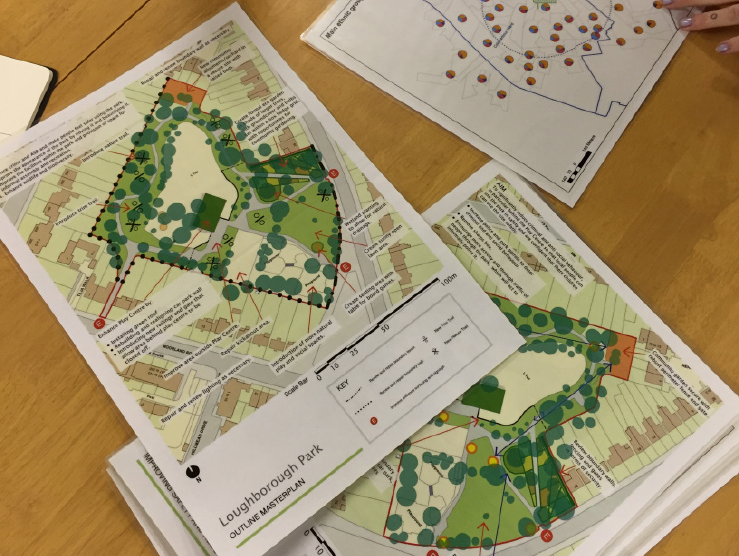 We conducted two co-discovery activities with our users to gain deeper insights into their desires, needs, and pains. This allowed for participants to express themselves in creative ways and allowed us to surface vital insights that may not reveal themselves in traditional interviewing methods.


The activity was planned to gain information about ongoing activities in the area, and what was prioritised. The cards represented people and activities. In the end it was a tool to spark a good conversation.
This co-discovery activity took place at the Ferndale Community Sports Centre with children aged 8-14. The aim of the activity was to uncover what children thought about being on a team, and to see how they interacted with each other in this peer-to-peer setting.
From the extensive research, we reflected on our findings and synthesized the learnings into key insights. These insights encompass gaps within the current service provision, behavior of the community and larger systemic issues.
There is a gap between expectations and the intentions of the YLC. We found that YLC needs to be more vocal, and act more conscious especially when delivering bad news about e.g. closing of playgrounds in the area. Additionally, there is a lack of collaboration with key community influencers and activists which could be of potential future value for several stakeholders.
There is a gap between planned and actual community engagement. This issue is closely linked with a missing proof of action from the YLC; a lack of safety within the Brixton Area; and the general lack of diversity in public organisations and commision boards. Additionally, the consultations often take place in places not always easy accessible nor safe for young people.
We found that the presentations by applying organisations to commissioners are not a true reflection of the actual services offered. Furtheremore, some organisations do not understand the YLC structure, and feel there is a lack of transparency about intricacies in the decision making process.
We gained key insights through our extensive research and, synthesizing the learnings, we were able to open up a problem space and form an overall research question which has guided the next stages of the project.
To get funding and support from the YLC, each organisation, service provider or individual has to sign up and apply for funding. We found out, that the application process is painful and a lot of the service providers failed in early stages. The main reason was that it is too much effort and they feel that the application does not represent their actual services.
"The process is painful. We will not apply for funding again."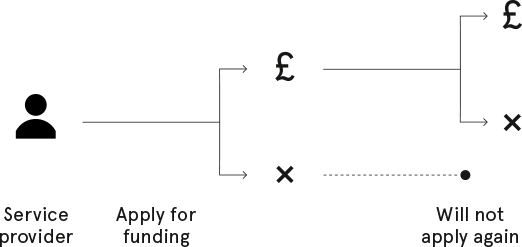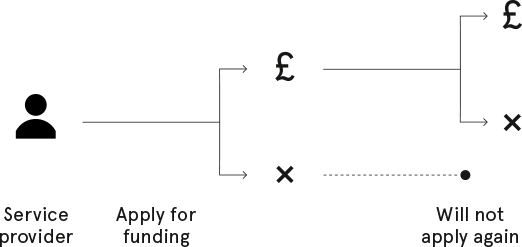 Relationship between YLC and the Community
After an unsuccessful application, most of the service providers will not apply for funding again. The relationship between the YLC and non-funded service providers ends at this stage.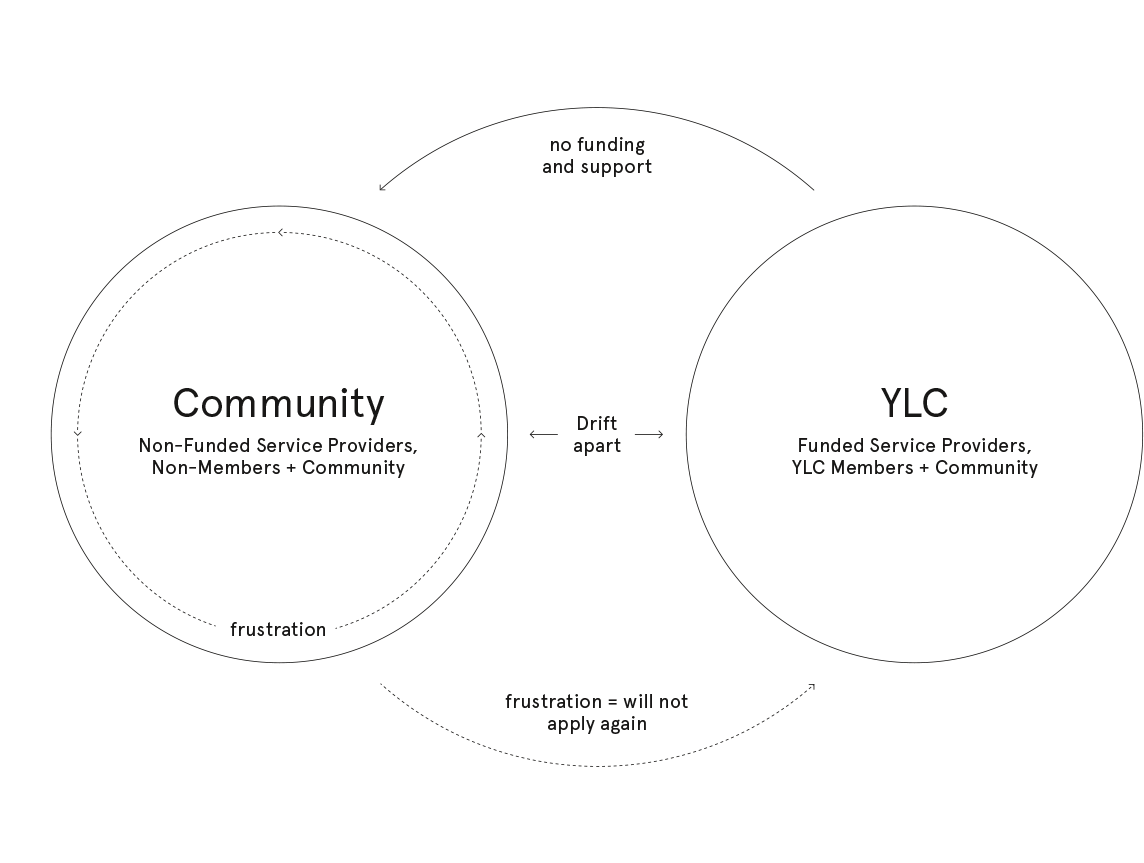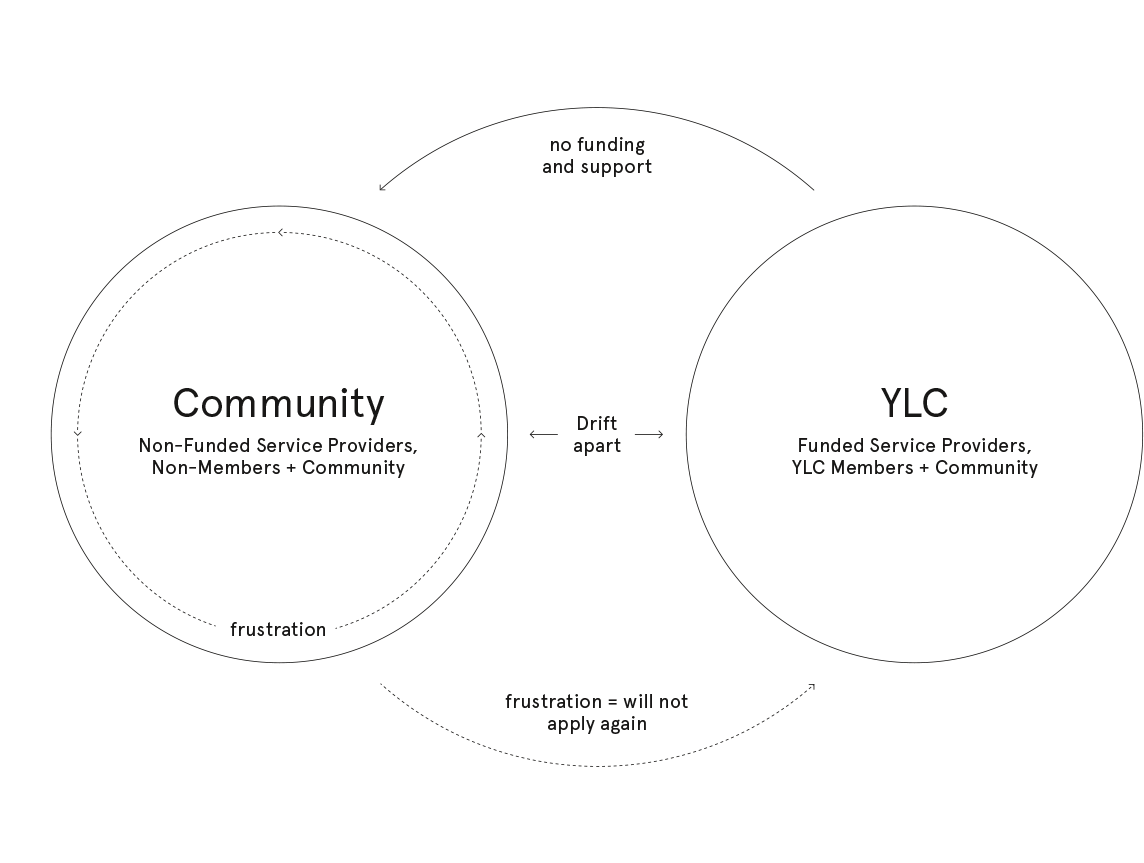 How can we enhance the value of the YLC for non-funded service providers?
To give more life to the users we were designing for, we created a variety of personas to address the different groups of people and lifestyles that would potentially use our service.
»It takes time to build relationships with other organisations.«

Drivers
– Likes to be proactive & take ownership
– Strong emotional connection to kids and locality

Barriers
– Lack of trust in the YLC
– Complexity / Tone of the application process
– Feeling of competition with the YLC
– Lack of continuity
»Give the people the power. They want to run it themselves.«

Drivers
– Genuinely cares about the community and its people
– Strong sense of self confidence

Barriers
– Resistance to formal structures
– No trust in the YLC
– Transient community
»People can't read and write, so they need to make money in a different way.«

Drivers
– Cares about her community
– Wants to learn and grow

Barriers
– Lack of trust - feels misunderstood
– No role models
– Poverty
– Few places for young people to socialise
Through ethnoraphic research and co-discovery and co-design tools, we went from uncovering a problem space to identifying a design space and designing for that particular opportunity.
Our objective was to strengthen the overall community feeling with and between service providers in Lambeth to have a more inclusive system where all organizations belong - whether they are being funded or not. The aim was to open more channels for value to be provided other than just funding.
Once we had identified our opportunity, we were then faced with the task of transforming that opportunity, using all the information we had gathered in our research, into a suitable service solution. We used various methods such as brainstorming, clustering, sketching and roleplaying, as well as co-designing, to come up with several service solutions.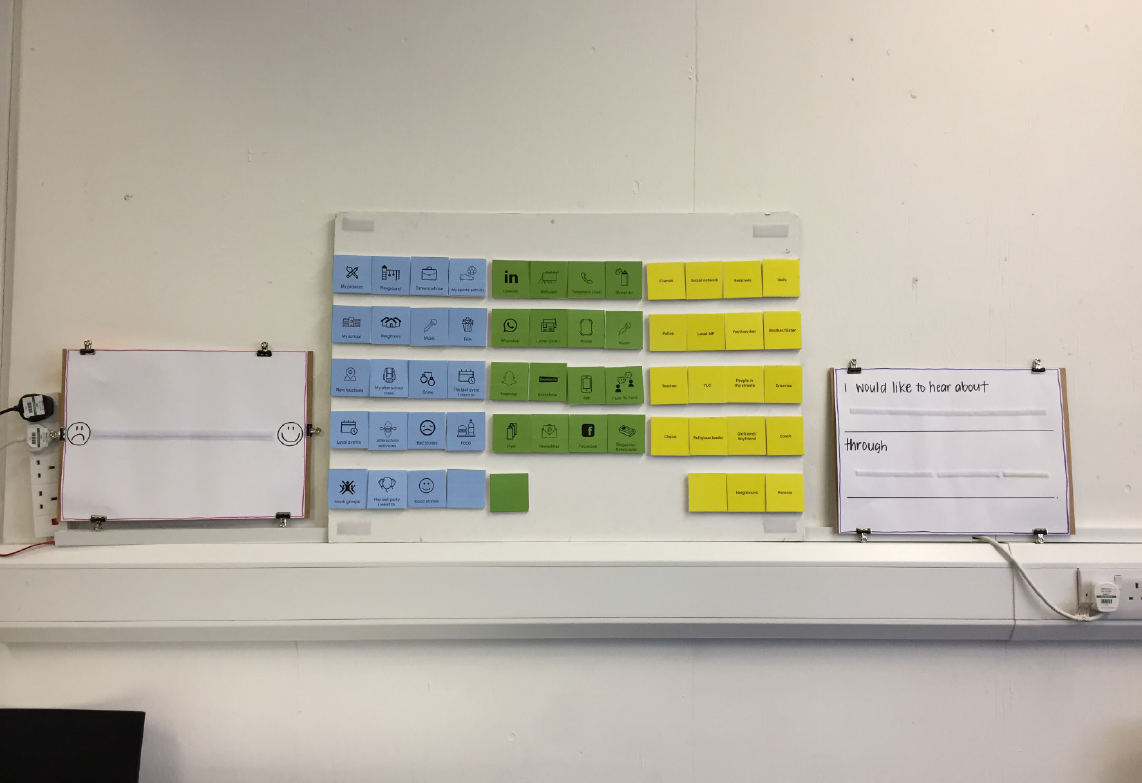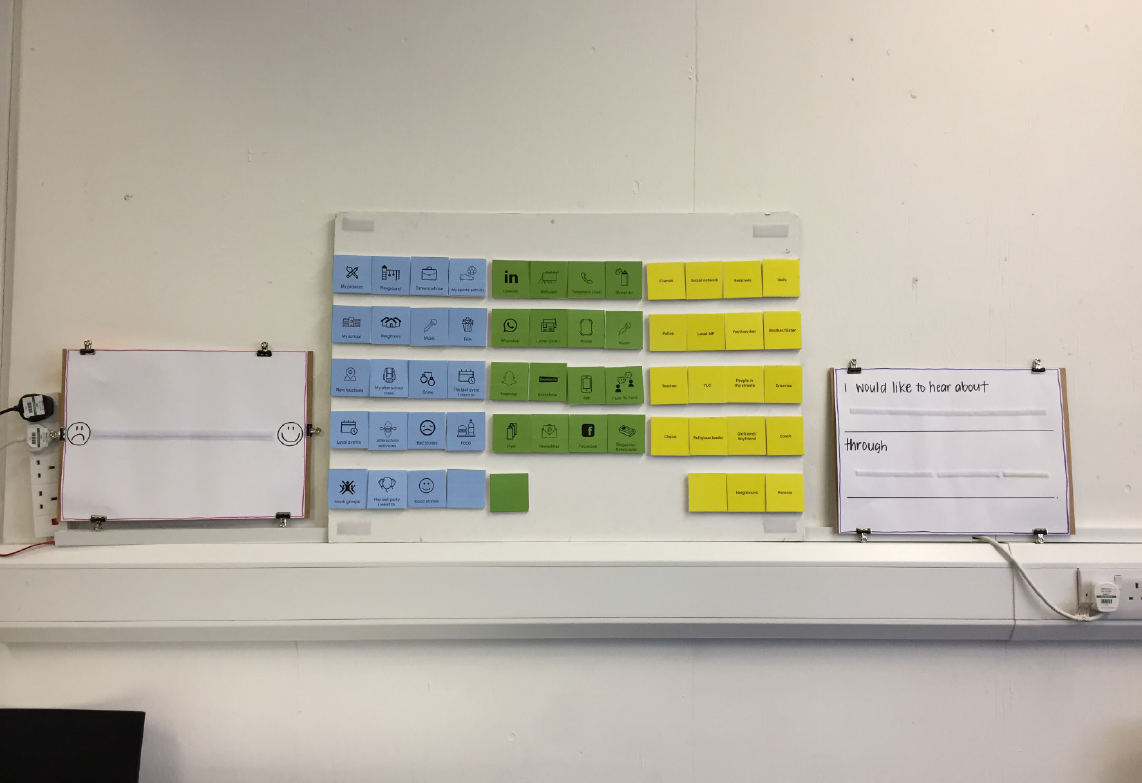 To tackle the daunting task of coming up with a suitable service solution, our team began by having an informal brainstorming session in the studio, whereby we brainstormed and consolidated all possible ideas that we could come up with, given the information we had gathered.
The aim of our co-design session was to figure out what content engaged the people of Brixton, what channels they found most effective, and with whom did they share information with. Our team prepared a board of cards with three categories - people, topics, and media - for our participants.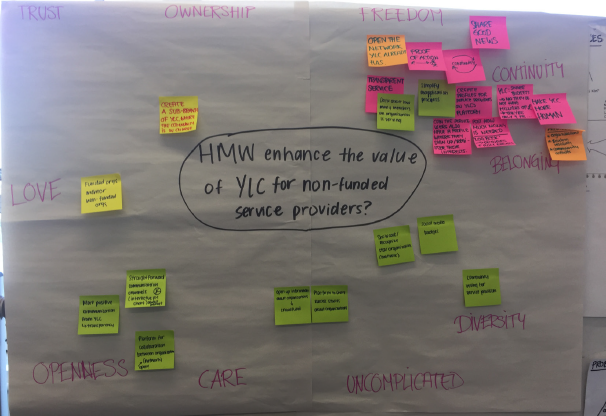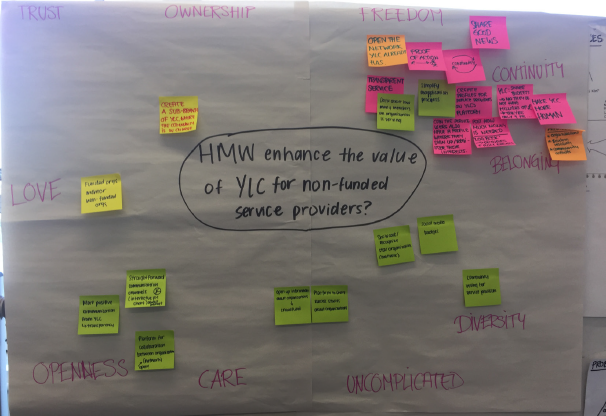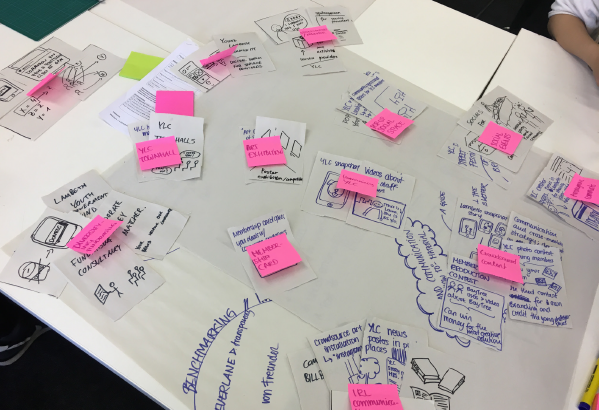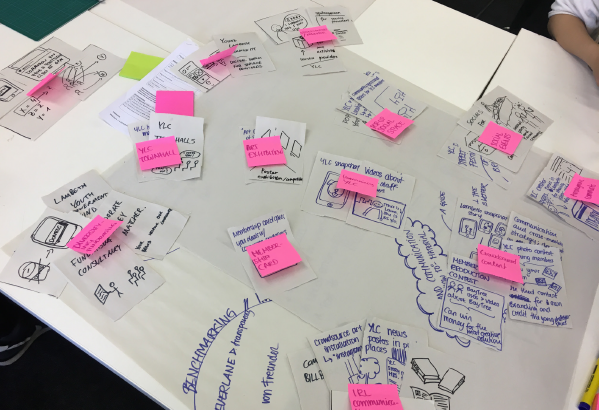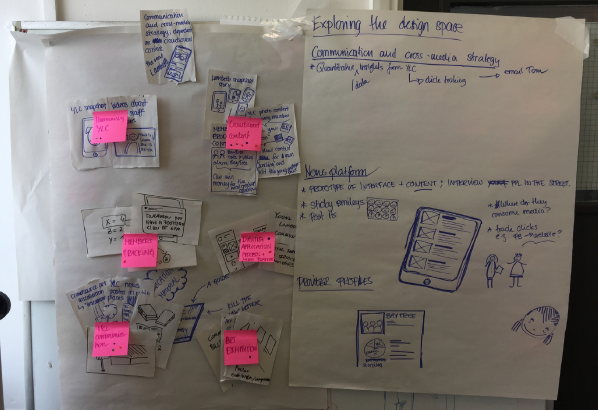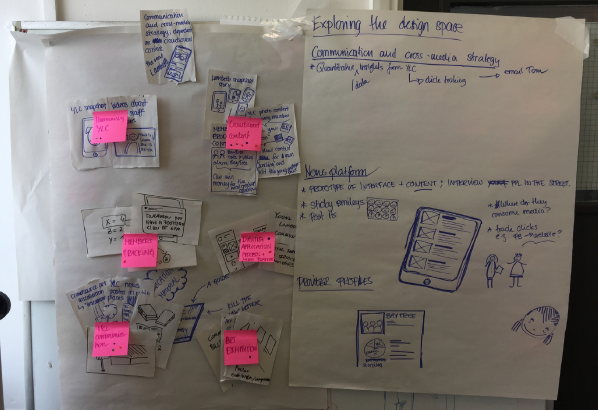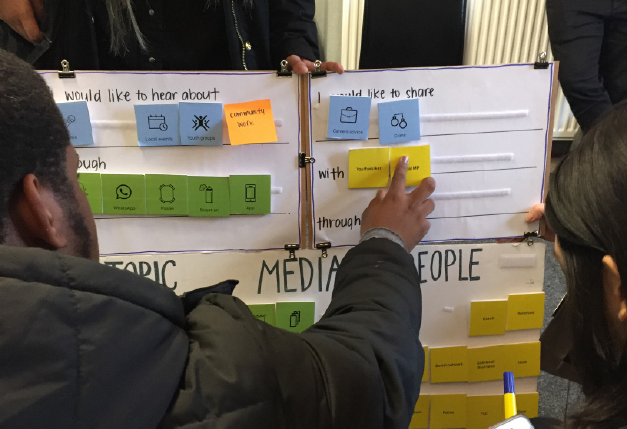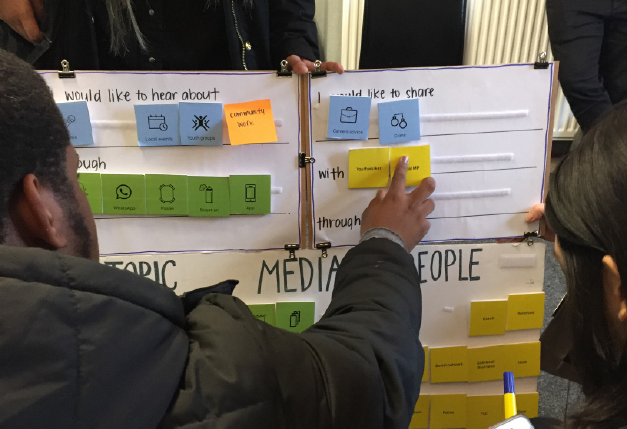 »The best promotion before Snapchat
is face-to-face.«
Boy (16), Brixton Soup Kitchen
After conducting the first ideation phase we started validating and collecting feedback on our concept idea.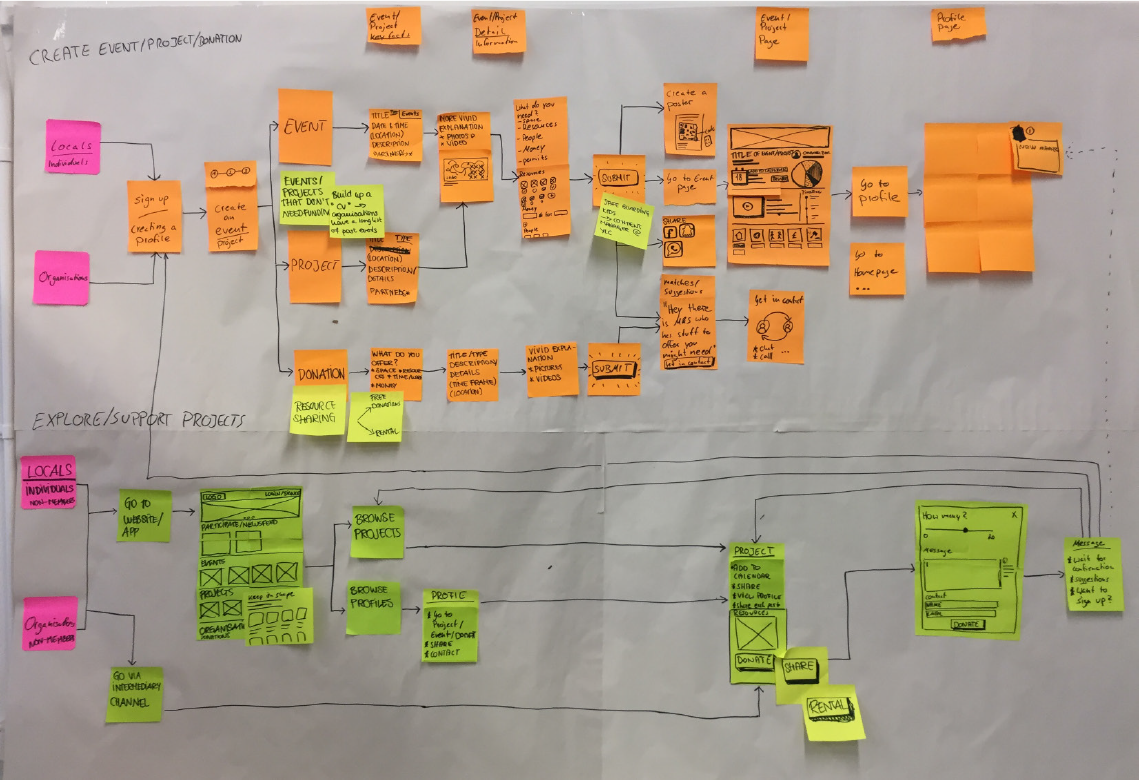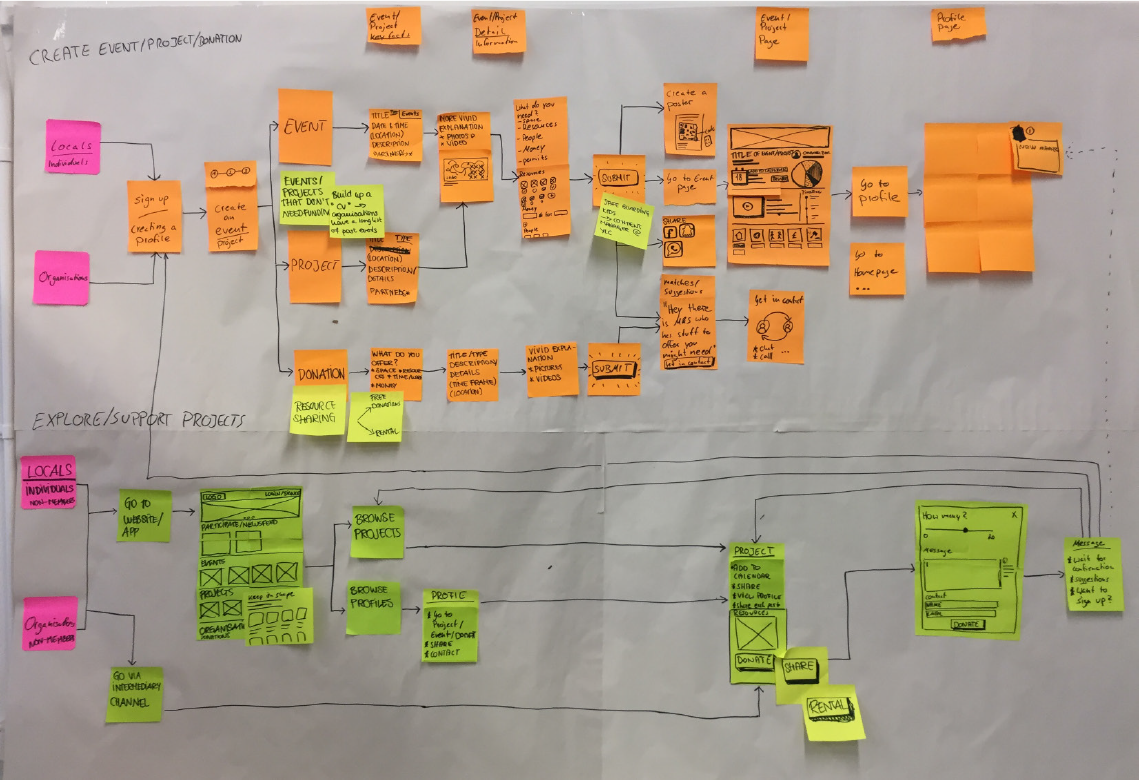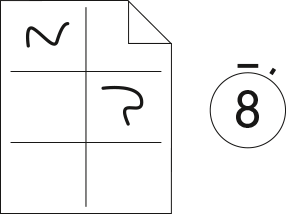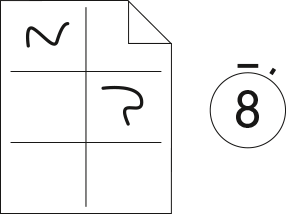 With all the new information from our co-design session, we went back to brainstorm even more ideas that could be potential service solutions. Each of us was given a sheet of paper separated into 8 sections, and we were to come up with 8 unique ideas in 8 minutes.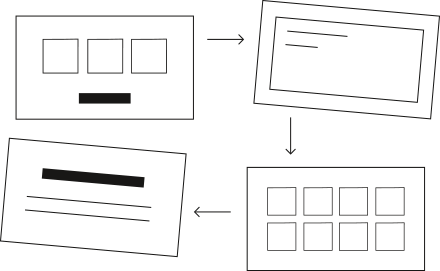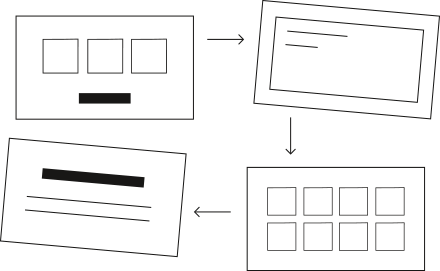 The aim of this co-design session was to take users through the journey of our platform to see what types of planning activities were necessary when planning an event and discover what they might want to see on our platform. We designed a rough prototype of a few screens to take users through planning an event, leaving room for users to add their own content.
Following our second co-design session, we returned to the studio to implement all the feedback we had received. Reflecting on the added content and features, we designed a more polished prototype to send back to our users for feedback.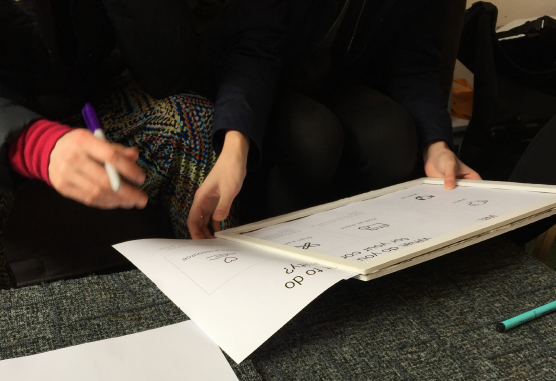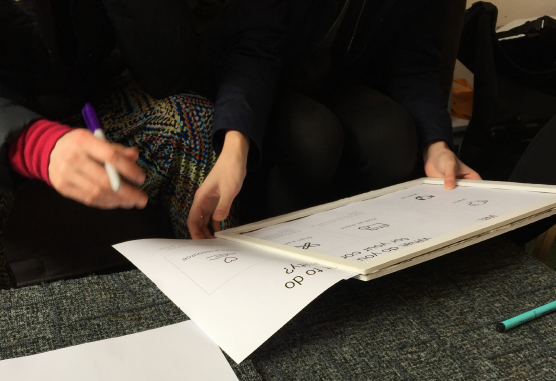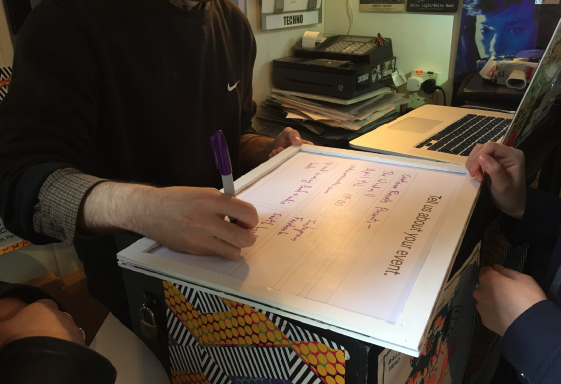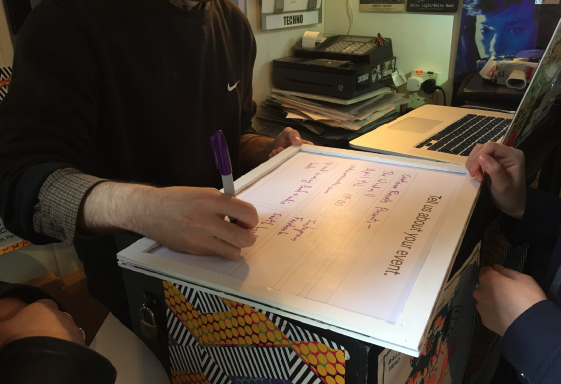 Brix is a crowdsourcing platform for the community of Brixton hosted by Young Lambeth Coop.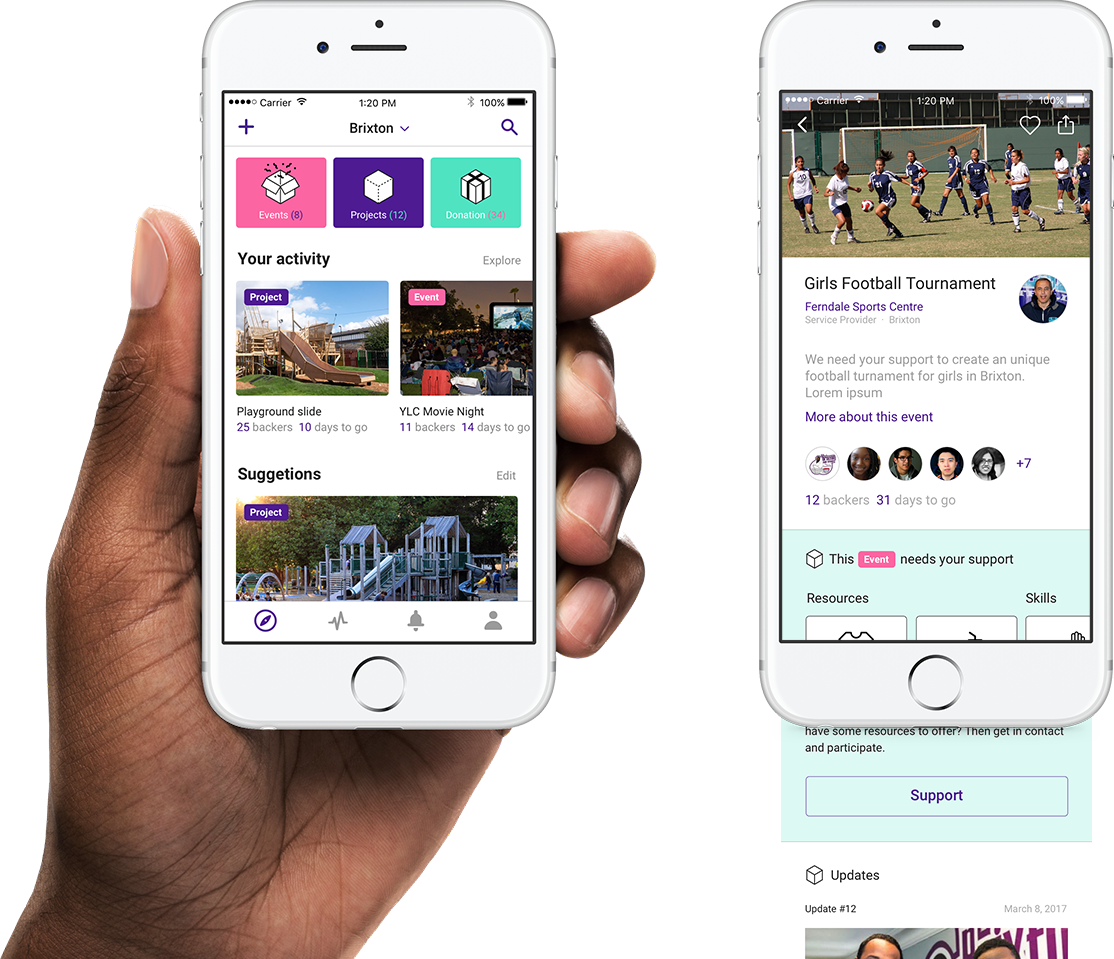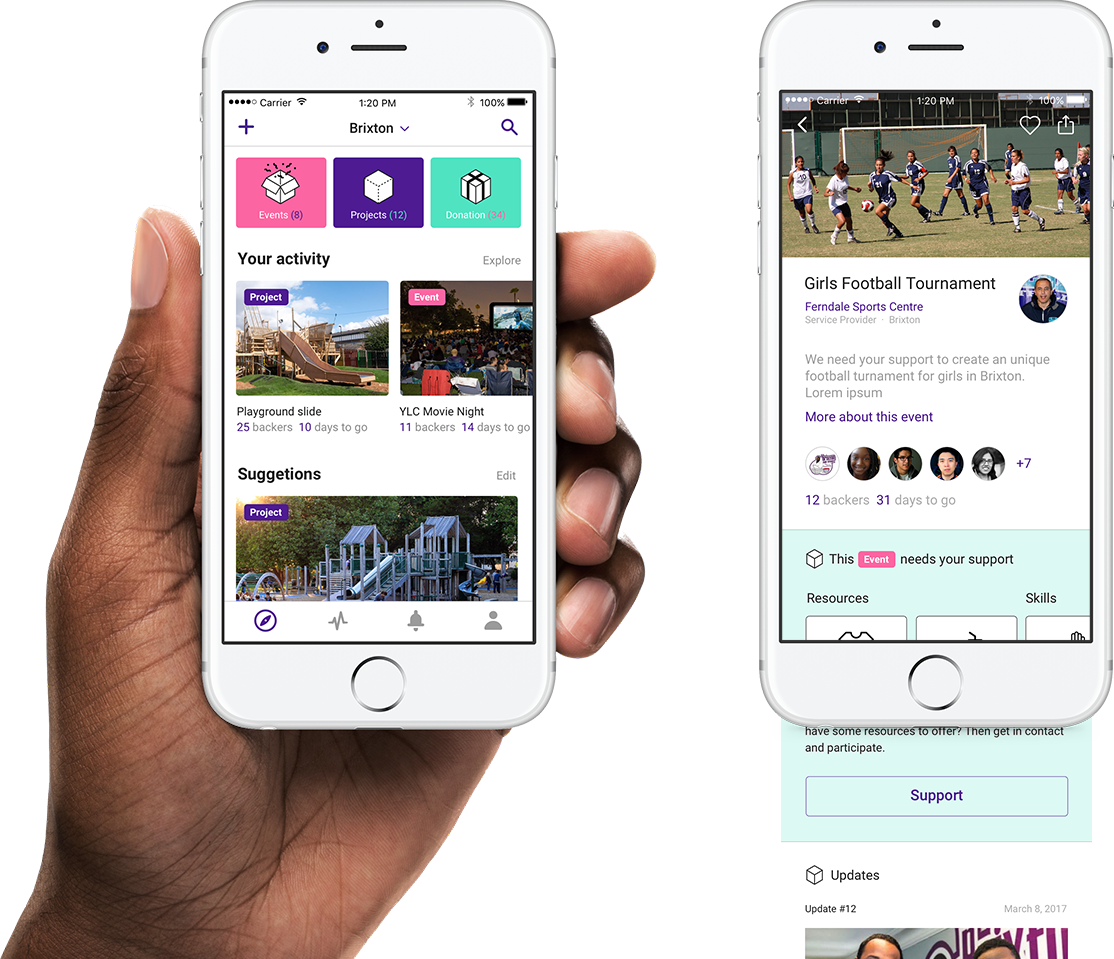 Brix is a community building platform that allows local service providers and individual people from the community in Brixton to crowdsource resources for their projects, events etc. The foundation relies on 4 key features:
Create and manage a one-time event or an ongoing project that serves to better the community.


Connect with other service providers and community members and see what other changemakers are up to.
Support your local community by sharing any available resources you have, including physical resources, venues and even skills.
Let your community know what you're up to, how you're doing it and how others can get involved.
Community Building Platform
Brix seeds for bottom-up community collaboration. Empowering existing structures and organisations to spread their work further. It aims to create a level playing field for service providers and community activists that emphasises transparency and mutual understanding.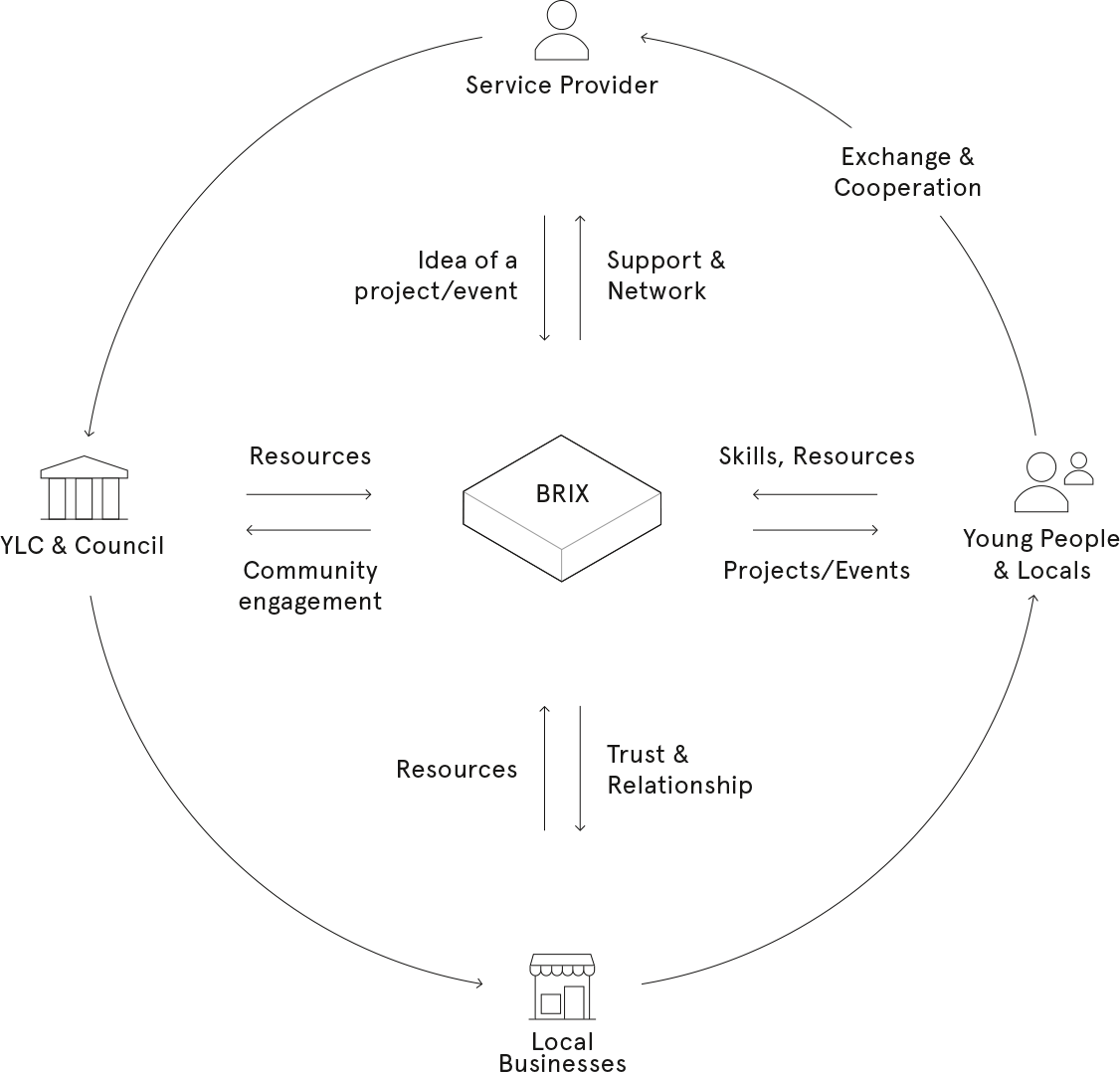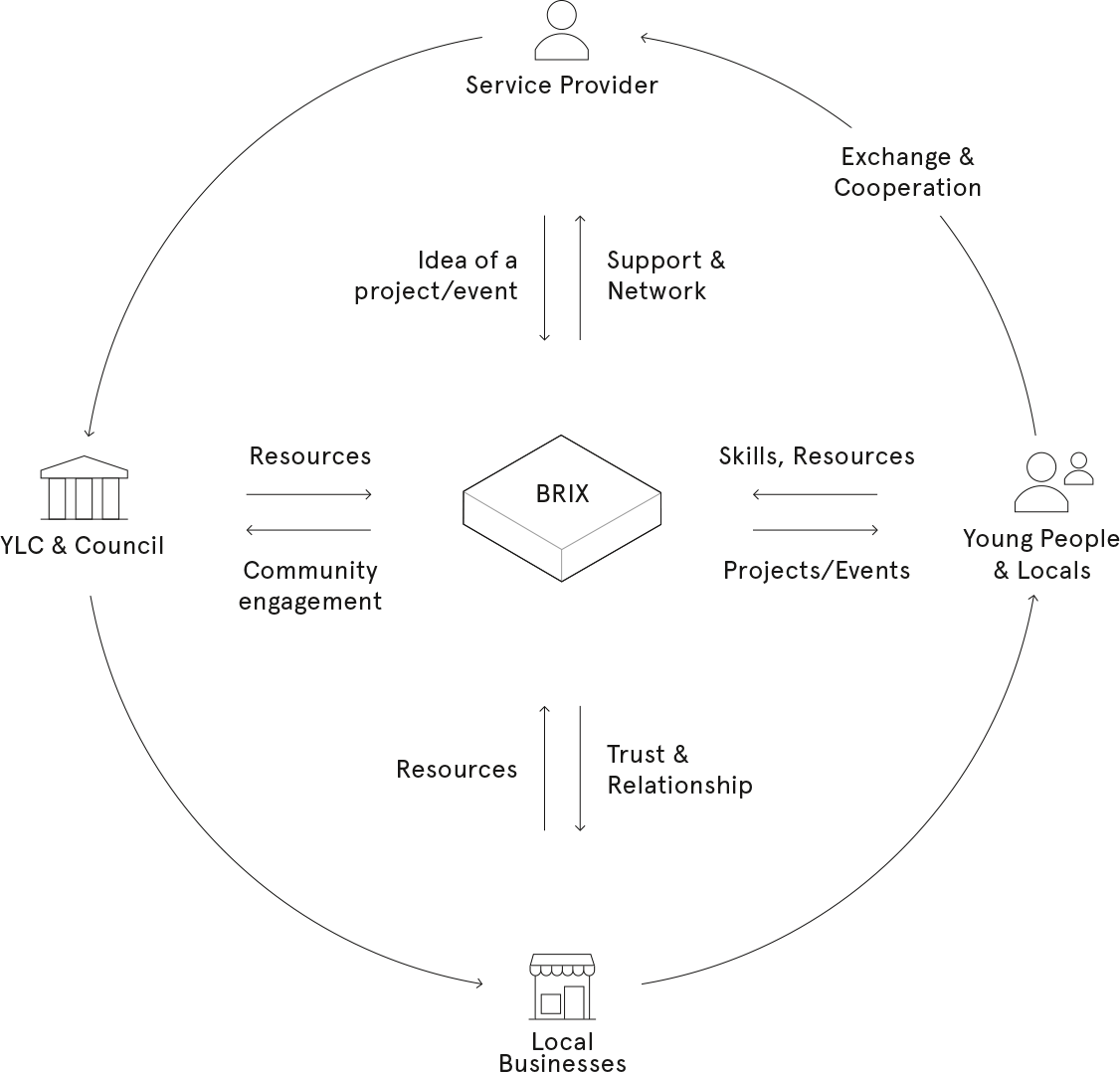 The first user journey is about Jordan, who lives in Brixton and wants to organise an event. He uses Brix to create his event and get support from the community.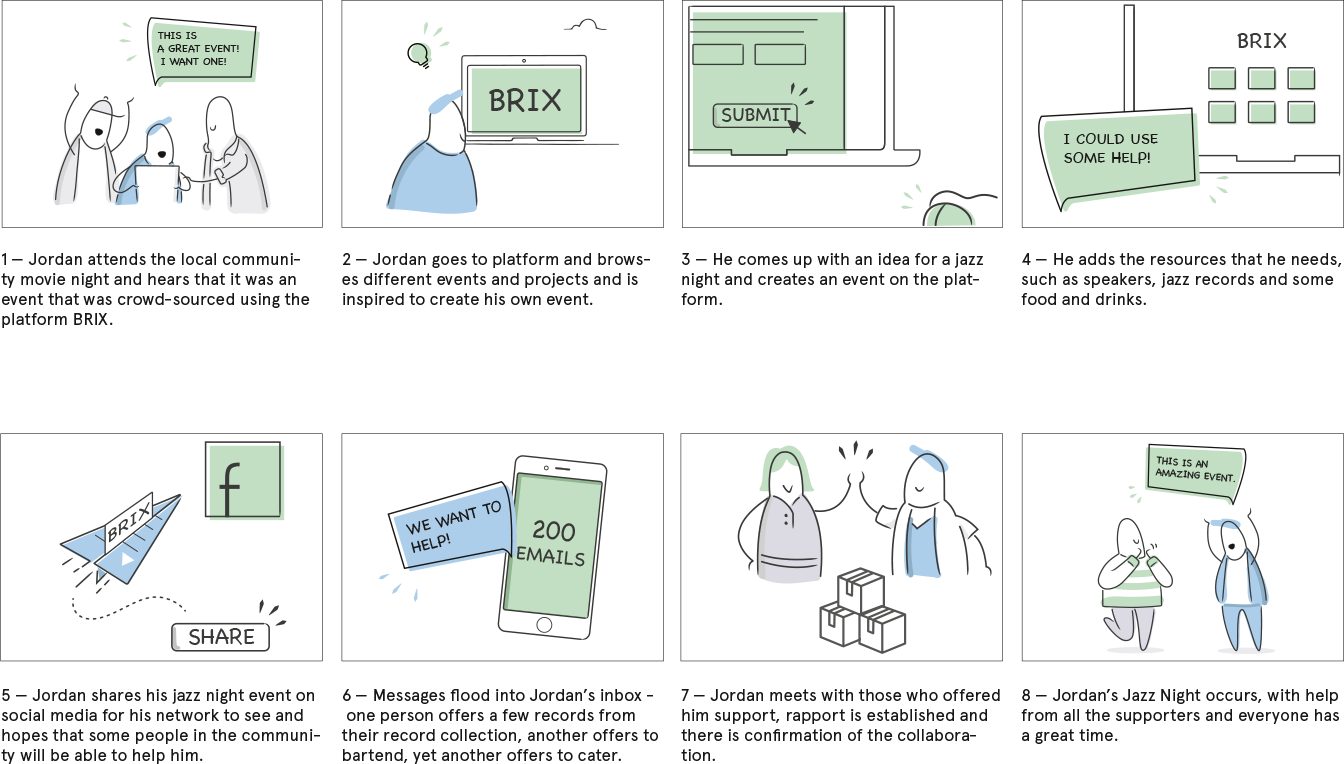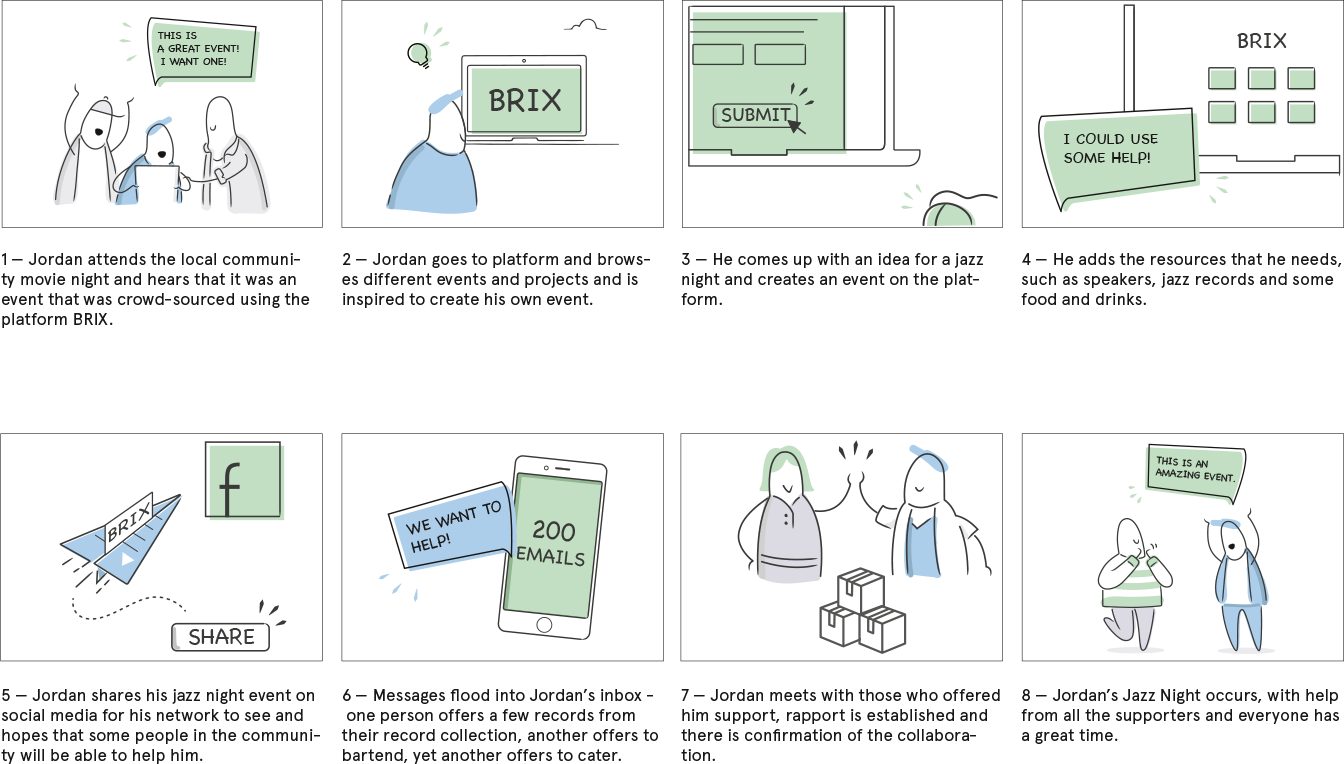 The online platform gives an overview about current events and projects of the local community in Brixton. Each event/project has its own site where people can see what kind of support is needed and where they get an overview about updates and news.
A prototype was created with Marvel to show the user flow of the website:
[unex_ce_button id="content_wfuuwrbej,column_content_q3cg1ezd6" button_text_color="#000000" button_font="regular" button_font_size="20px" button_width="auto" button_alignment="left" button_text_spacing="0px" button_bg_color="#ffffff" button_padding="10px 20px 11px 20px" button_border_width="2px" button_border_color="#000000" button_border_radius="0px" button_text_hover_color="#ffffff" button_text_spacing_hover="0px" button_bg_hover_color="#000000" button_border_hover_color="#000000" button_link="https://marvelapp.com/ahj3279/screen/35342900" button_link_type="url" button_link_target="_blank" has_container="" in_column="1"]Open Prototype[/ce_button]
User can set up their own events or projects. During the process they can select what kind of support they need from the community and also what kind of collaboration partner they allready have.
The secon user journey is about Barry, a landscape architect, who wants to support a project in the local area. He searches at Brix for upcoming projects and sends out a message to get in contact with the project organiser.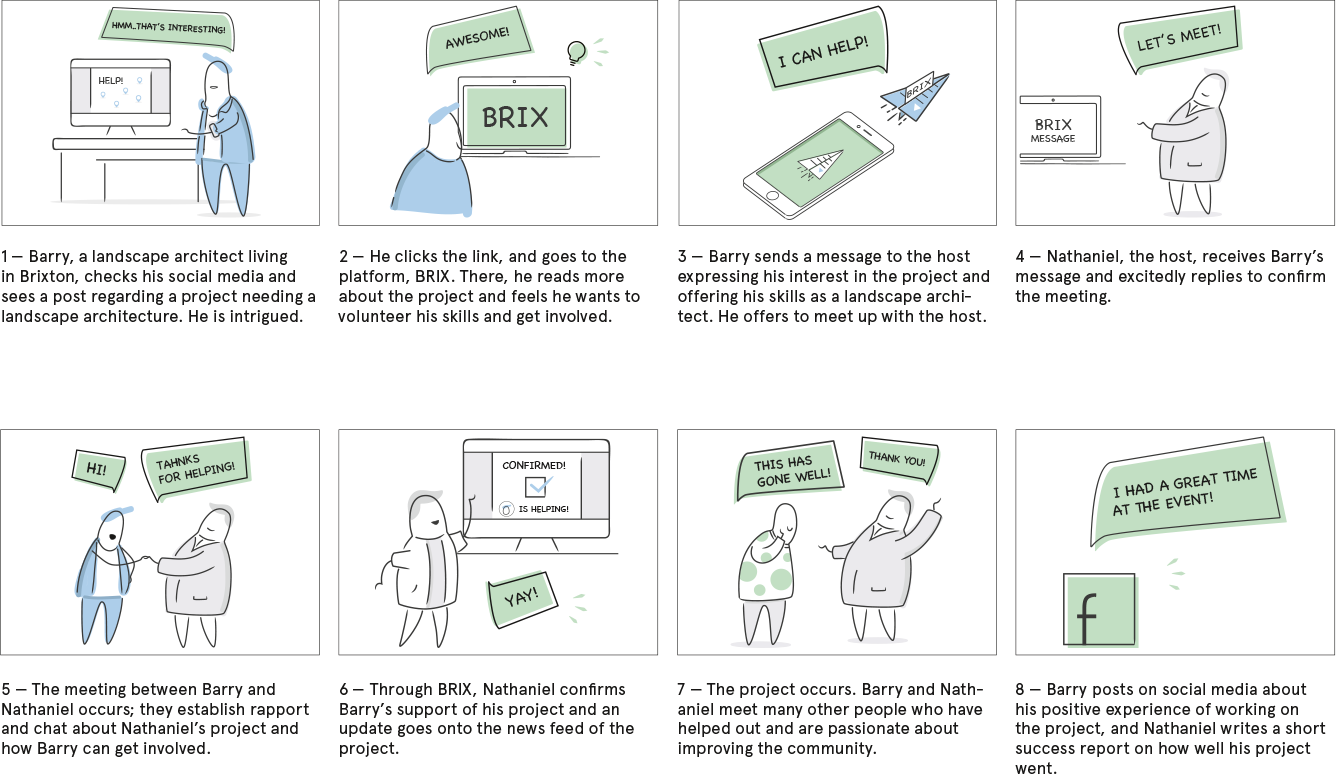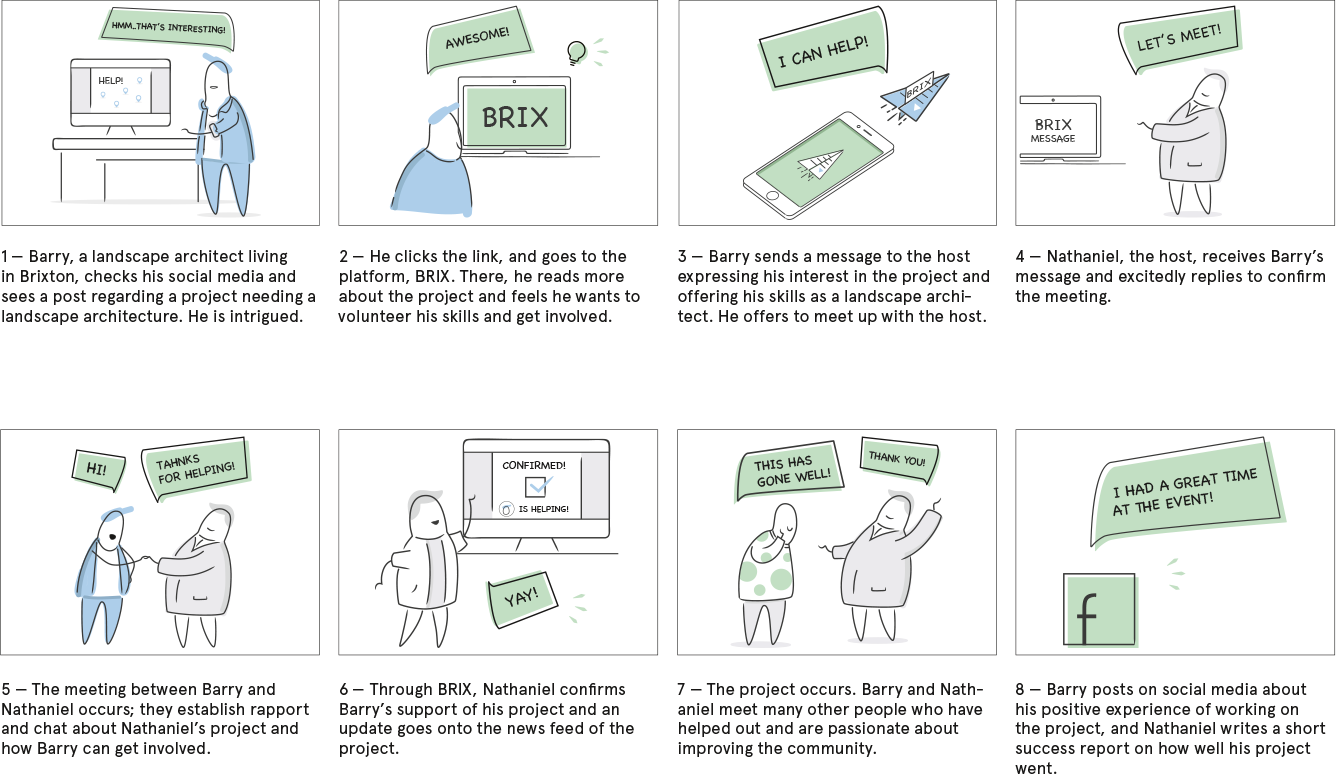 The wireframes show the flow from the main page to the project page.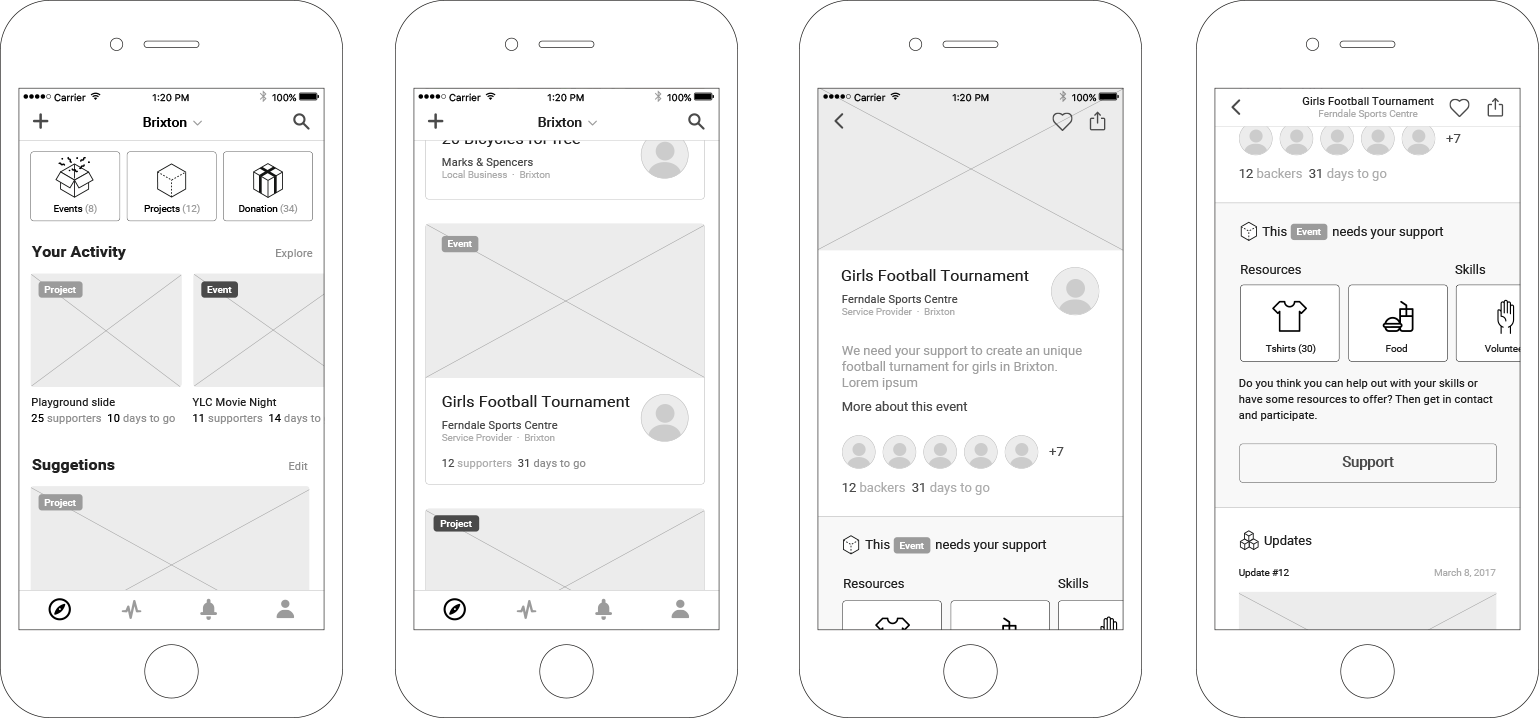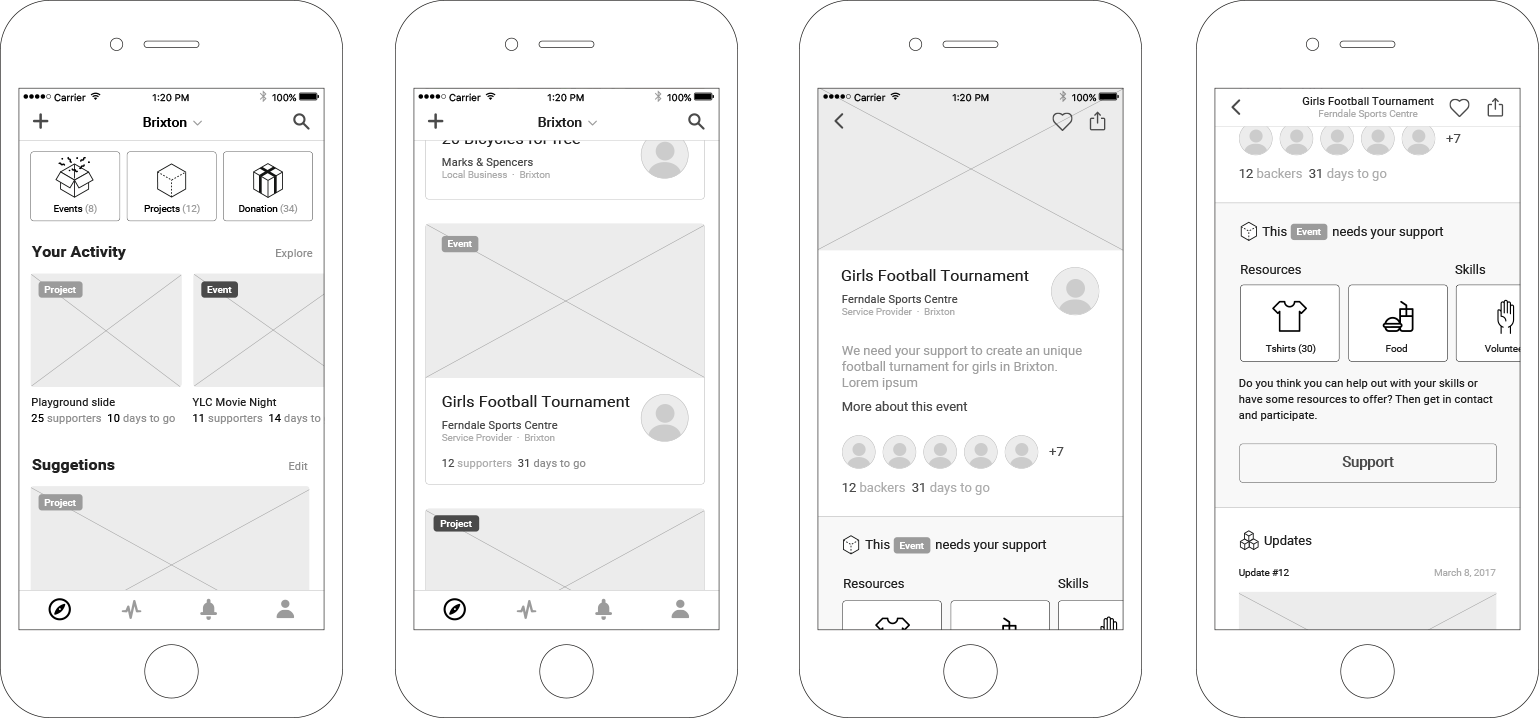 When the user hits the support button on the project page, he can select what kind of support he can offer and also send a personal message to get in contact with the project organiser.
This solution seeks to create value for non-funded organizations, and create a sense of belonging in the community. We want to sustain an ongoing relationship between service providers and YLC, where funding is not the only channel of communication and language between the two.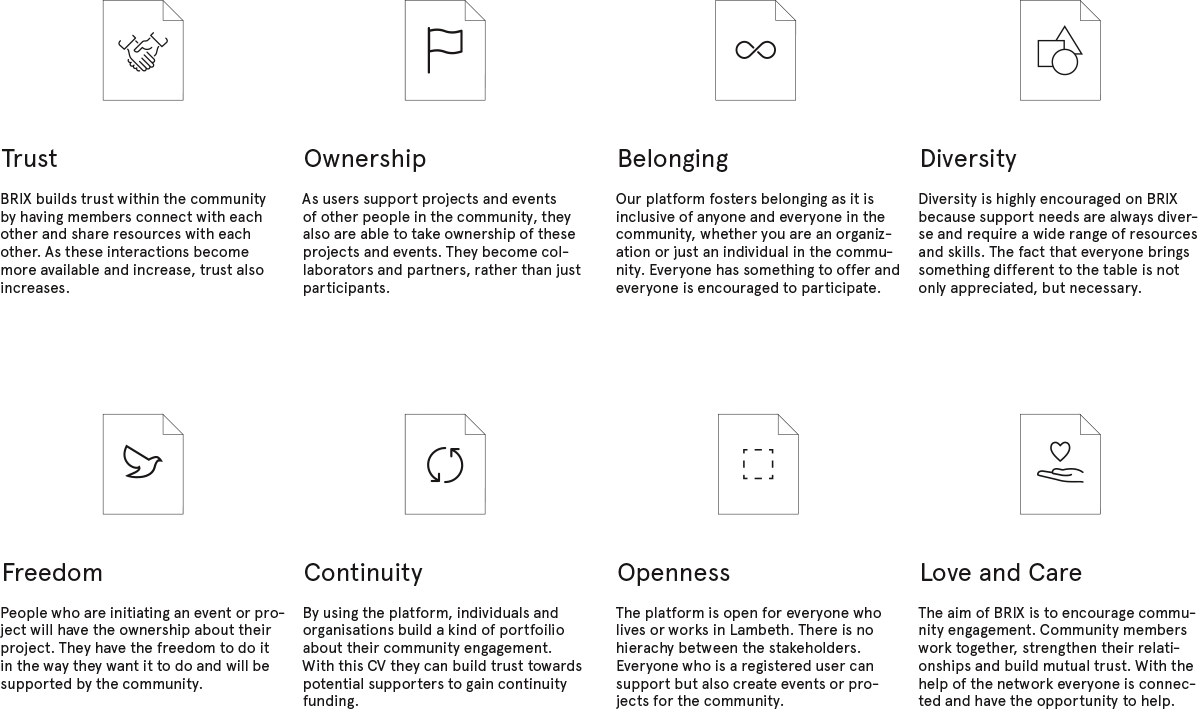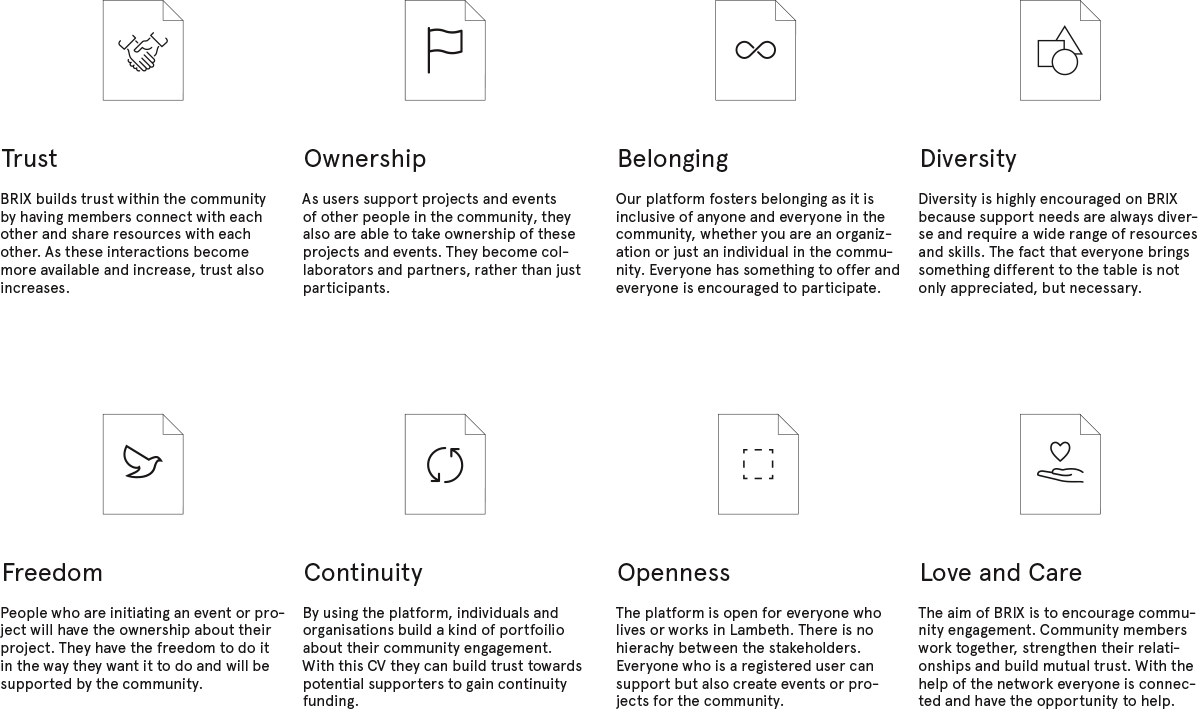 The final report contains all the research materials and the service concept details. If you are interested to find out more, please contact me: mail@wagnerthomas.org

Printed Report
180x260mm
178 Pages